The Witch Family — Eleanor Estes
Eleanor Estes' 1960 The Witch Family is a standalone children's fantasy.
Poor Old Witch! Banished by two interfering seven-year-old girls to the peak of a bleak glass mountain, there to languish for the rest of her days. Why? Because Old Witch is exceptionally wicked,.
There is a ray of hope. Amy and Clarissa left a loophole.
---
Special Requests
The Ophiuchi Hotline — John Varley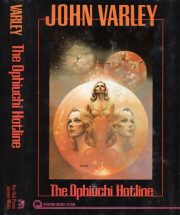 1977's The Ophiuchi Hotline was John Varley's first novel.
Convicted of crimes against humanity, Lilo's fate is set. She will be executed as thoroughly as the state can arrange: her genetic samples will be destroyed, her brain records erased, and her body will be dropped into one of the small black holes 1 that power the Eight Worlds.
All this will come to pass, but it won't be the end of Lilo's story.
---
Because My Tears Are Delicious To You
The Tree of Souls — Katrina Archer
Katrina Archer's standalone dark fantasy The Tree of Souls is the author's second novel to date 1.
The naked woman has no idea who or even what she is, but the brand on her skin marks her as significant. Adopting the name Umbra, she is offered refuge by a local lord. Umbra may have no memories but she certainly has an enemy, in the form of the necromancer Iril. Her quest to find out why he seeks to harm her draws Umbra into a story centuries old.
---
Special Requests
Tanith Lee's 2003 novel Mortal Suns is a standalone secondary world fantasy.
Born deformed, Cemira is consigned by her mother, Queen Hesta of Akhemony, to Death's Temple to live or die as the god Thon decrees. Cemira apparently attracts Thon's favour, for she survives the wilful neglect and the abuse that follow.
Cemira is spared a long life of onerous labour in Thon's temple by the Sun Consort Urdombis. Urdombis, the senior wife, has her co-wife's child brought back to the royal compound as soon as she learns the child exists. Renamed Callistra, Cemira will be, if not a treasured member of the family, at least acknowledged.
Thon is not done with the girl. Death will transform Akhemony and the lands surrounding it.
---
A Year of Tanith Lee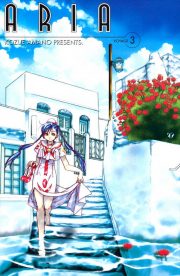 Aria does not speed through the years as quickly as did YKK. Still, by the time volume three of Kozue Amano's Aria opens, a full (Martian) year has passed since Akari first arrived on the no-longer-Red Planet. It is Aquan spring once more. What grim sights and anguished travails await our unfortunate heroine?
---
Translation
Waypoint Kangaroo — Curtis C. Chen
2016's Waypoint Kangaroo is Curtis C. Chen's debut SF adventure novel.
The agent code-named Kangaroo may not be the most skilled agent in the agency, but he is their only super-powered agent. Too useful to fire, too hard to explain, a looming audit convinces Kangaroo's bosses that this is the perfect time to send Kangaroo off Earth on an all expenses paid holiday to Mars. Independent Mars may be the player on the other side of the cold war gripping the Solar System, but it is also safely distant from the prying eyes of unsympathetic federal bureaucrats.
The bosses should have known: when you send an agent off on holiday, you can expect unforeseen complications.
---
Miscellaneous Reviews
The Prometheus Crisis — Thomas N. Scortia & Frank M. Robinson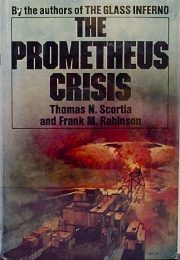 Chemist Thomas N. Scortia (1926–1986) published science fiction from the 1950s to his death from leukemia; he was nominated for the Nebula in 1966. His frequent writing partner, Frank M. Robinson (1926–2014), was active in SF from the 1950s to his death. His awards and nominations range from the Hugo to the BFA, from the Lambda to the Locus. Robinson was also a well known activist.
Together the pair were masters of the disaster thriller. Their 1975 standalone The Prometheus Crisis is a fine example of their work in this genre.
---
Because My Tears Are Delicious To You
Although Nisi Shawl has been publishing short-form spec fic and related non-fiction since 1989, 2016's steampunk novel Everfair is her debut novel.
Confronted with ultimatums from Leopold's heavily armed Force Publique , King Mwenda's least bad choice is to buy time with apparent concessions. He and his Queen Josina hope to use this respite to out-think the Europeans while searching for new weapons in the struggle against the invaders.
Enter the idealist colonists of Everfair.
---
Miscellaneous Reviews
White as Snow — Tanith Lee
Fairy Tales, book 7
Tanith Lee's 2000 stand-alone White as Snow was the eighth and second-to-last entry in Terri Wildling's Fairy Tales series. Published by Ace and then Tor, Windling's Fairy Tales was
a series of novels that (retold) and (reinterpreted) traditional fairy tales
In White as Snow , Lee sets aside modern interpretations of the Snow White story, framed to offer Depression Era Americans some solace in poverty, to draw from the original source material. The result?
"Unrelentingly grim" may be too upbeat a description.
---
A Year of Tanith Lee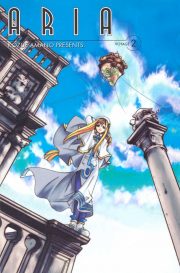 Aqua's year is twice as long as Earth's, but it too has its seasons. In the previous volume, winter was looming. In this one, it arrives. What grim fate awaits poor Akari in this, the second volume of Kozue Amano's Aria?
---
Translation
Flux — Ferrett Steinmetz
'Mancer, book 2
2015's The Flux is the second volume in Ferrett Steinmetz's 'Mancer trilogy.
Paul Tsabo has a remarkable talent for tracking down 'Mancers, the magic users whose talents make them Public Enemy Number One. That's why he's serving on New York City's anti-'Mancer task force. True, lately his hit rate has been off a little, but that is not because he has lost his edge. It's because he lost his enthusiasm for hunting 'Mancers when he realized that he himself is a 'Mancer.
As is his beloved daughter Aliyah.
---
Special Requests
The Trouble With Tribbles — David Gerrold
David Gerrold's 1973 non-fiction book The Trouble with Tribbles may be the only SF-related biography I own whose subject is not a person but a story. By 1973, Star Trek novelizations and tie-ins were nothing new. Blish was credited with seven eight collections of Trek adaptations1, as well as the tie-in Spock Must Die! And then there was Mack Reynolds' obscure Mission to Horatius. Gerrold's book was something else. Let the subtitle speak for itself:
The Birth, Sale, and Final Production of One Episode.
---
Because My Tears Are Delicious To You
The Motion of Light in Water: Sex and Science Fiction Writing in the East Village, 1957–1965 — Samuel R. Delany
Samuel R. Delany's 1988 The Motion of Light in Water: Sex and Science Fiction Writing in the East Village, 1957–1965 is a Hugo-winning autobiography. The narrative covers the period from the death of his father (when Delany was still a young man) to the point when his career was just starting to take off. He had not yet written the majority of the works for which he is best known.
One might ask why I, a humble middle-brow reviewer, was tapped to review this. I am wondering that myself.
---
Special Requests
Metallic Love — Tanith Lee
Silver Metal Lover, book 2
Tanith Lee's 2005 Metallic Love is a sequel to her 1981 novel The Silver Metal Lover.
The infant Loren is abandoned to an oppressive religious cult. Years later, just when she is starting to question the cult, she stumbles across an illicit copy of Jane's Story, the first hand account of the doomed romance between Jane and Silver (the work we know as The Silver Metal Lover). The romantic tale strikes a chord with Loren. When she flees the cult, she takes her copy of the book with her.
How could she foresee that she would someday encounter Silver herself? Or rather, encounter what Silver has become?
---
A Year of Tanith Lee
2002's Volume One of Kozue Amano's Aria picks up where Volume Two of her Aqua left off. Akari Mizunashi is still a would-be Undine on Aqua (a renamed Mars, after human terraforming efforts tapped unsuspected reserves of water). She is still recounting her adventures in a series of letters sent back to a friend on distant Earth.
---
Translation
Flex — Ferrett Steinmetz
'Mancer, book 1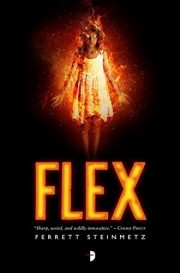 Ferrett Steinmetz' debut novel Flex is the first volume in his 'Mancer trilogy.
The good news is that magic is so easy any idiot can try their hand at it. The bad news is that a lot of idiots do, which is why Europe is a howling wasteland of reality holes and why the authorities react to magical outbreaks with overwhelming force.
Rewriting reality always comes at a cost … but it's not just the 'Mancers who have to pay. Former cop turned investigator Paul Tsabo and his daughter Aliya survived a magically triggered gas-main explosion that left young Aliya horribly burned. Reconstructive surgery will cost a half million dollars 1, which insurance company Samaritan Mutual is loath to pay.
Lucky for Aliya, her father is a bureaucrat par excellence. In fact, he is one of Samaritan's own, using his obsession with paperwork to track down rogue 'Mancers. Less luckily for Aliya, obsession is the stuff of magic. Paul isn't just a bureaucrat. He is a full-fledged bureaucromancer. Paul is afraid it might have been the backlash from his own magic that set off the gas main.
---
Special Requests
The Drawing of the Dark — Tim Powers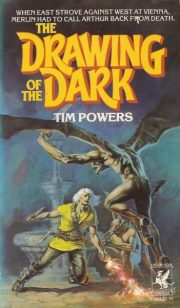 Every year, Kitchener descends into the beer-fueled riot that is Oktoberfest. Usually I kvetch at the multitude of inconvenient incidents precipitated by one million drunken tourists. (Kitchenerites, of course, can handle their beer.) This year I decided to embrace the abyss. I will review a book about beer. Which one? Tim Power's 1979 standalone fantasy, The Drawing of the Dark.
Things are looking grim for the West. One by one, Christendom's strongholds have fallen to S uleiman the Magnificent's armies. Irish mercenary Brian Duffy, having narrowly surviving the Battle of Mohács, has turned his back on war and settled in Venice. Years later, it seems that Venice too is threatened. When Duffy is offered a job as bouncer in distant Vienna, he is quick to accept.
Duffy's timing is a bit off. The year is 1529. Vienna is the next stop on Suleiman's European tour. Even as Duffy makes his way across the Alps, Suleiman and Grand Vizier Ibrahim are even now considering how to conquer the city of Vienna.
---
Because My Tears Are Delicious To You
Breaking the Chains of Gravity: The Story of Space Flight before NASA — Amy Shira Teitel
For all my twitterings about books by women, my library has some major gaps. For example, almost of all of my books on spaceflight are by men. Almost all. I was delighted to find that my library had a copy of Amy Shira Teitel's Breaking the Chains of Gravity: The Story of Space Flight before NASA , a copythat I had not even read .
Before I launch (heh!) into the review proper, I should point out that the subtitle is a misnomer. This is not the story of space flight before NASA but (as the author acknowledges) a story of space flight before NASA. Whose story? Here's a hint.
---
Miscellaneous Reviews
Venus Preserved — Tanith Lee
The Secret Books of Venus, book 4
2003's Venus Preserved is the fourth and final volume in Tanith Lee's Secret Books of Venus.
Lost beneath rising seas, Venus was resurrected as a submarine city, safe within its impenetrable dome. Not satisfied with granting apartments to those who can prove descent from former inhabitants of Venus, the brilliant minds behind Venus have turned to a bold stratagem to repopulate the city:
Resurrect the dead!
---
A Year of Tanith Lee
The second collected volume of Kozue Amano's Aqua was also the second and final volume under that title. In 2002, the series moved from Monthly Stencil to Comic Blade and the title became Aria.
Unfortunately, the only versions of volume two I can access leave out two of the six chapters. James has a sad.
---
Translation
The Rook — Daniel O'Malley
The Checquy Files, book 1
Daniel O'Malley's 2012 debut novel The Rook is the first book in the Checquy Files series.
Myfanwy Thomas' memories go back only hours, to the moment when she found herself surrounded by dead assailants. Before that, another Myfanway occupied her body, a Myfanwy whose personality (and more importantly, limitations) were quite unlike the woman who formed from the remnants of that Myfanwy's mind.
If only Myfanwy knew who mind-wiped her. If only the list of suspects were not so long. Or the suspects so powerful.
---
Special Requests
In Len Deighton's 1976 novel SS-GB, Britain has fallen. King George VI is a prisoner in the Tower, and Churchill has been executed. German troops occupy the cities. It is surely only a matter of time before the last partisans holding out in the countryside are rounded up and shot.
Detective Superintendent Douglas Archer's world is bizarrely normal. He answers to Gruppenführer Fritz Kellerman now, but his job is essentially the same as it was before the invasion: investigate and solve murders.
At first glance, there's nothing about the dead man in the shabby apartment over the antique shop to suggest that the fate of nations depends on Archer's decisions over the next few days.
---
Because My Tears Are Delicious To You