Five Hundred Years After — Steven Brust
Khaavren Romances , book 2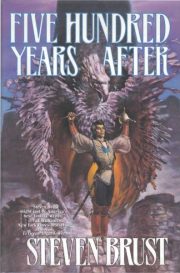 As one might guess from the title, 1994's Five Hundred Years After picks up with Khaavren and friends half a millennium after the events of The Phoenix Guard. Dragaerans are very long lived and so rather than having been dust for four centuries, Khaavren has merely matured into a comfortable middle-age as the respected commander of the Phoenix Guard. All of his old companions, Tazendra, Pel, and Aerich, have also found lives suitable to their characters.
spoilers
---
Special Requests
The Phoenix Guards — Stephen Brust
The Khaavren Romances, book 1
1991's The Phoenix Guards seems to have intended as a one-off, as far as I can tell from the two "about the author" pieces. Nostalgic for works in the style of Sabatini and Dumas, Brust set out to create a new work reminiscent of the French Romantics, one set in the distant past of his on-going Vlad Taltos series.
---