Plastic Smile — S. L. Huang
Russell's Attic, book 4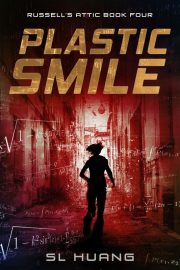 S. L. Huang's 2016 Plastic Smile is the fourth volume in Huang's ongoing Russell's Attic series.
Six months after the events of the last volume (Root of Unity), Cas Russell is still wrestling with her unexpected discovery that everyone else has memories that go back more than a few years. Where other people have pasts, Cas has a giant blank and she still does not know what to make of it.
On the plus side, she does have an exciting new hobby: saving Los Angeles from itself.
---
Miscellaneous Reviews
Clay's Ark — Octavia E. Butler
Patternist, book 4
Published last, Octavia E. Butler's 1984 Clay's Ark was the fourth installment in her five book Patternist series. Along with 1978's Survivor, of which we do not speak, it abandons the series' focus on psychic monsters. Rather, it examines an entirely different kind of monster
Humanity's first foray to an alien world ended in disaster. The remains of the starship Clay's Ark are scrap scattered across an American desert; the crew are dead. All but one of the crew are dead, that is. Better for troubled Earth had the ship simply broken apart and burned up during re-entry.
---
Miscellaneous Reviews
Decision at Doona — Anne McCaffrey
Doona, book 1
On the one hand, I am not a fan of Anne McCaffrey's fiction. On the other, she was a significant figure in the field, one of just five women named Grand Master of Science Fiction; at some point I need to acknowledge her. I find that I do have some of her books1. One of those books is the initially standalone2 1969 novel Decision at Doona.
---
Because My Tears Are Delicious To You
Dark Castle, White Horse — Tanith Lee
Tanith Lee's 1986 Dark Castle, White Horse is an odd little omnibus, two short novels in one cover.
It is an incongruous pairing.
---
A Year of Tanith Lee
Grass — Sheri S. Tepper
Arbai, book 1
I'm not a huge fan of Sheri S. Tepper, which is why I've only now read her 1990 novel, Grass. Not even the 1991 Hugo nomination was enough to tempt me. Why read it now? Someone commissioned this review. I apologize if the result isn't quite what they expected.
Grass is the first volume in Tepper's Arbai trilogy; it is set on the planet after which the novel is named. Comparatively few humans call Grass home. There are the bons, self-styled aristocrats, obsessed with hunting and indifferent to the outside world; there are the port city Commoner Town and the friary of Green Brothers. Not much to attract off-world visitors, particularly in an era when the dominant Great Power, Earth-based Sanctity, sees colonies as hotbeds of apostasy and chaos.
But it is of some interest that Grass seems to be the only world where people do not die of a mysterious plague. This not-officially-acknowledged disease seems likely to wipe out the entire human race1. While the theocrats of Sanctity are comfortable with the idea of a mass cull, particularly of heretics, heathens, and non-believers, they would just as soon not see humanity, including themselves, go extinct.
---
Special Requests
Yokohama Kaidashi Kikō — Hitoshi Ashinano
Yokohama Kaidashi Kikō, book 9
I had an interesting experience as a result of last week's review of Yokohama Kaidashi Kikō, volume eight. Someone attending an event I was co-hosting showed up on a scooter much like the one Alpha rides, specifically because I reviewed YKK. That's awesome! And now I am a little worried about how people will commemorate the MilSF and Cosmic Horror books I review.
Ahem. Back to Volume Nine of Ashinano's Yokohama Kaidashi Kikō.
---
Translation
The Geek Feminist Revolution — Kameron Hurley
---
Special Requests
The Jagged Orbit — John Brunner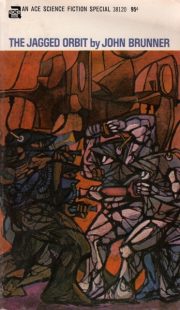 1969's The Jagged Orbit is the second novel in John Brunner's dystopian quartet. This is not my favourite of the four books, but (when I chose it) it seemed thematically appropriate for this ugly week. Where Stand on Zanzibar was about the consequences of population growth, The Sheep Look Up about unchecked pollution, and The Shockwave Rider about Future Shock, The Jagged Orbit concerns itself with racial divisions, paranoia, and violence dialed up to eleven.
---
Because My Tears Are Delicious To You
On the Edge of Gone — Corinne Duyvis
Corinne Duyvis' 2016 young adult novel On the Edge of Gone is the first of the author's novels that I have encountered. It will not be the last.
There will be spoilers….
Life in mid-21st Century Netherlands with her drug-addicted mother is already challenging enough for autistic teen Denise. She really didn't need to deal with the end of the world as we know it, courtesy of an impending cometary impact1. The Netherlands is a civilized nation and they have not simply abandoned their population to survive or die as change determines. Instead, the government built a network of shelters2.
If only Denise and her mother were in a shelter. If only her mother had not insisted on waiting for Denise's sister Iris to join them before setting out. Now there is no time to make it to their designated shelter.
---
Special Requests
The Blood of Roses — Tanith Lee
Tanith Lee's 1990 standalone novel Blood of Roses is set in a fantasy world that mirrors the Europe of the dark ages. This is world where the Church is just as corrupt as it was in our real world, where the pagan past is more present than rulers prefer to believe, and … where vampires and shape-shifters are real.
---
A Year of Tanith Lee
Yokohama Kaidashi Kikō — Hitoshi Ashinano
Yokohama Kaidashi Kikō, book 8
Volume Eight of Ashinano's Yokohama Kaidashi Kikō covers more than a year in the lives of the character. It's more … um, "action filled" is the wrong term… informative about the setting than were previous volumes.
---
Translation
Hello Summer, Goodbye — Michael G. Coney
Pallahaxi, book 1
British by birth, Canadian by choice, Michael Greatrex Coney seems to be comparatively obscure now, a decade after his death. A shame, because he wrote some interesting, unusual books over the course of his career. Perhaps his finest was the coming-of-age novel Hello Summer, Goodbye.
Alika-Drove, native to a world with both extreme obliquity and orbital eccentricity, accepts as normal its annual extremes. It is, after all, the only world he and his people have ever experienced. For Drove, chaffing at the childish restrictions he feels old enough to flout, his odd little world is a mundane backdrop to what will probably be just another boring summer in the isolated fishing community of Pallahaxi.
Pallahaxi is not entirely without promise. It is the home of Pallahaxi-Browneyes, a young woman Drove's age with whom Drove is smitten, a young woman Drove could not work up the courage to address until the previous summer was almost over. But this summer will be completely different!
In fact, if Drove plays his cards right, he may spend the rest of his life with Browneyes.
---
Special Requests
The Worlds of Poul Anderson — Poul Anderson
Poul Anderson's 1974 omnibus The Worlds of Poul Anderson collects three short novels: 1954's Planet of No Return (also published as Question and Answer ), 1959's The War of Two Worlds, and 1966's World Without Stars.
I could have reviewed any one of the three novels, or written three reviews … but I think that these novels belong together (for reasons I will discuss later). There's more to this than "the rights were available."
There will be spoilers.
---
Because My Tears Are Delicious To You
Although professional-game-designer-turned-SF-author Jay Posey has been publishing novels ever since 2013, 2016's Outriders is the first novel of his that I have read.
Given a choice between two very different career paths, Captain Lincoln Suh took the one that led him to join the 301st Information Support Brigade's 519th Applied Intelligence Group. The unit's name may seem to promise days of riveting paperwork and nights spent staring at glowing screens, but names can be deceptive, particularly in the intelligence game.
Thus the suit of powered armour the 519 th issues Suh.
---
Military Speculative Fiction That Doesn't Suck
Sand — Tanith Lee
Blake's 7, book 48
Sand was the ninth episode in Blake's 7's fourth and to date final season. It was also the second and final Blake's 7 episode written by Tanith Lee.
Five years before the start of this episode, an unlucky spacecraft crash-landed on the isolated world Virn. The crew survived long enough to send out a series of increasingly desperate distress calls to the Federation before succumbing to what the castaways thought was a local virus. Now that it is far too late, Commissioner Sleer and a small team have come to investigate Virn, which they believe may contain a mysterious substance of use to the Federation.
Did I say "Sleer?" The Commissioner may be using that name but anyone familiar with the series would know at a glance that "Sleer" is none other than long time series antagonist Servalan! Who is considerably less dead than her enemies believe!
---
A Year of Tanith Lee
Yokohama Kaidashi Kikō — Hitoshi Ashinano
Yokohama Kaidashi Kikō, book 7
Once more into the Yokohama Kaidashi Kikō archive! Ganbatte!
However, there is one major problem with reviewing one volume of Hitoshi Ashinano's YKK every week … which is that all too soon I will have read the entire run. Oh, well.
---
Like a Boss — Adam Rakunas
Windswept, book 2
Adam Rakunas' 2016 Like a Boss is a sequel to 2015's Windswept.
Padma Mehta has not only survived her adventures in Windswept, but has become the new owner of a distillery. On the minus side, having her own business and being enough of a folk hero to have her own song doesn't make up for the fact that her bold stratagem to save the galactic economy left her a trillion yuan in debt1. Not to mention that being a boss is an odd situation for a steadfast union organizer like Padma.
Not to worry! Soon her current situation will appear much more pleasant. Only by contrast, alas, because things are going to get much worse for Padma and her hometown, Santee Anchorage.
---
Miscellaneous Reviews
The Iron Dream — Norman Spinrad
Norman Spinrad's 1972 nested alternate history novel The Iron Dream isn't my favourite Spinrad1, but it is almost certainly his most famous work. It earned a Prix Apollo Award and a Nebula nomination. The book was also indexed by the Bundesprüfstelle für jugendgefährdende Medien , the German Federal Department for Media Harmful to Young Persons, for alleged Nazism and was placed on the American Nazi Party's recommended reading list. Perhaps some explanation is required.
Spinrad's The Iron Dream is composed of two sections. The final section is a commentary by a fictional academic named Whipple. The first part, the part that earned Spinrad unwanted attention from the BJpM and the American Nazi Party, is Adolf Hitler's Lords of the Swastika .
---
Night's Sorceries — Tanith Lee
Tales of the Flat Earth, book 5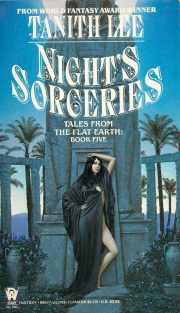 Tanith Lee's 1987 Night's Sorceries: Stories from the Time of Azhriaz is the final volume in the Tales of the Flat Earth quintology. In many cases, the stories illustrate the consequences of an enduring, passionate love (Sovaz/Azhriaz and Chuz) for innocent bystanders.
---
A Year of Tanith Lee
The Ted Quantrill Trilogy — Dean Ing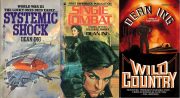 Dean Ing's Ted Quantrill trilogy—1981's Systemic Shock, 1983's Single Combat, and 1985's Wild Country—is an odd relic of Cold War America. Many authors presented us with various versions of Cold Wars Gone Hot, but few took the tack that Dean Ing does in this series.
It's not just that this is explicitly a sequel to someone else's book, General Sir John Hackett's The Third World War. Or that Ing teeters on the edge of inventing the technothriller genre (before Tom Clancy, if one considers The Hunt For Red October the first technothriller; please feel free to debate genre history in comments). Or even that one of the books features a lovingly depicted Segway, decades before those were invented. Ing brings an … ahem … unusual political sensibility to this trilogy. I believe that's what has kept this series out of print.
---
Military Speculative Fiction That Doesn't Suck