The City of Woven Streets — Emmi Itäranta
Emmi Itäranta's 2015 standalone secondary world fantasy Kudottujen kujien kaupunki was published in 2016 as The City of Woven Streets. And also as The Weaver (for some reason I cannot comprehend).
The island on which Eliana lives is controlled by a Council much concerned with contamination by uncanny dreams and other such temptations to … well, if I told you more that would be a spoiler. Those deemed Tainted are isolated, a precaution to prevent the spread of Taint. This has not been working well. The island's rulers do the only sensible thing: double down on enforcement. It's a small, harsh world.

---
Translation
Memory of Water — Emmi Itäranta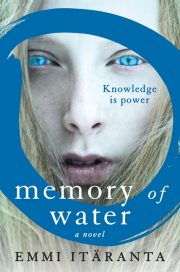 Between our time and that of 17-year-old Noria Kaitio is the Twilight Century, a period of climate-change-driven chaos left the world a much poorer place. Noria lives in the Scandinavian Union, which in turn takes its direction from New Qian. Democracy is a thing of the past, as it generally is in stories like this, and government is very much top down. A sensible person in these circumstances either tries to exploit a dying system for ephemeral personal power or they try to avoid attracting the attention of ambitious people. Noria rejects one and fails at the other.
---