Law of Survival — Kristine Smith
Jani Kilian, book 3
2001's Law of Survival is the third novel in Kristine Smith's Jani Kilian series.
Jani Kilian has had a tumultuous life. Framed for a murder, cashiered from the service, doomed to life as a fugitive … but eventually she achieves a soft landing. She has been cleared of the murder and is no longer hiding from the law. Well, cleared of that particular crime. Life as a fugitive meant cutting a few legal corners. The smart thing to do would be to find some unobtrusive niche in which she can exercise her considerable bureaucratic skills1 and lay low.
But poor Jani is drawn, willy-nilly, back into human-alien conflict.
---
Military Speculative Fiction That Doesn't Suck
Rules of Conflict — Kristine Smith
Jani Kilian Chronicles, book 2
Kristine Smith's 2000 novel Rules of Conflict is the second volume of her Jani Kilian Chronicles.
Jani Kilian is a cautious woman for very good reasons. Until now, her caution has served her well, keeping her out of the clutches of Commonwealth military services. This time her healthy paranoia betrays her. Fearing her allies, she walks into a trap and is recaptured.
Although "recaptured" is not quite the right word. She wakes to discover she is not a prisoner. She is a patient.
---
Military Speculative Fiction That Doesn't Suck
Code of Conduct — Kristine Smith
Chronicles of Jani Kilian, book 1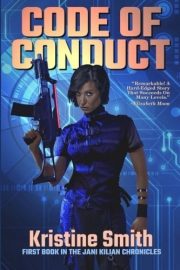 1999's Code of Conduct is the first volume in Kristine Smith's Chronicles of Jani Kilian pentology. This review is almost certainly going to be one of my Military Speculative Fiction That Doesn't Suck reviews … but only because it has some MisSF elements, not because it checks all the genre boxes. Code of Conduct is as much detective fiction as it is MilSF; it is definitely not the big-guns, pew-pew-pew variety of MilSF.
As far as anyone from the Commonwealth knows, Jani Kilian died when a military transport starship exploded. Everyone else onboard perished; Jani was only mostly dead. Immediate, cutting-edge medical intervention saved her life. Since her supposed death, Jani has been careful not to let her former bosses know that she is still alive. That would put her in legal peril, as she was confined to the brig was a prisoner(for having shot her highly-connected superior officer) before the explosion.
Jani's ex-lover Evan van Reuter doesn't believe Jani is dead. As a member of one of the Families who run the Commonwealth, he has the resources to find her. He is also highly motivated to track Jani down. He has a job for which he believes she is ideally suited.
Clearing his name.
---
Military Speculative Fiction That Doesn't Suck