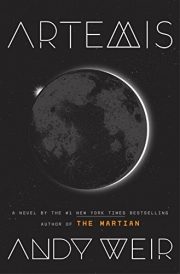 2017's Artemis is a standalone hard-SF novel by Andy Weir.
A century after the first Moon landings, Jasmine "Jazz" Bashara is living proof to the other residents in the lunar city, Artemis, that sufficiently poor judgment can lead to many exciting adventures. There may, however, be a hard limit to how long one such miscreant can survive on the unforgiving Moon.

---
Special Requests
Andy Weir's The Martian was self-published in 2011 and then published through more conventional routes in 2014 . I got sent an MS in late 2013 and … heck, I will just quote from the review I wrote for the Science Fiction Book Club:
I started reading this at about 8

PM

last night, intending to knock off a few chapters and then stop. I ended up reading it cover to cover over the next few hours. More like this, please.
---