Volume 8 of Kozue Amano's Aria brings us back to summer, the season of hidden passions, ghost stories, and death.
---
Translation
She Walks in Shadows — Silvia Moreno-Garcia & Paula R. Stiles
2015's She Walks in Shadows (published by Prime under the less evocative but also less ambiguous title Cthulhu's Daughters: Stories of Lovecraftian Horror ) was compiled by editors Silvia Moreno-Garcia and Paula R. Stiles. The theme of the collection:
The present volume assembles stories about women, by women. Why an all-woman volume? The first spark was the notion, among some fans of the Lovecraft Mythos, that women do not like to write in this category, that they can't write in this category. […] We hope this anthology will help to dispel such notions.
It's always a mistake to think that the mere existence of an anthology filled with cosmic horror stories will dispel delusions rooted in knuckle-dragging prejudice. Still, despite the generally troglodytic nature of the Lovecraft community, this anthology won a World Fantasy Award in 2015.
---
Miscellaneous Reviews
Millennial Women — Virginia Kidd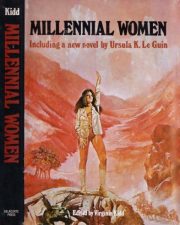 Virginia Kidd is best known as an influential agent; she also edited a small number of anthologies. 1978's Millennial Women (also published under the title The Eye of Heron and Other Stories ) is perhaps the best known. It contains six science fiction stories of widely varying length, all by women, all original to this anthology.
---
Because My Tears Are Delicious To You
Rosewater — Tade Thompson
2016's Rosewater is Tade Thompson's second novel; it follows 2015's (unrelated) mystery Making Wolf.
Kaaro was once a talented thief. Now he's a very reluctant member of Nigeria's Section Forty-five, an obscure branch of the Ministry of Agriculture. S45 specializes in the odd and weird, the occult phenomena that have become all too real in the world created by the alien incursion of 2015.Nowhere on the world is the strange as present as it is in Kaaro's hometown of Rosewater, which formed around an alien dome (known as Utopicity) in the 2050s.
Utopicity seems happy to remain sealed and indifferent to humanity but the lifeforms it released have spread quietly across the world. A lucky few have been transformed. Kaaro is one of those changed ; that's why he has ESP. Which in turn makes him valuable to S45.
Kaaro is a reluctant draftee, but he's also too lazy to do anything strenuous to escape his bureaucratic servitude. He limits his protest to habitual insubordination. Happily for Kaaro, adventure is coming for him.
---
Miscellaneous Reviews
Disturbed By Her Song — Tanith Lee
Esther Gerber, book 3
2010's Disturbed By Her Song is the second of Tanith Lee's Garber collections (the third work including the novel 34.). Unlike Fatal Women, in which Lee adopted the persona of Jewish lesbian Esther Garber, in this Lee plays at being both Esther and Esther's half-brother, the half-Arab, half Jew, entirely gay Judas.
---
A Year of Tanith Lee
Volume seven of Kozue Amano's Aria brings the calendar around to spring once more. With warm weather come unexpected revelations, not least of which is that a surprising number of Aquans struggle with doubt and paranoia.
---
Translation
The Interior Life — Dorothy Heydt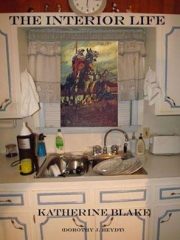 Dorothy Heydt originally published 1990's The Interior Life under the pen name Katherine Blake.
Post-Reagan-era housewife Sue's life isn't the stuff of melancholy country music, but it's not exactly rewarding. Her boisterous kids make housecleaning a Sisyphean struggle. Her husband Fred loves her and she still loves him, but there are days when she can barely stand to look at him.
Small wonder she escapes to a fantasy world, even one where the stakes are high and defeat apparently certain.
---
Rediscovery Tuesday
As I Please, 1943-45 Volume Three — George Orwell
The Collected Essays, Journalism and Letters of George Orwell, book 3
Readers may be most familiar with Orwell as the author of that delightful children's novel Animal Farm … but he was not merely a novelist. He was also a prolific non-fiction writer. 1968's The Collected Essays, Journalism and Letters of George Orwell: As I Please, 1943-45 Volume Three is the third (of course) in a four-volume work collecting the essays, the journalism, and the letters of George Orwell. It was edited posthumously by Sonia Orwell and Ian Angus in lieu of a biography 1 .
---
Because My Tears Are Delicious To You
Brute Force — K. B. Spangler
Rachel Peng, book 4
2016's Brute Force is the fourth instalment in K. B. Spangler's Rachel Peng series.
Hope Blackwell can handle herself, but the child with her cannot. Ambushed, Blackwell has no choice but to go peacefully with her kidnappers for the sake of young Avery.
Taking Blackwell is a bold move for the kidnappers. Not only will Blackwell be a very … uh, challenging prisoner to contain, but by kidnapping her, they've made themselves targets for her husband, Patrick Mulcahy, head of the Office of Adaptive and Complementary Enhancement Technologies. Behind OACET's harmless name is a tight-knit community of cyborgs.
---
Miscellaneous Reviews
Fatal Women — Tanith Lee
Esther Gerber, book 1
2004's Fatal Women is one of three works Tanith Lee wrote under the pen name Esther Gerber. 2004 also saw the publication of the Gerber novel 34, while Disturbed by Her Song came out in 2010.
---
A Year of Tanith Lee
Another volume of Kozue Amano's Aria; another season of the year. By book six, Akari is passing her second winter on Aqua (formerly Mars), but she is no closer to becoming a full Undine.
---
Translation
Penric's Mission — Lois McMaster Bujold
Penric and Desdemona, book 4
Penric's Mission is the fourth instalment in Lois McMaster Bujold's Penric and Desdemona series.
Following an ill-fated foray into medicine, demon-haunted, all-round-nice-guy Penric takes up a new occupation: covert agent for the Duke of Adria. As the novel opens, he is travelling into Cedonia, there to contact to recruit a Cedonian general who is believed to be disaffected.
No sooner does he step off the boat than Penric is arrested, beaten, and thrown into prison. Not an auspicious beginning, particularly since his cell is designed to fill with water once his captors have no further use for him. Eventually, they do not.
---
Miscellaneous Reviews
Unpopular Planet — Evelyn E. Smith
I freely admit that I picked up Evelyn E. Smith's 1975 Fortean satire Unpopular Planet for a fairly stupid reason: her initials amused me. If only she had had a doctorate!
A prolific author, Smith was best known for her crossword puzzles, Gothic romances, and the Miss Melville series (about a middle-aged socialite turned professional assassin). Although some of her work is still in print , this particular novel is not. Having reread it, I think I know why.
Nicholas Piggot is both a physical throwback—tall, blond, and sturdy, in a world of short, swarthy nebbishes —and a social maladept. He makes a sketchy living as a disreputable musician catering to the lowest sorts of people. It's probably for the best that no one know he is haunted by Blue Dragons that only he can see. As it is, only the fact that the extremely well-born Bernardine has set her cap for him has saved him from being classified as unfit to reproduce.
Enraged that he has been replaced in Bernardine's heart, Hubert Carmichael vows revenge. Bad news for poor Nicholas. Hubert is one of the bluest-blooded members of America's officially classless society; he has the money and influence to make Nicholas' life as unpleasant as it will be short.
That's the plan, anyway.
---
Because My Tears Are Delicious To You
Piratica: Being a Daring Tale of a Singular Girl's Adventure Upon the High Seas — Tanith Lee
Piratica, book 1
2006's Piratica: Being a Daring Tale of a Singular Girl's Adventure Upon the High Seas is the first volume in Tanith Lee's Piratica trilogy.
An exploding cannon cost Artemesia "Art" Fitz-Willoughby Weatherhouse her mother and her memory. At age sixteen, Artemesia regains her lost memories. They explain why she has never fit in at the Angels Academy for Young Maidens: Art is the daughter of Molly Faith, better known as the infamous pirate queen Piratica.
Escaping from the academy is trivial. So is trading her dress for trousers, her hated surname for the far more satisfactory "Blastside." An encounter with a hapless highwayman provides her with a pistol and a very snappy hat. Luck leads her to stumble across the remnants of Piratica's old crew. All she needs is a seaworthy boat and Art Blastside can pick up where her mother left off.
O Sing of the valour o' a pirate so bold
Who robbed the seas over, and took all the gold
Of captains and traders, from Carrib to Inde,
And slipped by the nets of the Law like the wind
There is just one small complication.
---
A Year of Tanith Lee
Fix — Ferrett Steinmetz
'Mancer, book 3
2016's Fix is the third and final (?) volume in Ferrett Steinmetz' 'Mancer series.
Paul Tsabo did his best to talk America into abandoning its draconian anti-'Mancer ways. Alas, Paul is a bureaucratomancer, not a oratoromancer, and his pleas fell on deaf ears. Persuasion having failed, Paul, his family, his friends and their allies dug in for a long campaign aimed at changing America's mind.
What Paul's efforts do succeed at is convincing SMASH (the organization charged with protecting America from the 'Mancer menace) that their conventional methods for dealing with domestic threats isn't going to work with Paul. SMASH is the sort of organization whose answer, when a hammer fails, is to get a much larger hammer.
---
Special Requests
Volume 5 of Kozue Amano's Utopian manga Aria sees Akari into her second autumn on Aqua, the water-covered world once known as Mars. She seems no closer to graduating from apprentice Undine to full Undine than she was in the last few volumes; the delay has consequences in this volume.
---
Translation
Venus of Shadows — Pamela Sargent
Venus, book 2
1988's Venus of Shadows is the middle volume of Pamela Sargent's Venus trilogy. It was preceded by 1986's Venus of Dreams and followed by 2001's Child of Venus.
I know it is odd to start reviewing a series in the middle … but for various reasons this seemed an apt choice for a review that will go live the same day that Americans strain to make the difficult choice between a flawed candidate and a weasel-headed fucknugget once described by helpful Scots as a "tiny-fingered, Cheeto-faced, ferret-wearing shitgibbon." Although Shadows is a close follow-up to the first volume, Venus of Dreams, it was published in a bygone era when even series books were expected to stand on their own; thus, it can be read without having read the first book.
---
Rediscovery Tuesday
Fireflood and Other Stories — Vonda N. McIntyre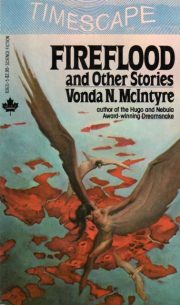 1979's Fireflood and Other Stories was Vonda N. McIntyre's first and (as far as I know) only collection 1. It contains most of her early works, excepting only six pieces. It is one of the reliable comfort reads to which I return every decade or so.
Well, "comfort" is the wrong word. Don't look to early McIntyre for warm, happy feels.
---
Because My Tears Are Delicious To You
Larque on the Wing — Nancy Springer
Holy crap, it has been over a year since I wrote my last Tiptree Award review.

Nancy Springer's standalone contemporary fantasy Larque on the Wing shared the 1994 Tiptree Award with Le Guin's "The Matter of Segri."
An outsider might say that artist Larque Harootunian is by many measures a success. She runs a thriving craft business; she's married with children. Her marriage is somewhat unconventional, but it's still within her comfort (or at least toleration) zone. The only notable off-notes in her outwardly successful life are the memories that haunt her.
Granted, almost everyone is haunted by the ghosts of their past …but what would be metaphor for anyone else is literal truth for Larque.
---
James Tiptree, Jr. Award
Forests of the Night — Tanith Lee
Tanith Lee's 1989 Forests of the Night is a single-author collection.
Unlike previous Lee collections, this one includes epigrammatic introductions by Lee herself, introductions that are often more allusive than informative. Forests of the Night overlaps with other collections I have reviewed—but only slightly.
It includes what may be the single most Tanith-Lee-like short work I have ever read.
---
A Year of Tanith Lee
Volume 4 of Kozue Amano's Aria continues the series' steady progression through the years. It is summer once again in the city of Neo-Venezia. Aria's training will lead her to unexpected destinations and she will discover an elemental acquaintance she had heretofore overlooked.
---