Rissa Kerguelen — F. M. Busby
Rissa Kerguelen, book 1
Francis Marion Busby (1921–2005) was a Hugo-winning fan [1] and a prolific author whose career ran from the 1950s to the 1990s. After 1970 his focus was increasingly on novels, not surprising given how the SF market evolved over the course of his career [2]. While strong female protagonists weren't unknown in the 1970s, they weren't exactly common; Busby's 1977 Rissa Kerguelen—a lengthy reworking of two earlier works, 1976's Rissa Kerguelen and The Long View—belongs to a select group.
I wish I had enjoyed re-reading it more. I wish it had been a book that I could have liked, unconditionally, when I first read it. I believe I have at least figured out why I did not. I hope my reasons are interesting.
---
Because My Tears Are Delicious To You
Night of Masks — Andre Norton
Dipple, book 2
Galactic Derelict and 1964's Night of Masks were my two iconic Norton novels, the ones that shaped how I saw her fiction, the books to which I returned over and over. I owned the mass market paperback with this cover
and I literally read it to bits [1].
~oOo~
The Dipple on Korwar has become no nicer since we last saw it in Judgment on Janus. This novel's protagonist, Nik Kolherne, has a harder row to hoe than Janus's Naill or Catseye's Horan. Not only is young Nik an orphan with no prospects, not only is he trapped in an urban hellhole—he is disfigured. A war-time injury transformed half his face into a horrific mask, a jumble of scars and keloids.
---
50 Nortons in 50 Weeks
The first time I encountered a work by self-confessed Canadian David Nickle was during the 2009 Montreal Worldcon. I wandered by a huckster's table and saw this looking back at me.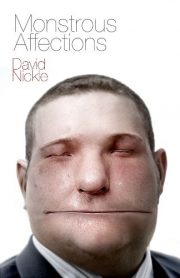 The cover art definitely got my attention—in much the same way that a bowl full of spiders would get the attention of an arachnophobe. So … hey, well done, art department!
I mentioned the collection to my various shadowy masters and in no time—that is to say, after a couple of years—I began to get a trickle of Nickle publications and other works from his publisher, ChiZine. One of those Nickle pubs is the subject of today's review. Please welcome 2011's Eutopia: a Novel of Terrible Optimism.
---
Special Requests
The Ship That Sailed the Time Stream — G.C. Edmondson
The Ship That Sailed the Time Stream, book 1
I expect that WWII-era Marine José Mario Garry Ordoñez Edmondson y Cotton (1922–1995), who published under the name G. C. Edmondson, is filed under obscure by this point. Twenty years after his death, the only book he wrote that may still have some currency is The Ship That Sailed the Time Stream, first published in 1965. Even this book has been out of print since 1981. Sic transit gloria mundi.
~oOo~
The Alice, based in San Diego, is one of the odder ships in the United States Navy. She's a small sailing ship better suited to the USN of the pre-Civil War era than to the atomic age USN. What the Alice offers the USN is the proper test bed for Professor Krom's experimental hydrophone array [1]. What the Alice offers its captain, Ensign Joseph Rate, is a chance to earn some points with senior staff by catching its crew using the ship as a party boat. The Navy is certain something hinky is happening, but, to its utter frustration, cannot prove it. It's almost as if the ship manages to be in two places—out at sea, filled with naked women, and back in its slip where it is supposed to be—at the same time.
There is a logical explanation but the senior staff won't like it.
---
Military Speculative Fiction That Doesn't Suck
Cuckoo Song — Frances Hardinge
Sometimes commissions arrive as "N possible choices, chose one." Even when a suggested title doesn't make the first cut, I often leave it on my reading list as a possibility for an unsponsored review. I'm particularly likely to do this if it is a title I've not read but that looks interesting or is critically acclaimed. Novels like Frances Hardinge's (Carnegie Medal short-listed) Cuckoo Song are the rewards I get for expanding my reading list.
~oOo~
The Great War came and went, taking Triss Crescent's brother Sebastian with it. The post-war era brought material prosperity to the Crescent family, but nothing that could compensate for their long-mourned loss. Money could not bring Sebastian back; nothing could bring Sebastian back. No method known to mortal man, at least.
---
Miscellaneous Reviews
Curse of Chalion — Lois McMaster Bujold
Chalion, book 1
Although perhaps best known for her long-running hard SF [1] series, the Vorkosigan novels, Lois Bujold is also a popular writer of fantasy novels. Between 2001 and 2010, Bujold published nine novels; seven of those were fantasies. 2001's [2] Hugo-nominated Curse of Chalion, the first volume in the eponymous trilogy, was the first of those seven novels.
~oOo~
Throughout his eventful career, former courtier and soldier Cazaril has participated in many diplomatic successes and military victories … although never on the winning side. Having survived the rough hospitality of the Roknari galleys, a ragged, weakened Cazaril makes his way to the town of Valendia. He hopes that his past service for the Dowager Provincara will convince her to grant him some easy position within her household. Not only is he still recovering from his recent tour as a galley-slave, he has powerful enemies and needs to stay as far from the royal court as possible.
He gains an unanticipated and unwanted success; he is appointed secretary-tutor to the headstrong Royesse Iselle. The Provincara hopes that Cazaril's age and experience will help him temper Iselle's well-meaning idealism with caution. Unfortunately, his new position, secretary-tutor to a princess in line for the throne, will expose him to the notice, and the malice, of the court. Even before he begins his job proper, Cazaril muses that it might be faster if the Provincara were simply to have his throat cut on the spot. Time and exposure will show that Cazaril was, if anything, too optimistic.
The Royesse Iselle is cursed.
---
Special Requests
The modern reader's perception of Jim Baen may be coloured by the sad decline of the company that bears his name into a hollow shell of its former self, a shell catering to nostalgic ideologues. This perception is more than a little unfair to the late Jim Baen, who probably would have gotten a Best Editor Hugo when he was alive if only his fans had not so lamentably lazy [1]. Baen's editorial tastes, particularly when he was younger, were much broader than a modern reader might suppose [2].

For example, if one were to ask modern readers "which right-wing editor of the 1970s, known for publishing such pro-nuclear power authors as Jerry Pournelle and Petr Beckmann, also published an occult science fiction novel about romantic triangles, reincarnation, and redemption, against a backdrop focused on the dangers of nuclear power?" I bet that very few (if any) of them would suggest Jim Baen.
And yet, I hold in my hand a copy of Arsen Darnay's 1978 novel Karma [3] (published in hardcover by St. Martins, under an arrangement with Baen's Ace). It is all about romantic triangles, reincarnation, redemption, and, of course, the dangers of nuclear power.
---
Because My Tears Are Delicious To You
This Time of Darkness — H.M. Hoover
H. M. Hoover is the author of at least thirteen novels to my knowledge, all published between 1977 and 1995. Her 1995 novel The Winds of Mars won the (unfortunately named but still prestigious) Golden Duck. She is, therefore, someone of whom I am aware [1]. So it is inexplicable, really, that 1980's This Time of Darkness is the first novel of Hoover's that I have actually read [2]. No, not when it first came out—only a couple of days ago. The timing is a bit unfortunate; I think readers in the target age range will still like it, although my personal reaction was coloured by the way Hoover used urban decay tropes of which I am very very tired.
~oOo~
In these times, no phrases have such synergy as "young adult novel" and "hellish, Orwellian urban dystopia." Eleven-year-old Amy would tell you all about dystopias if the allowed vocabulary for the lower levels included terms like "Orwellian" or "dystopia". Already a pariah thanks to her suspicious literacy, she compounds her crimes by befriending young Axel, a visibly disturbed boy with an outrageous tale: he claims to come from outside the City, from outside the decaying realm that is, as far as anyone in it knows, the whole of the world.
---
Special Requests
Witch World — Andre Norton
Estcarp, book 1
1963's Witch World marks Norton's shift towards fantasy. After this novel, fantasy was an increasingly large fraction of her output. It is also the first novel in her long-running (later collaborative)Witch World series. Oddly enough, while I have read the other books in the series (Ellen Asher or Andrew Wheeler, then my shadowy masters at SFBC, must have liked them—or perhaps the books just sold well), I've never read this particular book. Having read it now, I can see how this could have been a formative experience for a young reader, especially in the context of the early 1960s.
And readers did like it: not only did this novel become the seed of a long-running popular series, it was nominated for a Hugo, sharing the ballot with such classics as Way Station, Glory Road, Dune World and Cat's Cradle.
---
50 Nortons in 50 Weeks
A Deeper Sea — Alexander Jablokov
Between 1991 and 1998, Alexander Jablokov published five noteworthy novels, then vanished from the face of science fiction for an uncomfortably long time. It seems that, as has happened to other authors, he was distracted by real life. Happily, this is not another P. J. Plauger affair: Jablokov did return in 2006, in short form, and in 2010 at novel length.
1992's A Deeper Sea sets out, yet again, a lesson empires have learned and learned and learned … and forgotten every time. Lesson: the enemy of my enemy is not necessarily my long-term ally. Once the current conflict is over, the empire may find that the weapons it so considerately handed to its foreign cat's paws are being turned on the empire itself.
---
Military Speculative Fiction That Doesn't Suck
Fuzzy Nation — John Scalzi
---
I've probably mentioned that I loathe reboots, necrolaboration [1], or updating old stories, in the sense that even when the effort is made out of affection for the source material rather than crass materialism, I've seen them go horribly wrong far more often than I have seen them go right [2]. I am not a fan of this stuff, is what I am saying. I am least likely to react well to a reboot of a personal old favourite, because that combines an almost certainly doomed effort with material with which I am familiar and about which I care. Generally, the best I can hope for is vague disappointment; the worst is a book I hate and an author I am forced to see as history's greatest monster.
Which gets us to 2011's Fuzzy Nation, John Scalzi's reboot of H. Beam Piper's classic, Little Fuzzy.
---
Special Requests
The Melancholy of Haruhi Suzumiya — Nagaru Tanigawa
Haruhi Suzumiya, book 1
First published in 2003 as Suzumiya Haruhi no Yūutsu, Nagaru Tanigawa's popular light novel was translated from the original Japanese to English by Chris Pai and published under the title The Melancholy of Haruhi Suzumiya by Little, Brown's Yen Press in 2009.
~oOo~
By the time we first meet him, pessimistic high school student and narrator "Kyon" (whose real name is never revealed) has resigned himself to the fact that he lives a mundane life in a mundane world and that wonders like aliens, time travel, and ESP powers are matters of pure imagination, nonsense that will never have anything to do with the gray, dull life he will no doubt live.
And then by chance, he is seated directly in front of Haruhi Suzumiya, disgruntled schoolgirl, noted eccentric, and, quite possibly, living god.
---
Translation
The Starchild Trilogy — Jack Williamson & Frederik Pohl
1977's The Starchild Trilogy collects the three short novels of the eponymous trilogy by Jack Williamson and Frederik Pohl. I cannot say the novels are actually any good—in fact, I will be devoting a certain amount of space to pointing out the ways that they aren't—but they certainly are odd and they do offer a remarkable level of wacky fun.
---
Because My Tears Are Delicious To You
The Best of Margaret St. Clair — Margaret St. Clair
There are those who would paint old-time SF as an exclusively masculine affair. Those people are wrong and a subset of them is willfully lying. Margaret St. Clair (1911–1995), to pick just a single woman working in the field, is proof SF was never exclusively male. She was a fairly prolific pulp writer (over 130 short works and eight novels), specializing in short works in the 1950s before moving into novels in the 1960s. Although she was armed with a Master of Arts in Greek Classics, she seemed content to play in the pulps, where she published works unlike anyone else's.
Rather frustratingly, St. Clair is out of print these days; if there are any modern editions of her books, I was unable to find them. If she is known to younger readers at all, it is because of a particularly dire bit of cover copy inflicted on her by some editor (who seems to have been an idiot and also bad at his job). Luckily for me, I was sent a copy of her 1985 collection The Best of Margaret St. Clair and luckily for you, I was paid to review it.
---
Special Requests
Key Out of Time — Andre Norton
Time Traders, book 4
1963's Key Out of Time is the fourth in the Time Traders series. Until 1993's Firehand, it was the final novel in the series (and it was definitely the last Time Traders book Norton authored solo [1]) so for thirty years this book established how the series ended for its fans. It paints a rather gloomy picture.
~oOo~
As far as the Americans know, the attempt to colonize Topaz with a crew of brainwashed Native Americans (a crew that included series regular Travis Fox) ended in catastrophe. In fact the Topaz mission did not go well … but it was not the calamity it appears to be from Earth's perspective. Travis' co-workers and friends Ross Murdoch and Gordon Ashe have no way to know that their friend and his fellow Native Americans are alive and well [2]. It is with some trepidation that Ross and Gordon join a new team of colonists that is heading out to another terrestrial world, the sea world called Hawaika.
At first glance, Hawaika seems to be a paradise world: vast seas dotted with idyllic little islands. However, the apparent tranquility conceals a mystery. The colonists found Hawaika by following an old star map, a relic left by the Baldies, an alien culture that vanished long ago. The Baldies also left maps of Hawaika, maps that look nothing like the current planet. Something dramatic must have happened to transform the world the world so thoroughly.
And thanks to a mishap with a time gate, Ross, Gordon, and their friend Karara (and some photogenic dolphins) are going to be given the chance to find out just what happened—in person!
There will be spoilers.
---
50 Nortons in 50 Weeks
Alpha Centauri or Die! — Leigh Brackett
Leigh Brackett's Solar System, book 7
1963's Alpha Centauri or Die! brings this series of reviews to an end. Sadly, this fix-up of 1953's "The Ark of Mars" and 1954's "Teleportress of Alpha C" is not very good and not all that representative of Brackett's work.
~oOo~
Tired of the endless cycles of war, the governments of the Solar System have united into one system-wide repressive regime. Every reasonable need is filled, every detail of life closely regimented, and all space travel by humans, halflings, and other intelligent beings is completely forbidden. Silent robot ships provide the trade on which civilization depends. Citizens are supposed to remain in their designated districts and be grateful for what the State allows them.
Not everyone is happy with this arrangement. Former rocket man Kirby, for example.
---
Leigh Brackett's Solar System
The Forlorn Hope — David Drake
In any discussion of MilSFF, David Drake's name is likely to come up earlier rather than later. Partly this is because he is seen as one of the founding figures of military SF (at least as it developed in the US). Partly it's because, the occasional off-note aside [1], his work is generally never less than competent and sometimes very good [2]. Against the backdrop of the dismal swamp that is the majority of commercial MilSFF, even his merely competent material stands out.
A lot of people—me, mostly—hold a grudge against Drake for his part in establishing the Heroic Mercenary trope in MilSFF, which is a bit unfair. Firstly, Jerry Pournelle and his literary spawn are far, far more responsible for the figure of the noble mercenary bravely gunning down dissidents in sports arenas [3]. Drake's mercenaries are often not good people—some of them are very bad indeed—but they look good because the people around them are even worse.
Which gets us to 1984's The Forlorn Hope.
---
Military Speculative Fiction That Doesn't Suck
Jumper — Steven Gould & Kevin O'Donnell, Jr.
Jumper, book 1
[I am aware the title and credit for the two books is somewhat munged at present]
Publishers like Tor send reviewers like me free books because they hope a review will result. Mission accomplished! Tor sent me a copy of Steven Gould's latest book Exo and as a direct result of that I am writing a review featuring not one but two books. OK, one of them is of a different Gould book, 1993's Jumper, and the other is of 1981's The Journeys of McGill Feighan: Book 1: Caverns, a book by an author whom Tor has never to my knowledge published, a book that predates Tor's very existence but still … book goes in, review goes out. The system works.
---
Miscellaneous Reviews
Sand of Bone — Blair MacGregor
Desert Rising , book 1
2014's Sand of Bone has a very pretty cover, which is missing one crucial detail. I wish author Blair MacGregor's publishers had seen fit to highlight the fact that this is volume one in the Desert Rising series[1].
~oOo~
The kingdoms along the Great River, not the least of which is SheyKala, are ruled by the Velshaan, a lineage that can quite rightly claim to be descended from the gods themselves. Judging by the lamentable history of the Velshaan, divine ancestry confers no particular wisdom. The gift of quasi-immortality seems to be coupled with a massive sense of entitlement, an entitlement that blinds the Velshaan to the consequences of their actions.
---
Special Requests
Doorways in the Sand — Roger Zelazny
I get the impression that his star has dimmed somewhat since his untimely death in 1995, but during his prime—from the 1960s to the 1980s—Roger Zelazny was considered one of the great authors of science fiction. Corner a group of SF fans of the right age, reveal the implements of questioning,and they will fall all over themselves revealing which of Zelazny's works they admire most.

My great shame is that not only did I miss some of his most famous stories—it took me until the 2000s to get around to "A Rose for Ecclesiastes"—but I didn't care for such later-considered-classic books as I did encounter (like the early Amber novels). Worse yet, due to a quirk in my memory, I've forgotten almost entirely the contents of many of the books on my Zelazny shelf [1]. Lord of Light: forgotten! Creatures of Light and Darkness: forgotten! Nine Princes in Amber, except maybe for that first chapter: forgotten! But there are a few books that for some reason, I both liked and remembered.
First among them is Doorways in the Sand.
---
Because My Tears Are Delicious To You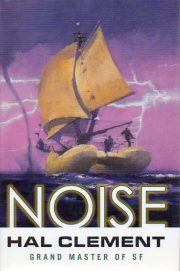 Hal Clement's career spanned seven decades but he was never a particularly prolific novelist [1]. Although he published five novels in the 1950s, after that he never put out more than one or two a decade [2]. Despite this comparatively small output, he was still considered a significant enough figure that he was named the 17th SFWA Grandmaster in 1999. His 1954 Mission of Gravity is considered a hard SF classic; his 1949 Needle may well have been the first science fiction mystery novel of note.
2003's Noise is noteworthy for an unhappy reason: it was Hal Clement's final novel, published only about a month before he died.
~oOo~
Centuries after the water world Kainui was settled by a diverse assortment of Polynesians, Terran linguist Mike Hoani arrives to study the languages that have evolved on that distant world. What he finds is a world unlike any other.
---
Graveyard Orbits
Eye of the Monster — Andre Norton
I learned a couple of useful lessons reading 1962's Eye of the Monster. One was that, contrary to my belief that the Number 24 bus loops back to Westmount and Highland in ten minutes, it actually takes long enough for me to read a considerable fraction of a short—135 pages in the 1984 Ace MMPK—novel like Eye of the Monster [1]. The other lesson was that Norton could write books that reminded me of Jack Vance's novels, but not in a good way.
The planet Ishkur! Once part of the South Sector Empire but now, thanks to the whim of the Imperial Council, on the verge of independence. The native Crocs have promised toleration to such of their former colonial masters as remain on Ishkur, but this is merely a ruse. Inexplicably, the rank-smelling natives have no love for their former colonial overlords, even though Imperial ways "were better than the rule the natives had for themselves." The only peace the off-worlders will be granted is the peace of the grave!
---
50 Nortons in 50 Weeks
Beyond Mars — Leigh Brackett
Leigh Brackett's Solar System, book 6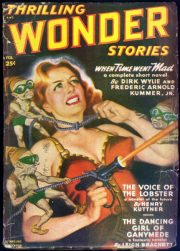 This collection of Leigh Brackett short stories finally moves out past Mars, into and beyond the Asteroid Belt! It also provides a nice lesson in why I should look over omnibuses carefully before beginning a review series: it would have worked better to ignore the organization of the omnibus and simply review each novel on its own and then write one huge review covering all the short stories. There are only five short stories in this collection, all published between 1941 and 1950, and they're all fairly slight.
---
Leigh Brackett's Solar System
The Forever War — Joe Haldeman
Forever War, book 1
This is a case of a commission dovetailing nicely with my themed reviews. For the most part I would prefer to stick to military speculative fiction that I think readers may have overlooked. There are a few classics, generally early ones, that I believe it would be illuminating to review [1]. One of those is Joe Haldeman's classic 1975 novel, The Forever War.
When I reread this book, I remembered a more obscure work by the same author, an early short story called "Time Piece", which was published in 1970. I don't know of any other review that has compared the two. This may be because "Time Piece" didn't win the Nebula, the Hugo, the Ditmar, and place first in the Locus, which The Forever War did. Something told me that it would be interesting to compare the two works; I'm glad I did.
The edition of The Forever War I am reading is the 1976 mass market paperback, first printing. I understand there is a later, somewhat different edition; I don't own that one. The edition of "Time Piece" I am reading is the one in Reginald Bretnor's 1980 collection The Future at War: Orion's Sword.
---
Military Speculative Fiction That Doesn't Suck
Signal to Noise — Silvia Moreno-Garcia
Silvia Moreno-Garcia may not be quite as well known as Margaret Atwood but she too is a Canadian speculative fiction author, as well as a publisher and an editor. Although she has published enough short fiction to fill two collections, 2015's Signal to Noise is her first novel.
---
In Other Worlds: SF and the Human Imagination — Margaret Atwood
In the world of Canadian literature, Margaret Atwood is revered as a major figure, a giant who towers above such lesser authors as Alice Munro, Michael Ondaatje, Anne-Marie MacDonald, and Margaret Laurence—who even stands far above such revered past masters of Canadian authorship as Alistair MacLeod and Robertson Davies [1]. Well, if the world of Canadian literature is defined as me.
Alas, despite the fact that at least three of her books—The Handmaid's Tale, Oryx and Crake, and The Year of the Flood—are indisputably science fiction, her relationship with the science fiction community is somewhat, shall we say, fraught. In large part this is because she denies that her books are science fiction at all. The uninformed perception is that she is hostile to science fiction, which feeds into the whole perception that litfic types disdain and mock science fiction. I believe that this canard goes back to that time Ernest Hemingway gave Robert Heinlein a thumping and then took his lunch money [2].
This is unfair and untrue. Proof of that assertion exists in the form of Atwood's 2011 collection of essays and other work, In Other Worlds: SF and the Human Imagination. Her text isn't intended as a general work on science fiction as a whole, but rather as an exploration of Atwood's personal relationship to science fiction.
---
Special Requests
The Avatar — Poul Anderson
The man in the title is me. Way back when I was a young, easily pleased SF fan, I encountered a book by a favourite author, a book that taught me a very valuable lesson: I don't have to finish every book I begin [1]. The year was 1980; the book was Robert A. Heinlein's Number of the Beast [2].

I could have possibly have learned this lesson a few years earlier, in 1978, when I first read Poul Anderson's The Avatar. This book is the "distilled essence of Bad Poul Anderson fiction of the 1970s" (to quote myself). But the book does have its strong points, which may be the reason why it was Number of the Beast and not The Avatar that taught me not to waste my time doggedly finishing tripe.
There will be spoilers.
---
Because My Tears Are Delicious To You
The Defiant Agents — Andre Norton
Time Traders, book 3
[A note that I will probably remove if these reviews are ever collected into book form: yes, I screwed up the order of the last few reviews.]
1962's The Defiant Agents is the third in the Time Traders series. It's a sequel to The Time Traders and Galactic Derelict.
Thanks to the events of the previous two books, the US now has in its possession the location of various potential colony worlds as well as the means to reach them. Unfortunately, thanks to a spy, so do the Reds.
Once the info theft is revealed, the US decides to override the objections of researcher Dr. Ashe, ignore the fact that certain vital technologies are still in the experimental stage, and set in motion Operation Cochise: the settlement of the planet Topaz by Amerindians like Travis Fox.
---