Watchtower — Elizabeth A. Lynn
Chronicles of Tornor, book 1
1979's Watchtower is the first volume in Elizabeth A. Lynn's Chronicles of Tornor.
Most of Tornor Keep's defenders died in a futile attempt to bar invaders led by Col Istor. Knocked out cold early in the battle, the armsman Ryke was spared. Not out of charity. Istor respected Ryke's abilities and preferred to keep him alive and useful. Not that Istor wholly trusts Ryke, but he does have leverage.
That leverage is Errel, heir to the late lord of Tornor Keep. Errel lives only as long as Ryke serves Istor. At that, Errel survives only as a "cheari" or jester.

---
Because My Tears Are Delicious To You
A Different Light — Elizabeth A. Lynn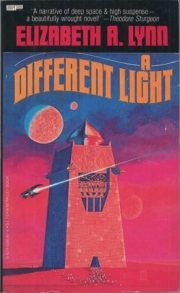 1978's standalone novel A Different Light was written by Elizabeth A. Lynn. She is an author I enjoy..
Jimson Alleca has the bad luck (a one in a billion chance) to be an adult cancer patient in a galaxy where cancer is unknown. Modern medicine may have failed him, but it can at least offer him good odds of surviving until his fifties. Provided he is lucky. Provided his doctors can keep finding new treatments faster than the cancer can kill him. Provided he never, ever tries to leave his homeworld; the stress of travel through hyperspace would reduce his remaining years from twenty to one.
Living to be safe may be extending his life but it's killing his soul. Others may still applaud his art, but he can tell his development has stalled. When Russell, a former lover who left Jimson years ago, sends an enigmatic message, Jimson cannot resist the lure of mystery and escape. Better one year of glory than decades of stagnation.
---
Because My Tears Are Delicious To You
The Northern Girl — Elizabeth A. Lynn
Chronicles of Tornor, book 3
Elizabeth A. Lynn's 1980's The Northern Girl, is the third book in the Chronicles of Tornor. As was the custom of those ancient days, the book works as a standalone. While reading the first two books would provide interesting context for this work, you don't need to have read those books to understand this one. As I recall, the first two were good but this one is the longest and most ambitious of the three. It's also not your bog-standard secondary world fantasy.
Half-a-millennium after its founding, Kendra-on-the-Delta is arguably the greatest of the cities of Arun, the land stretching from the Grey Hills to the ocean. To date, Arun has been not so much a nation or kingdom as a collection of loosely allied city-states and holdings. Now, thanks to the ambitions of a few ambitious men, all that may be about to change.
But that's not what the book is really about.
---
Because My Tears Are Delicious To You
The Sardonyx Net — Elizabeth A. Lynn
I have only myself to blame for this. I could have gone with the Chronicles of Tornor or A Different Light but no, I snagged this one even though there was a quiet voice at the back of my head saying I didn't enjoy The Sardonyx Net the first time round. Well, now at least I remember why I didn't like it.
---