Riding the Torch — Norman Spinrad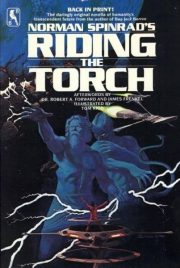 Norman Spinrad's 1974 Riding the Torch is a standalone science fiction novella.
Mistakes were made. Earth is a lifeless cinder. Before the planet was seared, a small fleet of interstellar ships managed to escape. Surely somewhere in the sky, there must be a second Earth.
A thousand years later, the torchships are still looking. On and on they travel, harvesting the materials they need to survive and prosper from the interstellar void.

---
Because My Tears Are Delicious To You
The Iron Dream — Norman Spinrad
Norman Spinrad's 1972 nested alternate history novel The Iron Dream isn't my favourite Spinrad1, but it is almost certainly his most famous work. It earned a Prix Apollo Award and a Nebula nomination. The book was also indexed by the Bundesprüfstelle für jugendgefährdende Medien , the German Federal Department for Media Harmful to Young Persons, for alleged Nazism and was placed on the American Nazi Party's recommended reading list. Perhaps some explanation is required.
Spinrad's The Iron Dream is composed of two sections. The final section is a commentary by a fictional academic named Whipple. The first part, the part that earned Spinrad unwanted attention from the BJpM and the American Nazi Party, is Adolf Hitler's Lords of the Swastika .
---