Jade War — Fonda Lee
Green Bone Saga, book 2
Jade War is the second volume in Fonda Lee's ongoing Green Bone Saga.
Ayt Mada has a simple dream: unify all of Kekon's clans under her benevolent rule, the better to protect Kekon's interests in a world filled with powerful, empires. The No Peak clan refuses to submit to Ayt's Mountain Clan, so it must be destroyed for the greater good.
No Peak's Pillar (leader) Kaul Lan had all the skills that might ensure No Peak's survival in the face of the Mountain Clan's aggression. Alas for No Peak, Lan was murdered, leaving the clan with Lan's intemperate brother Hilo as leader. Hilo prefers direct, brutal methods. No Peak's survival depends on Hilo growing into his unwanted role.
---
Doing What the WFC Cannot Do
Cross Fire — Fonda Lee
Exo, book 2
2018's Cross Fire is the second volume in Fonda Lee's Exo series.
While the crisis in the previous novel was successfully handled, that did not bring Donovan Reyes's father back to life, nor did it resolve the fundamental problem of how to reconcile the Commonwealth's strategic goals with Earth's defensive needs. Earth is, after all, merely one of a great many worlds in the Mur Erzen Commonwealth and not a particular rich one. Defending it from the Rii could prove expensive.
The zhree who invaded Earth have a simple, economically justifiable plan: abandon the Earth to their rapacious cousins.

---
Military Speculative Fiction That Doesn't Suck
Jade City — Fonda Lee
Green Bone Saga, book 1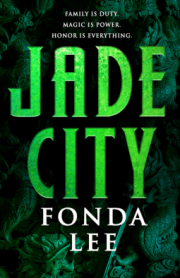 2017's Jade City is the first installment in Fonda Lee's Green Bone Saga secondary-world kung-fu gangster saga. At 512 pages, it's significantly longer than either Exo's 369 pages or Zeroboxer's 351. It's also significantly more ambitious.
The island of Kekon is the only known source of jade, which in this world is a miraculous substance that can grant enhanced abilities to those few whom it does not drive mad or kill. The minority who can use it safely are known as Green Bones. Custom grants the Green Bones a role as protectors of Kekon and its merchants (whether the merchants want protection or not). Since the Green Bone clans are constantly feuding, the island is far from peaceful.
Ayt Mada plans to transform a divided island into a unified whole.

---
Miscellaneous Reviews
Fonda Lee's 2017 Exo is a standalone young-adult SF adventure novel. (No, this is not a review of Steven Gould's Exo, even if my editor wishes it were.)
Earth is a colony of the Mur Commonwealth, a colony protected by its benevolent zhree overlords from their rapacious Rii cousins. Most humans, secure in their placid second-class existence, regard the brutal resistance that first met the zhree as a regrettable mistake. For the insurgents of the Sapience, the resistance is an inspiration.
Teenager Donovan Reyes is a loyal soldier for the zhree: an elite soldier, hardened with alien biotechnology. Donovan and those like him are charged with maintaining the peace in West America. His enhancements provide Donovan and his comrades with the durability, speed, and lethality required to protect the "squishies," as the soldiers deem the unenhanced humans, from their own worst impulses.
A moment of poor judgment lets the insurgents capture Donovan. Sapience's policy is to brutally murder any soldiers they capture, pour encourager les autres. Donovan's prospects are dim — or they would be if not for the fact that in addition to being a willing ally of the zhree, he is also the only son of West America's Prime Liaison Reyes. Donovan has considerable hostage value.
The Reyes government does not negotiate with terrorists.

---
Military Speculative Fiction That Doesn't Suck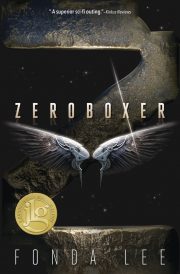 2015's standalone futuristic sports story Zeroboxer was Fonda Lee's debut novel.
Zero gravity boxing — zeroboxing — provided Carr "the Raptor" Luka with his ticket out of Toronto and up into orbit, where the best people live. It's a brutal sport — but for the handful who claw their way to the top, it can be lucrative. Despite his youth, Carr is a promising boxer, promising enough that respected impresario Gant offers Carr a contract. With luck and the right handler, Carr could become one of the luminaries of the Zero Gravity Fighting Association.
Pity that Carr's success is based on a lie.

---