Stoneskin — K. B. Spangler
Deep Witch
2017's Stoneskin is a prequel to K. B. Spangler's upcoming Deep Witch trilogy.
Tembi Moon, one of the poorest of Adhama's poor, knows her alleys and she knows that the alley in which she has awakened is no alley that she has ever seen. It's the first hint that something vast and alien has taken a personal interest in her.
Vast, alien, and as friendly as a puppy dog.

---
Space Opera That Doesn't Suck
The Last Namsara — Kristen Ciccarelli
Kristen Ciccarelli hails from Ontario's Niagara Peninsula where she grew up on her grandfather's grape farm. She spent her childhood running wild with her cousins, adventuring in the woods, building forts in the barn, and obsessing over books, dragons, and girls wielding really cool weapons.
2017's The Last Namsara is Kristen Ciccarelli's debut novel.
Asha, daughter of the king of Firgaard, hunts dragons. She has devoted her life to this quest, to the point that dragons have become an endangered species.
Her father the king has one final task for Asha. Kill Kozu, the First Dragon. One last death and the king's rule will be secure against any revival of the old faith (and its dragons).

---
A Year of Waterloo Region Speculative Fiction
Kubikiri Cycle — NisiOsiN
Zaregoto, book 1
2002's Kubikiri Cycle is the first volume in NisiOisiN's Zaregoto series. The 2008 English translation is by Greg Moore.
Exiled to Wet Crow's Feather Island, Akagami Iria surrounds herself with the world's best and brightest, people at the pinnacle of their chosen fields. But one resident, nineteen-year-old Il-chan, is no such genius. His lesser status gnaws at him. There's no cure; for him, study and practice would be futile. But the fact that he knows he is a comparative dullard means that he is aware of his mediocrity — which fact bars him from the Garden of Eden that the truly dim enjoy.
Il-chan is on the island because his best friend Kunagisa Tomo is there. Kunigisa is a genius in her field of computer science. Outside her specialty, she is incapable of even minimal self-care or day-to-day competence. It's Il-chan's job to protect her from her own tunnel vision. Why would he do this? Well, certainly not because he's in love with Kunagisa. That would be attachment and attachment is a fool's game.

---
Translation
Fonda Lee's 2017 Exo is a standalone young-adult SF adventure novel. (No, this is not a review of Steven Gould's Exo, even if my editor wishes it were.)
Earth is a colony of the Mur Commonwealth, a colony protected by its benevolent zhree overlords from their rapacious Rii cousins. Most humans, secure in their placid second-class existence, regard the brutal resistance that first met the zhree as a regrettable mistake. For the insurgents of the Sapience, the resistance is an inspiration.
Teenager Donovan Reyes is a loyal soldier for the zhree: an elite soldier, hardened with alien biotechnology. Donovan and those like him are charged with maintaining the peace in West America. His enhancements provide Donovan and his comrades with the durability, speed, and lethality required to protect the "squishies," as the soldiers deem the unenhanced humans, from their own worst impulses.
A moment of poor judgment lets the insurgents capture Donovan. Sapience's policy is to brutally murder any soldiers they capture, pour encourager les autres. Donovan's prospects are dim — or they would be if not for the fact that in addition to being a willing ally of the zhree, he is also the only son of West America's Prime Liaison Reyes. Donovan has considerable hostage value.
The Reyes government does not negotiate with terrorists.

---
Military Speculative Fiction That Doesn't Suck
The High Couch of Silistra — Janet E. Morris
Silistra Quartet, book 1
1977's The High Couch of Silistra is the first volume in Janet Morris' Silistra Quartet. It's also proof that not every reviewer should review every book, because the market it caters to, the BDSM crowd, is not one to which I belong. I'm mostly blind to whatever strengths this work may have.
The ancient Silistrans used their impressive technology to scour their own homeworld. A handful survived in underground refuges. When the surface of Silistra recovered and the descendants of the survivors emerged from their warrens, they vowed to never again become dependent on technology.
Silistrans are hardy, long-lived, and thanks to that ancient war, infertile. High technology might have dealt with the fertility issue. The Silistrans chose an entirely different solution.

---
Special Requests
The Tripods Trilogy — John Christopher
1967's The White Mountains, 1968's The City of Gold and Lead, and 1968's The Pool of Fire constitute John Christopher's Tripods trilogy.
A century after the coming of the Tripods, humans are few, backward, and well-behaved. It has been decades since any human posed a serious threat to Tripod rule.
That's about to change.
(spoilers)

---
Because My Tears Are Delicious To You
Beasts of New York — Jon Evans
To quote his Wikipedia entry, Arthur Ellis award-winner Jon Evans was

(b)orn to an expatriate Rhodesian father and Canadian mother. Evans grew up in Waterloo, Ontario and graduated from the University of Waterloo. He has a degree in electrical engineering and over 10 years of experience working as a software engineer.
He's also a former customer of mine, from the days when I owned a game store. Small world!
2011's Beasts of New York won the Foreword Medal of the Year Award.
Patch son of Silver, of the Seeker clan, of the Treetops tribe, of the Center Kingdom, faces calamity, as do all his compatriots. Long winter means food stores are pressed to their limits and beyond. Instead of a meagre supply barely able to see Patch and his kin to spring, there is nothing. Starvation looms.
Patch discovers that his clan and kind face an existential threat that is far greater than a lean winter. The fate of the beasts of New York rests on the shoulders of Patch the squirrel.

---
A Year of Waterloo Region Speculative Fiction
Stratagem — Yoshiki Tanaka
Legend of the Galactic Heroes, book 4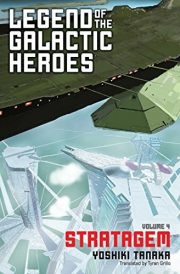 First published under the title Ginga Eiyu Densetsu, 1984's Stratagem is the fourth volume in Yoshiki Tanaka's Legend of the Galactic Heroes. Tyran Grillo's translation was published by Haikasoru in 2017.
In any other era, military genius Reinhard von Lohengramm would have been just as successful at conquering the breakaway Free Planets Alliance as he has been at commandeering the reins of power in his native Galactic Empire. Fate was unkind to Lohengramm; the Free Planets have their own military genius in academic Yang Wen-li. Thus far, the Free Planets remain free.
Scheming merchants and disloyal aristocrats may be about to hand von Lohengramm the means to finally defeat the Free Planets.

---
Translation
Power Ballad — Molly Brooks
Molly Brooks' 2017 Power Ballad is, in the words of its creator, a "lesbian superhero romcom" webcomic.
Meera Verma is the perfect personal assistant, so keen that it has taken her only two days to realize that her boss, talented musician Carina Peterson, is also Los Angeles' two-fisted costumed vigilante, the Skeleton. As any respectable personal assistant would, Meera immediately extends her services to the Skeleton as well.
Meera has only one defect as an employee. She's made the terrible error of falling hard for her boss.

---
Miscellaneous Reviews
Whipping Star — Frank Herbert
ConSentiency, book 1
1970's Whipping Star is the third piece and first novel-length work in Frank Herbert's ConSentiency series. I hope I've worked out how I am going to number Whipping Star by the time I post this review.
The ConSentiency spans the Milky Way. While faster than light drives exist, all are too slow for galactic travel. What made the ConSentiency practical was the jumpdoor. Jumpdoors allow people to step from the surface of one planet to the surface of another. Jumpdoors were so clearly useful that nobody questioned their enigmatic Caleban creators too closely about how exactly they worked.
Jumpdoors have some interesting undocumented features. For example, someone who knows their jumpdoors can use them to kill an astonishing fraction of the population of the ConSentiency in one go.

---
Because My Tears Are Delicious To You
Lightning in the Blood — Marie Brennan
Books of the Varekai, book 2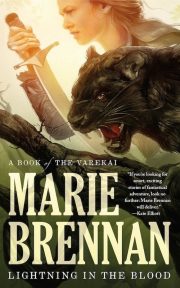 2017's Lightning in the Blood is the second in Marie Brennan's Books of the Varekai series.
At the end of Cold-Forged Flame, Ree set out to help her new friend Aadet overthrow the tyrant of Solaine. With the tyrant deposed and rightful heir Enkettsivaane in power, that leaves the question of what to do with Ree, who is an archon, a being of great power. A useful ally, yes, but a dangerous next-door neighbour.
Every archon must follow its nature. Providentially for Enkettsivaane, Ree's nature provides a solution that will keep his hands clean. Ree's wanderlust compels her towards Solaine's border, towards new lands and new adventures.
She very nearly makes it out of Solaine.
---
Miscellaneous Reviews
The Riverbed of the World — B. C. Holmes
an

IT

consultant, a social justice activist (especially in regards to Haiti), a trans person, a writer and cartoonist, an sf fan, a pinko-commie feminist, a film-lover and a Canadian (eh?).
To date they have produced a small but diverse body of work. It includes non-fiction and fiction, graphic (in the sense of comic books) fiction, and spec-fic stories such as "Ghosts in the Machine," "Glamour," and the short work I'm reviewing, "The Riverbed of the World."

---
A Year of Waterloo Region Speculative Fiction
Fullmetal Alchemist (3-in-1 Edition), Volumes 13–15 — Hiromu Arakawa
Fullmetal Alchemist, book 5
Viz' Fullmetal Alchemist (3-in-1 Edition), Volumes 13–15 includes Volumes 13, 14, and 15 of the original Japanese manga1. Story and art are by Hiromu Arakawa; English translation by Akira Watanabe; English adaptation by Jake Forbes; touch-up art and lettering by Wayne Truman. The original manga appeared in 2006.
I'm cheating somewhat here. No local source has the omnibus. I tracked down the individual volumes. That should suffice.
Edward and Alphonse's cunning scheme has paid off beyond their wildest nightmares. The brothers and their allies have managed to capture the homunculus Gluttony.
But their triumph is brief.
Once free, Gluttony sets out to even the score for its fellow homunculus, who died in the flames sent by pyromancer Roy Mustang. Gluttony's plan succeeds beyond all expectation. Gone: expendable Prince Lin, Gone: Edward and homunculus Envy. Oops.

---
Translation
Ann Leckie's 2017's Provenance is either a standalone novel set in the same universe as the Ancillary books, or the first book in a series set in the same universe as the Ancillary books. I should find out which it is before posting this. Wonder if I will.
Oh, well.
Determined to prove her worth to her high-ranking foster-mother Netano Aughskold, Ingray Aughskold has invested most of her money in a very bold scheme, a scheme so well planned that it does not go off the rails until shortly before the book begins.
Ingray paid to have a very special person retrieved from durance vile. She did not expect him to arrive in a suspension box1. Nor did she anticipate that meticulously conscientious Captain Uisine would insist on talking to the man in the box to make sure that he wanted to be transported from Tyr Siilas to distant Hwae. Nor did Ingray foresee that the man in the box would deny being Pahlad Budrakim, the arch-criminal who is the key to Ingray's cunning plan.
And then the real complications begin.

---
Space Opera That Doesn't Suck
Restoree — Anne McCaffrey
Anne McCaffrey's standalone SF novel Restoree was her debut novel.
Snatched by monstrous aliens, embittered spinster Sara wakes from nightmares to find herself transformed from an all-too-Semitic-looking woman whom nobody could possibly love to a beauty. Her current captors are using her as grunt labor in a mental institution. They regard her as semi-intelligent and unthreatening.
Her masters' underestimation of Sara's cognitive abilities will prove their undoing.
---
Because My Tears Are Delicious To You
The Murders of Molly Southbourne — Tade Thompson
Tade Thompson's 2017 The Murders Of Molly Southbourne is a standalone novel of SF horror.
Molly's parents taught her four simple rules:
If you see a girl who looks like you, run and fight.
Don't bleed.
If you bleed, blot, burn, and bleach.
If you find a hole, find your parents.
Failure to follow any one of these rules could mean death. For Molly, for her parents, for anyone involved.
---
Miscellaneous Reviews
Flesh Failure — Sèphera Girón
Sèphera Girón's 2014's Flesh Failure is a standalone horror story.
Agatha is a patchwork woman, covered in stitches and scars, smelling of death. She has been buried and left for dead, but claws her way out of the grave. She has only spotty memories of the people, and the process, that animated her.
It is London in 1888. Employment opportunities for women are few, and even fewer for scarred women who reek of the grave. It's even hard to make friends, as few people can tolerate her smell … especially in the small, poorly ventilated rooms that are the lot of the poor. But Agatha persists, and eventually finds work as a fortune teller and freak. She even discovers that the occasional dose of electricity will temporarily reverse some of her more alarming symptoms.
Except for her tendency to ambush and consume the unwary. Ah well, nobody is perfect.

---
A Year of Waterloo Region Speculative Fiction
2009's Dendera is a standalone novel by Yuya Sato. The 2015 Haikasoru translation is by Nathan A. Collins and Edwin Hawkes.
Every inhabitant of the Village who manages to make it to age seventy (despite a life of hard labor, disease, and famine) is rewarded by exile to the Mountain (in winter) where, they are told, they can expect a quick death and Paradise thereafter.
Eager for Paradise, Kayu Saito cheerfully heads up the mountain. She is outraged not to find her Elysium.
---
Translation
Sungrazer — Jay Posey
Outriders, book 2
Sungrazer is the second book in Jay Posey's Outriders series.
The United States may be just one part of the pole-to-pole United American Federation, but Americans still have their own covert programs. One of them is SUNGRAZER, a stealth satellite orbiting ten million kilometers from Mars. SUNGRAZER is self-contained and self-directed. It collects useful data re the Martian colonies for the US; it can also deliver between fifteen to three hundred kinetic strikes, strikes ranging from simple block-busters to city killers. Which would terrify the Martians if they knew about it.
A decade into its long term mission, SUNGRAZER vanishes from American ken. Someone has taken control of the US asset, sending it off in a direction the Americans cannot detect, for a purpose about which they can only speculate.
---
Military Speculative Fiction That Doesn't Suck
The Forgotten Beasts of Eld — Patricia A. McKillip
1974's standalone secondary world fantasy The Forgotten Beasts of Eld was Patricia A. McKillip's second fantasy novel. It won the World Fantasy Award and was nominated for the Mythopoeic Fantasy Award1.
Raised in isolation by her mage father, the ice-white lady Sybel is content to live with her menagerie of fantastic beasts. She knows nothing of the company of humans and cares naught for the lack.
This does not prevent a stranger from arriving on her doorstep, bearing a child whom he means to foist on her.

---
Because My Tears Are Delicious To You
Cold-Forged Flame — Marie Brennan
Varekai, book 1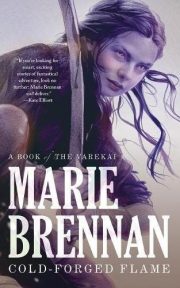 2016's Cold-Forged Flame is the first story in Marie Brennan's Varekai series.
Called up out of shadows, without memory or even a remembered name, the swordswoman is magically bound to carry out a quest using methods that are unclear, for a purpose that is not explained. All she knows is that she must somehow collect blood from the cauldron of the Lhian. Whoever or whatever the Lhian might be.
One final detail she learns: most of the people who try to win a prize from the Lhian never return.

---
Special Requests
The Young City — James Bow
The Unwritten Books, book 3
2008's The Young City is the third and last volume in James Bow's The Unwritten Books trilogy.
For Rosemary Watson, helping her brother Theo move into his Toronto apartment was meant to be a prelude to her own foray into adult life. She and her boyfriend Peter McAllister were soon to start uni in Waterloo and London, Ontario1 respectively.
Adult life intervenes unexpectedly. The floor of Theo's basement apartment collapses and drops Rosemary and Peter into the long-buried Taddle Creek. Emerging from a storm drain, the couple find themselves in a very unfamiliar Toronto. The problem wasn't the floor; it was the structure of space-time itself2.
---