A Princess of Mars — Edgar Rice Burroughs
Barsoom, book 1
1912's A Princess of Mars is the first book in Edgar Rice Burroughs' interminable Barsoom series.
Having fought on the losing side of the Slavers' Uprising, Captain John Carter heads west to see what he can steal from North America's indigenous population. Cornered by a Native American warband, death seems inevitable … but as is the way of portal series, Carter finds himself transported to an entirely unfamiliar world.
Carter is on dying Mars, or as its inhabitants call it, Barsoom.

---
Because My Tears Are Delicious To You
The Islands of Chaldea — Diana Wynne Jones
2014's The Islands of Chaldea was Diana Wynne Jones' final novel. Unfinished at the time of Jones' death in 2011, it was completed by Diana Wynne Jones' sister, Ursula Jones.
The women of Aileen's family all undergo a rite of passage, one which they hope will lead to a vision and special powers. Aileen is sure that she failed her vision quest. No vision, no evident power or talent. So she is puzzled when her Aunt Beck insists on bringing her to a consultation with King Kenig of the island of Skarr.
This, as you might expect, is the start of her adventures.

---
Twelve by Diana Wynne Jones
Adachitoka
Noragami, book 8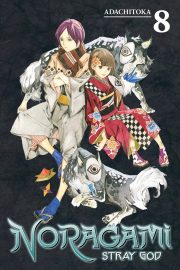 Adachitoka's Noragami Volume 8 collects issues 28 to 31 of the adventures of the stray god Yato. The manga was first published in 2013; the English translation was published in 2015. Included in the volume are
28. "God of Calamity" (禍津神 "Magatsukami")
29. "The Three Affairs of Three Realms" (三つの国の諸事情 Mittsu no Kuni no Sho Jijō)

30. "The Sound of Thread Snapping" (糸の切れる音 "Ito no Kireru Oto")

31. "Like Parent, Like Child" (親なり、子なり Oya Nari, Konari")
Yato, newly minted god, vanishes.

---
Translation
If at First You Don't Succeed, Try, Try Again — Zen Cho
Zen Cho's 2018 If at First You Don't Succeed, Try, Try Again is a standalone novelette.
Nothing is finer than being an enlightened dragon, armed with the wisdom of the ages and a cintamani, a matchless pearl that confers godly power on the possessor. Or so believes Byam, a lowly imugi (worm). Searching for the secret of enlightenment, it is visiting terrified monks, asking them to teach it the Way. Right now!1 It is also contriving various schemes to trick heaven into granting it entry to the celestial ranks.

---
Miscellaneous Reviews
Babylon's Ashes — James S. A. Corey
Expanse, book 6
2016's Babylon's Ashes is the sixth book in James S. A. Corey's Expanse series.
Earth is in ruins; half the population is dead thanks to the Welter Free Navy's asteroid attack. Neither the UN or Martian space navies are powerful enough to crush the Free Navy, which is supported by close to half of the population in the Outer Planets Alliance. The Free Navy controls the gates to humanity's extra-solar colonies.
Marco Inaros is the mastermind behind the Free Navy. Everything is going Marco's way. Just ask Marco.
---
An Expanse of Coreys
Panic in the Year Zero! — Ray Milland
Ray Milland's 1962's Panic in Year Zero! is a film about surviving an atomic war. John Morton and Jay Simms' script was based (without credit) on Ward Moore's "Lot" (1953) and "Lot's Daughter" (1954).
Los Angelinos Harry Baldwin (Ray Milland), wife Ann Baldwin (Jean Hagen), son Rick Baldwin (Frankie Avalon), and daughter Karen Baldwin (Mary Mitchell) set out early one morning for a camping trip at rustic Shibes Meadow, a trip for which Harry seems the main enthusiast. Their timing proves fortunate. Soon after they reach country roads, mysterious bright flashes signal the end of the Baldwin's comfortable middle-class life.
The mushroom clouds growing over Los Angeles confirm what the bright flashes suggested. America's enemies have struck with atomic force on Los Angeles. Although Ann's mother may still be alive in flaming LA, Harry soon gives up any hope of rescuing the superfluous old lady (played by nobody, as she never appears on screen). Instead, he focuses on saving his family from the chaos to come.

---
Because My Tears Are Delicious To You