Hellmaw: Soul Larcenist — Suzanne Church
Dagger of Sacrados, book 1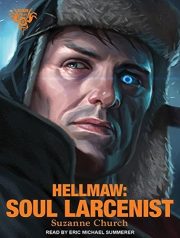 Suzanne Church's 2016 supernatural thriller Hellmaw: Soul Larcenist is book one in the Dagger of Sacrados Trilogy. It is set in Ed Greenwood's shared universe, Hellmaw.
Called to the scene of a spectacularly brutal double homicide, protagonist Detective Sergeant Windsor Kane has no idea that she and her husband Davian are being stalked by the killer. By the time she does figure that out, she and Davian have been overpowered, kidnapped, and prepared for a slow, painful death.
---
A Year of Waterloo Region Speculative Fiction
Elements: A Collection of Speculative Fiction — Suzanne Church
Unlike the previous two Kitchener-Waterloo (KW) Science Fiction and Fantasy authors, I have not to my knowledge met Suzanne Church – yet - but I did encounter her "Synch Me, Kiss Me, Drop", during my failed attempt to listen to every audio piece at Clarkesworld1. Church was first published almost a decade ago but she is not especially prolific and this is her first collection. Elements collects twenty-one stories by Church, which is actually eight more stories than are credited to her over at isfdb. I would like to say that the gaps in her isfdb entry are because seven of the stories in Elements are original to Elements itself - which is true - but Elements itself is mentioned in that entry.
---
KW Science Fiction and Fantasy