The Scorpion Rules — Erin Bow
Prisoners of Peace, book 1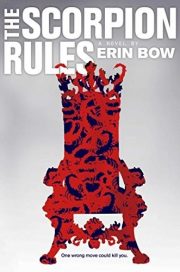 The Scorpion Rules is the first volume in Erin Bow's Prisoners of Peace series.
The children of the Precepture school live under the gaze of watchful cameras monitored by a powerful AI (Artificial Intelligence). The students are there to make their own small contributions to world peace. Each child at the school is the child of a national ruler. Each is hostage for their parent's good behaviour. Nations can choose to go to war if they feel the national interest demands it, but if they do … the child hostages of all warring states involved will be immediately removed from class and killed. It's a harsh system but it has worked as planned. Wars have been short and total casualties limited to a few thousand per year, despite the immense challenges encountered during four centuries of catastrophic climate change.
Greta Gustafsen Stuart, Duchess of Halifax and Crown Princes of the Pan-Polar Confederation, is one of the hostages. She hopes to live until she reaches the ripe old age of eighteen, at which point she will be released from the school. Failing that, she hopes to die with dignity. She does not consider escape. The AI will surely prevent that.
Then the teenage boy with bound hands arrives at school.
---
A Year of Waterloo Region Speculative Fiction
The Ships of Air — Martha Wells
The Fall of Ile-Rien, book 2
2004's The Ships of Air is the second volume in Martha Wells' The Fall of Ile-Rien trilogy. It follows immediately on The Wizard Hunters, which I reviewed here.
The book begins on a high note (the same one on which the previous volume ended): Tremaine and her friends have captured a Gardier outpost! Victory is surely theirs, because that is how it works at the beginning of the second book in a trilogy.
There are just two small problems: Firstly, Tremaine and her friends are in a parallel universe. Secondly, they have no means to get home.
---
Special Requests
Hitoshi Ashinano
Kabu no Isaki, book 3
The third volume of Hitoshi Ashinano's Kabu no Isaki was published in 2010. There has been no officially sanctioned English edition of which I am aware.
Just as in volumes one and two, the world is filled with marvelous things, many of them everyday items magnified tenfold. Isaki is still trying to make a living flying a Piper Cub that belongs to semi-retired celebrity pilot Shiro. The world may be transformed into something rich and strange, but planes are still cool.
People familiar with volumes one and two may be thinking "Finally! Answers to all the mysteries!" Hahahaha! Dream on.
---
Translation
Rogue Queen — L. Sprague de Camp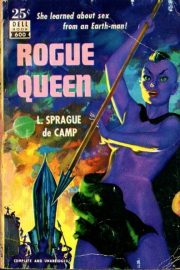 L. Sprague de Camp's 1951 standalone Rogue Queen takes place in de Camp's Viagens Interplanetarias setting.
Our protagonist, Iroedh, is a member of the worker-caste in the Avtiny community. Her group faces an existential threat: invasion and enslavement by its more aggressive and larger Arsuuni neighbours. Iroedh, as a scholar and antiquarian, seems to be of no use in the struggle. She is looked down on by her fellow Avtiny.
Then comes word of the visitors from the stars.
---
Because My Tears Are Delicious To You
Storm of Dust — Neil Randall
Crossroads Adventures, book 2
Neil Randall is an associate professor at the University of Waterloo, perhaps the finest university in Waterloo west of Philip Street1. To quote his UW bio:
I am a long-time faculty member in the English department at the University of Waterloo, Canada, and the director of the Games Institute (uwaterloo.ca/games-institute).
I confess I did not look closely at Randall's 1987 book Storm of Dust when I bought it last year, except to note that:
it was by a local author whom I knew back in the 1980s and 1990s;
it was related to one of my favourite David Drake books.
What I was to discover is that Storm of Dust is an interesting artifact of ancient times, an artifact based on effectively obsolete tech. Who would have thought that interactive game books would ever die?
If you are younger than twenty or so, you may be wondering: what the heck are those?
---
A Year of Waterloo Region Speculative Fiction
A Small Charred Face — Kazuki Sakuraba
2017's A Small Charred Face is the American edition of Kazuki Sakuraba's 2014 book Honto no Hana Wo Mise Ni Kita.
The English-language translation is by Jocelyn Allen. A Small Charred Face contains three novellas about the Bamboo, or as others call them, vampires.
---
Translation
Paranoia — James Wallis, Grant Howe, Paul Dean
Greg Costikyan, Dan Gelber, and Eric Goldberg's dark-comedy roleplaying game Paranoia was first published in 1984. The most recent edition, by James Wallis, Grant Howe, and Paul Dean, was released in March 2017, just in time for the Reds Under the Bed review series. How providential!
Life in Alpha Complex is pretty sweet. Most citizens (the NPCs) have all the mood-numbing drugs and meaningless drudgery they want, as well as enough carefully vetted entertainment to fill any empty hours. Their every need is fulfilled by the all-wise, all-seeing Computer. Indeed, it is against the rules for them to notice anything that might disturb them.
Player characters are not as lucky.
---
Reds Under The Bed
The Black Cloud — Fred Hoyle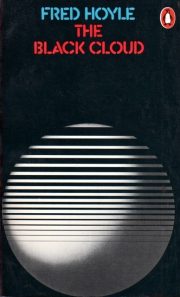 1957's The Black Cloud was Sir Fred Hoyle's first novel.
A young astronomer working a blink comparator gets a career-making break when he notices that a small black region on two photographic plates grew measurably in the month between exposures. After a hurried consultation, the discoverer and his colleagues conclude:
The dark spot is an interstellar cloud.
Its apparent growth is because it is headed towards the Solar System.
The lack of transverse motion means that it is headed directly at the Solar System.
It will arrive in about two years.
Exciting times to be an astronomer! Very exciting, because if the cloud passes between the Earth and the Sun it is dense enough to blot out sunlight entirely 1, dooming us all to a slow lingering death.
Well, the discoverer can enjoy his enhanced career for the two years he has left.
---
Because My Tears Are Delicious To You
Point of Hopes — Melissa Scott & Lisa A. Barnett
Astreiant, book 1
1995's Point of Hopes is the first novel in Melissa Scott and Lisa A. Barnett's Astreiant series.
The great and powerful of Chenedolle are distracted by matters of state: the childless queen has yet to settle on a designated heir. The people of the great city of Astreiant have a far more down-to-Earth concern.
Someone is stealing their children.
---
Special Requests
The Ruined Empire — Anna Kreider
To quote the bio from Anna Krieder's Go Make Me a Sandwich:
In addition to being a cranky feminist blogger, I am an artist, photographer, and somewhat half-assed writer living in the wilds of Canada with a wonderful spouse and two slightly broken cats.
Anna Kreider's 2014's The Ruined Empire answers a question many game designers must ponder: what does a designer do when due to nobody's fault the product they worked on is no longer slated for release?
In many cases, the work is work-for-hire, the publisher owns it outright, and the work vanishes, never to be seen again.
In the case of The Ruined Empire…
---
A Year of Waterloo Region Speculative Fiction
The Red Threads of Fortune — JY Yang
Tensorate, book 2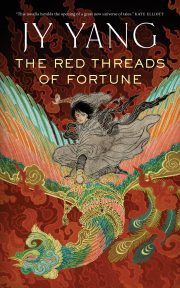 JY Yang's The Red Threads of Fortune is the second of two upcoming novellas set in Yang's Tensorate setting.
Four years ago, tragedy drove Mokoya away from friends and family and out into the Gusai Desert. Now she uses her Tensor skills to hunt rogue nagas. She has lost her ability to look into the future. She is depressed and often lashes out at those around her 1. She had hoped that time and distance would heal her wounds, but they still fester.
An emergency jolts her out of her wretched rut. There is something new and terrible out in the desert.
---
Miscellaneous Reviews
The Black Tides of Heaven — JY Yang
Tensorate, book 1
The Black Tides of Heaven is the first of two Tensorate novellas by JY Yang.
The Protectorate rules because it commands the magic of Slack1—or rather, the Tensors who can bend Slack to their will. Tensors are ruled in turn by the Protector, who in this generation is a woman of power, intellect, and ruthless determination. Previous generations lost much of their empire; this Protector, Sanao Hekate, has reconquered most of it.
Drought leads to civil disorder, disorder that the Protector's Tensors cannot put down unassisted. Sanao turns to the great monastery, where pugilists (read martial artists) train. She promises Head Abbot Sung one of her children in exchange for his help. The Abbot expects to get the youngest child, a promising daughter. The Protector, determined not to lose that child, finds a way out of the promise. A new pregnancy. Twins.
---
Miscellaneous Reviews
Roses and Rot — Kat Howard
2016's Roses and Rot is Kat Howard's debut novel.
Imogen and Marin have a nasty mother, an insidiously spiteful mother, a mother worse than an evil step-mom. Imogen escapes domestic torture by enrolling at a distant school that is so prestigious that her status-conscious mother cannot bring herself to cut off that escape. But Marin does not have the option (much to Imogen's distress; she does not want to abandon her sister). Marin has to escape on her own, which she does indeed manage. She becomes a dancer.
Years later, both sisters win fellowships to an artists' colony, Melete. It's a chance to reconnect. It also turns out to be an encounter with fairy danger.
---
Special Requests
A Different Light — Elizabeth A. Lynn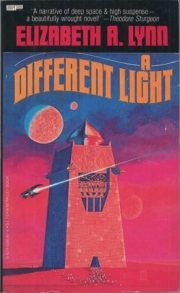 1978's standalone novel A Different Light was written by Elizabeth A. Lynn. She is an author I enjoy..
Jimson Alleca has the bad luck (a one in a billion chance) to be an adult cancer patient in a galaxy where cancer is unknown. Modern medicine may have failed him, but it can at least offer him good odds of surviving until his fifties. Provided he is lucky. Provided his doctors can keep finding new treatments faster than the cancer can kill him. Provided he never, ever tries to leave his homeworld; the stress of travel through hyperspace would reduce his remaining years from twenty to one.
Living to be safe may be extending his life but it's killing his soul. Others may still applaud his art, but he can tell his development has stalled. When Russell, a former lover who left Jimson years ago, sends an enigmatic message, Jimson cannot resist the lure of mystery and escape. Better one year of glory than decades of stagnation.
---
Because My Tears Are Delicious To You
Thick as Thieves — Megan Whalen Turner
Queen's Thief, book 5
2017's Thick as Thieves is the fifth volume in Megan Whalen Turner's Queen's Thief series. Previous books in the series were reviewed here, here, here, and here.
Kamet's fate is tied to that of his owner, Nahuseresh. For much of his life, his owner's power and prosperity have served Kamet well. He is educated, owns a handful of possessions, and enjoys considerable power as his owner's public voice. Of late, however, Nahuseresh has suffered setback after setback. All thanks to Eugenides, former Thief of Eddis turned King of Attolia. Nahuseresh's setbacks are Kamet's as well.
Even so, Eugenides' offer, relayed by his intermediary Costis, of sanctuary and freedom from his master is laughable. Why would Kamet give up all he has for life in a backward, foreign land filled with illiterate barbarians?
Escaping death is a good reason.
---
Special Requests
Waterloo Region has had a gaming community for as long as I've been aware of gaming and probably longer. Unsurprisingly, this extends to the creative side of things as well. Local gaming companies have included firms like RAFM and Guardians of Order. Waterloo Region adjacent creators have included Jose Garcia, Dave Okum, and Ed Greenwood (if memory series). There are many others. I've been out of the field for 16 years, so I didn't feel comfortable writing up the local gaming scene. Instead I turned to Anna Kreider of Peach Pants Press to write a piece about her work and the work of others in the region.
By complete coincidence (I first spoke to Anna about the possibility of her writing an essay for me months ago), two of her games are featured in this week's Bundle of Holding!

Game Design in Kitchener-Waterloo
When I first moved to Kitchener-Waterloo, I had trouble connecting with the local tabletop gaming scene and felt very disconnected from the hobby. It wasn't until several years later that I was connected by chance to a thriving local gaming scene, which has only grown more vibrant since the opening of local board game cafes like The Adventurers' Guild, Crossroads, and Games On Tap. And while designing games isn't quite as popular a hobby as playing them is, Kitchener has several local game designers doing interesting work.
---
A Year of Waterloo Region Speculative Fiction
Sea of Wind — Fuyumi Ono
The Twelve Kingdoms, book 2
1993's portal fantasy Sea of Wind is the second volume in Fuyumi Ono's Twelve Kingdoms series. The 2007 English language edition was translated by Alexander O. Smith and Elye J. Alexander.
Taiki spent his childhood wracked with guilt for continually disappointing his judgmental grandmother, who never fully explained what he had done wrong. Small wonder that the ten-year-old leapt at a mysterious summons from another realm. Bye granny! Destiny awaits!
Destiny and, it turns out, heavy responsibilities and great danger.
---
Translation
Trotsky's Run — Richard Hoyt
James Burbage, book 1
1982's Trotsky's Run is the first of Richard Hoyt's James Burbage thrillers.
Twenty years after fleeing to Moscow, Kim Philby wants to escape his dreary life in the Soviet Union. Returning to the United Kingdom is not in the cards. But what Philby knows (or can prove) may suffice to buy his way into the United States.
He claims that a Soviet mole is slated to become President of the United States.
---
Reds Under The Bed
Reviewing reviews is a bit meta, but … if I were going to review another reviewer in this series, the reviewer would be Spider Robinson, whose columns I devoured as a teenager. His review in the December 1976 issue of the late, lamented Galaxy Magazine (RIP) had an enormous effect on me, because in it he revealed a previously unknown fact: Toronto, then Canada's second largest city, had a bookstore specializing in science fiction and fantasy. A bookstore called Bakka Books.
There was just one problem. I didn't live in Toronto. In fact, I didn't even live in Kitchener-Waterloo. I lived adjacent to KW, on a farm well away from any intercity bus routes. Then as now, I did not drive. While I am an avid walker, 100 km to Toronto and 100 km back seemed a bit far. What to do?
Misappropriate school resources, of course.
---
Because My Tears Are Delicious To You
A Peace Divided — Tanya Huff
Peacekeeper, book 2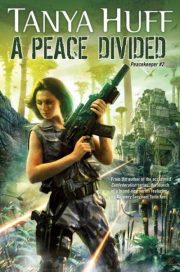 2017's A Peace Divided is the second novel in Tanya Huff's Peacekeeper series.
War's end means that many former soldiers are dumped back into civilian life. Not all of the veterans are suited to peacetime occupations. Some, like Gunnery Sergeant Torin Kerr and her team, find gainful employment as Wardens, the interstellar police of the Confederation. Less fortunate cast-offs, like Commander Yurrisk and his soldiers, become bandits and mercenaries.
33X73's natives vanished long before the Confederation was formed. Even at their height, they never got close to star-flight or Elder-Race-level technology. Why then did Yurrisk's mercenaries attack and occupy an archaeological dig on 33X73?
The fact that the attackers are drawn from both Confederation and Primacy forces is a clue. Though rivals, the two polities do have a mutual enemy: the so-called plastic aliens. 33X73 offers a unique opportunity to hit back at the enemy.
---
Military Speculative Fiction That Doesn't Suck
Shadow of a Musical — Armon Kishen Kohli & The UW Cabaret Club
Weather prevented me from seeing Armon Kishen Kohli's Winter 2016 UW Cabaret Club's production Shadow of a Musical, which features an original script and re-purposed songs1.
Providentially, not only is Shadow suitable for this series of reviews, it turns out that UW Cabaret Club puts its productions online .
The small town's motto isn't "Come for the suspiciously low rent! Stay because the cultists have taken you prisoner!" But it should be.
---
A Year of Waterloo Region Speculative Fiction