Voices of a Distant Star — Makoto Shinkai & Sumomo Yumeka
2002's Voices of a Distant Star is a standalone original video animation by Makoto Shinkai. It was later the basis of a 2004 manga by Sumomo Yumeka.
Noboru Terao, obviously (although inarticulately) smitten with fellow student Mikako Nagamine, expects to spend his years in high school mooning after Mikako. Unbeknownst to Noboru, Mikako has volunteered to join the UN Space Army. Mikako will not be attending high school. She will be travelling across the solar system and beyond.
They are determined to remain in contact. Physics will not be their friend in this matter.

---
Translation
Children Who Chase Lost Voices — Makoto Shinkai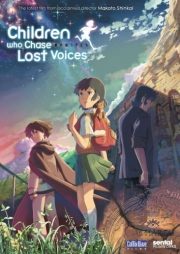 I decided to review Makoto Shinkai's 2011 fantasy film The Children Who Chase Lost Voices for two reasons: the first was that I had just tried and failed to watch Age of Ultron. This DVD's bright cover made me hope that Shinkai's animated work was not filmed in what I have come to think of as Macular Degeneration-Vision (unlike Age of Ultron) . The second reason: the last few pieces I have reviewed have been pretty death-heavy (as has real life, for that matter). Since I had heard this was a particularly Studio Ghibli-esque work, I was hoping for something upbeat.
I was snookered. Sure the film was Studio Ghibli-esque, in the same way that Grave of the Fireflies is Ghibli-esque.
While still a girl, Asuna had to learn how to take care of herself. Her father is dead and her mother works long shifts to support the two of them. Asuna spends hours in the countryside by herself, listening to an archaic radio set, one of the few mementos left by her late father.
One day, she is attacked by a monster.
---