Atlas Alone — Emma Newman
Planetfall, book 4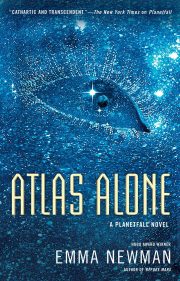 2019's Atlas Alone is the fourth installment in Emma Newman's Planetfall series.
Humanity's second crewed starship is on its way to the distant star system pioneered by the Pathfinder. The 10,400 people on board Atlas 2 have a twenty-year voyage ahead of them1, which raises the question of how they are to fill their time. Dee knows exactly how she will spend it.
(spoilers for After Atlas)
---
Miscellaneous Reviews
Before Mars — Emma Newman
Planetfall, book 3
2018's Before Mars is the third book in Emma Newman's Planetfall series.
Anna Kubrin is offered a chance too good to refuse: a chance to go to GaborCorps' Mars base as the resident geologist/artist. This is her only chance: GaborCorps has a monopoly on Mars exploration. But … if she accepts the post, Anna will spend two years away from her husband George and child Mia.
This weighs on Anna — as does her awareness that two years away from her family does not bother her nearly as much as convention demands. Despite this, there was never any doubt that she would accept; by the time the novel begins she has made the journey.

---
Special Requests
Weaver's Lament — Emma Newman
Industrial Magic, book 2
2017's Weaver's Lament is the second volume in Emma Newman's Industrial Magic series. The first instalment, Brother's Ruin, was reviewed here.
Responding to a mysterious summons from her brother Ben, Charlotte Gunn ventures north to Manchester. Does he need magical assistance? After all, he passed the academy entrance exam with flying colours only because Charlotte used her considerably superior levels of magic to cheat for him. He made it through the course, but now he must be facing real life challenges.
Charlotte finds Ben wrestling with what he insists must be a den of trade unionists and socialists infesting the textile factory where he has been assigned to provide magical support. Unless Charlotte and Ben can expose the rascals, Ben's advancement up the ranks of the Royal Society of Esoteric Arts may come to an abrupt halt.
---
Miscellaneous Reviews
Brother's Ruin — Emma Newman
Industrial Magic, book 1
Emma Newman's Brother's Ruin is an amiable introduction to her Industrial Magic gas-lamp fantasyseries.
Great Britain's power and prosperity rests on the talents of the Society for Esoteric Arts. Accordingly, the Society has been granted the legal powers it needs to ensure its continued existence. This includes the right to impress any person with magical talents into the Society, even if the candidate, or the candidate's family, object to the conscription.
Losing a family member to the Society is not necessarily bad. The Society compensates the candidate's family. This compensation would be a godsend to the Gunn family, which is struggling with mounting debts. Benjamin Gunn, aspiring mage, might be able to save his family. There is one problem: the Society pays in proportion to the prospective mage's talents. Although he has some magical ability, Benjamin is a comparative lightweight. It's his sister Charlotte who has the stupendous talent … and she is determined not to be conscripted. It would be much more convenient if Benjamin were the one to be press-ganged. Now, if there were only a way that Benjamin's talents could be augmented to increase his compensation …
Charlotte has a cunning plan.
---
Miscellaneous Reviews
After Atlas — Emma Newman
Planetfall, book 2
Emma Newman's 2016 After Atlas is a sequel to her 2015 novel Planetfall.

The Pathfinder, Lee Suh-Mi, led her people to a glorious destiny among the stars. The Pathfinder's starship only had room for the chosen few. Carlos Moreno's mother made the cut, but Carlos and his father did not. His father then joined a community of starship rejectees, one led by a Lee deputy named Alejandro Casales, dragging an unhappy young Carlos in his wake. It took years for Carlos to escape.
Decades later, Carlos is a prized asset of the Noropean Ministry of Justice. He is a talented investigator whose indentured status ensures that his efforts on the MOJ's behalf will not be sabotaged by nonsense like so-called human rights.
---
Miscellaneous Reviews
2015's Planetfall is Emma Newman's fifth novel. A standalone science fiction novel, it is unrelated to her Split Worlds trilogy.
Twenty years before, the devout passengers of the starship Atlas followed the Pathfinder, Lee Suh-Mi, to a distant and surprisingly Earth-like world where, Suh assured them, God was waiting for them. Settling near an enigmatic structure that the colonists call God's City, the colonists are still waiting for their God to reveal itself. In fact, they are still waiting for Suh to return from her first and only foray into the City.
In many ways the colony has been marking time, waiting for some external event that will utterly transform them. Now, that event looms … in the form of a wandering nomad on a world with no known natives.
---