Study War No More — Joe Haldeman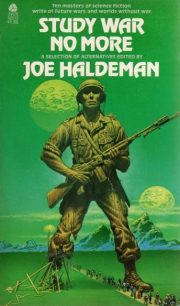 1977's Study War No More was edited by Joe Haldeman. It is what might be termed an anti-Military SF anthology, one that asks contributors "if not war, then what else?"

---
Because My Tears Are Delicious To You
Worlds — Joe Haldeman
Worlds, book 1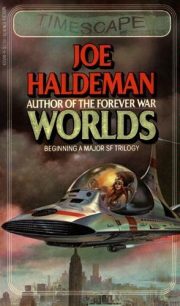 1981's Worlds is the first volume in Joe Haldeman's Worlds trilogy.
By 2084, half a million people live in forty-one orbital habitats circling the Earth; they are the so-called Worlds. New New York is largest of the Worlds. It is the only home our protagonist Marianne O'Hara has ever known. University in Old New York will be an entirely new experience for her. If she plays her cards wrong, possibly her last experience ever.

---
Because My Tears Are Delicious To You
Mindbridge — Joe Haldeman
Haldeman's first novel under his own name1, a fix-up titled The Forever War, won a Hugo, a Nebula, a Ditmar, and a Locus. There's something to said for not winning that many awards the first time out, because it's hard to go anywhere but down from such initial success. After that, a single Hugo nomination (something that would normally seem a boast-worthy success—assuming, of course, that this did not result from inclusion on a Puppy slate) will seem like a comparative failure.
Which brings us to Joe Haldeman's 1976 standalone Mindbridge, his second novel as Haldeman.
By the mid-21 century, Earth is a garden world, an artificial Eden for eleven billion humans. This idyll is dependent on complex technology, and on the solar power that drives that technology. If anything were to disrupt the system, billions would die.
The Levant-Meyer Translation (LMT) providentially offers humanity an off-site back-up. But there's a catch. Several catches, in fact.
---
Because My Tears Are Delicious To You
The Forever War — Joe Haldeman
Forever War, book 1
This is a case of a commission dovetailing nicely with my themed reviews. For the most part I would prefer to stick to military speculative fiction that I think readers may have overlooked. There are a few classics, generally early ones, that I believe it would be illuminating to review [1]. One of those is Joe Haldeman's classic 1975 novel, The Forever War.
When I reread this book, I remembered a more obscure work by the same author, an early short story called "Time Piece", which was published in 1970. I don't know of any other review that has compared the two. This may be because "Time Piece" didn't win the Nebula, the Hugo, the Ditmar, and place first in the Locus, which The Forever War did. Something told me that it would be interesting to compare the two works; I'm glad I did.
The edition of The Forever War I am reading is the 1976 mass market paperback, first printing. I understand there is a later, somewhat different edition; I don't own that one. The edition of "Time Piece" I am reading is the one in Reginald Bretnor's 1980 collection The Future at War: Orion's Sword.
---
Military Speculative Fiction That Doesn't Suck