The Way into Magic — Harry Connolly
The Great Way, book 2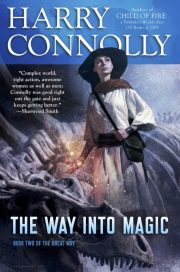 When last we saw our heroes, monsters from another dimension had swarmed out of an inter-dimensional gateway to overwhelm the Morning City and then the Peradaini empire (of which the Morning City had been the capital). As the cast of characters dwindled rapidly (in a way that those of us with crappy memories appreciate) the survivors have gained a realistic understanding of their situation.
The empire is dead, although parts of it remain unconquered by the invaders. But it gets worse.
---
Miscellaneous Reviews
A Key, an Egg, An Unfortunate Remark — Harry Connolly
March 18 is my birthday and as a birthday present to myself, I am going to be enormously self-indulgent and review Harry Connolly's A Key, an Egg, an Unfortunate Remark. Not just because it's a pacifist urban fantasy, although it is (and that's quite remarkable all on its own), but because I am mentioned in the acknowledgments.
---
Miscellaneous Reviews
The Way into Chaos — Harry Connolly
The Great Way, book 1
2014's The Way In to Chaos had the working title Epic Fantasy With No Dull Parts. That's a goal ambitious enough to make this the first new book that I have read in 2015. The sunniness of my outlook and the degree of malice I will bear toward the hundreds of books by hundreds of authors I will read over the next twelve months may well be affected by my reaction to this book. But no pressure!
---