Otherbound — Corrine Duyvis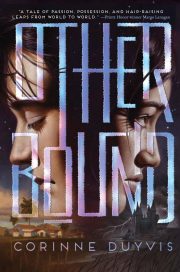 Corrine Duyvis' 2014 Otherbound is a standalone fantasy.
Arizona teen Nolan is a visionary. He doesn't imagine things: he sees things. Whenever he closes his eyes — when he blinks, for example — he sees whatever Amara sees.
Amara lives in another realm where magic is real. She has a talent, healing, which makes her nigh unkillable. You'd think this would make her a power in the world in which she lives. It doesn't. She's a slave. She's a slave on the run, following her mistress.
---
Miscellaneous Reviews
On the Edge of Gone — Corinne Duyvis
Corinne Duyvis' 2016 young adult novel On the Edge of Gone is the first of the author's novels that I have encountered. It will not be the last.
There will be spoilers….
Life in mid-21st Century Netherlands with her drug-addicted mother is already challenging enough for autistic teen Denise. She really didn't need to deal with the end of the world as we know it, courtesy of an impending cometary impact1. The Netherlands is a civilized nation and they have not simply abandoned their population to survive or die as change determines. Instead, the government built a network of shelters2.
If only Denise and her mother were in a shelter. If only her mother had not insisted on waiting for Denise's sister Iris to join them before setting out. Now there is no time to make it to their designated shelter.
---