FutureWorld — Steve Perrin & Gordon Momson
Worlds of Wonder, book 3
Steve Perrin and Gordon Monson's FutureWorld was included in Chaosium's 1982 Worlds of Wonder box set. The set also included the 1980 Basic Roleplaying Game rules, SuperWorld (an early superhero RPG), andMagicWorld (rules for fantasy roleplaying, not tied to any specific setting). Here I am reviewing only FutureWorld. The other parts of the box set fall outside the purview of the BRP review series.

---
BRP
The City Under Ground — Suzanne Martel
Suzanne Martel's 1963 The City Under Ground is the Anglophone version of Quatre Montréalais en l'an 3000, also published as Surréal 3000.
The underground city of Surréal1 was founded by survivors of the Great Destruction, survivors who had escaped the disaster by taking refuge in a geothermally powered facility under Montreal's Mount Royal. As far as the founders knew they were the only humans left on Earth. By the year 3000, no visitor from outside Surréal has appeared to contradict this belief. Indeed, so convinced are the inhabitants that the surface of Earth is still uninhabitable that nobody has checked conditions outside for centuries.
A small earthquake changes everything.

---
Because My Tears Are Delicious To You
Kitty and the Dead Man's Hand — Carrie Vaughn
Kitty Norville, book 5
2009's Kitty and the Dead Man's Hand is the fifth volume in Carrie Vaughn's Kitty Norville series.
Faced with conflicting family-and-friend expectations for their impending nuptials, werewolves Kitty Norville and Ben O'Farrell decide to evade the whole brouhaha by fleeing to Las Vegas for a small, private wedding. What could possibly go wrong?

---
A Variety of Vaughns
Noriko Ogiwara & Haruhiko Momokawa
Good Witch of the West, book 1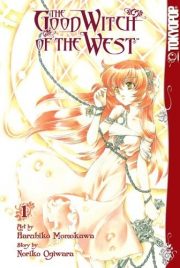 The Good Witch of the West, Volume 1, is the first installment of a manga adaptation of Noriko Ogiwara's eponymous light novel series. Art is by Haruhiko Momokawa. translation is by Barbara Randall Kessell.
Firiel Dee was raised in rustic isolation by her widower father and his elderly retainers, with surly apprentice Rune as her main companion. Accompanied by a more outgoing friend, Firiel decides to attend a ball given by a local count. Just like Cinderella in the fairy tale. Matters develop in a non-Cinderella direction.
---
Translation
Arkfall — Carolyn Ives Gilman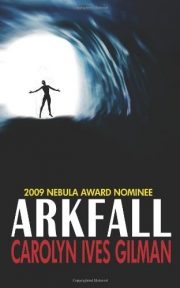 Carolyn Ives Gilman's 2008 Arkfall takes place in her Twenty Planets setting.
An ice-covered ocean world like a scaled-up Europa, Ben has no known native life. Centuries ago, humans settled inside the ice-enclosed Saltese Sea and began their long effort to transform Ben's oceans into living seas. The Saltese Sea, which is surrounded by mountains high enough to reach the icy surface of the world, is small enough that \their Great Work will have a measurable effect within a few generations. The volcanic Cleft of Golconda =provides the energy that will maintain the new ecosystem.
It's a hard and demanding life for the human settlers. They cope by cooperating. Courtesy and non-confrontation are the rule. Loud and self-centred people are judged very harshly by their neighbours.
Osaji's sister Kitani married, leaving Osaji to care for their grandmother Mota. Frail and struggling with dementia, Mota is unable to care for herself. Osaji finds herself resenting Mota (much to her dismay, but there it is) and briefly considers leaving Ben for some other world. But a momentary encounter with a brash off-worlder named Scrappin' Jack brings Osaji back to her senses. Imagine living with a whole world of such rude barbarians!

---
Special Requests
Lamb Will Slaughter the Lion — Margaret Killjoy
Danielle Cain, book 1
2017's The Lamb Will Slaughter the Lion is the first story in Margaret Killjoy's
Danielle Cain series.
Determined to find out why her friend Clay killed himself, Danielle Cain travels to Freedom City. Once a ghost town, the community has been commandeered by idealistic anarchists determined to create a living utopia. Aside from one small detail, they appear to have succeeded.

---
Miscellaneous Reviews
Hour of the Horde — Gordon R. Dickson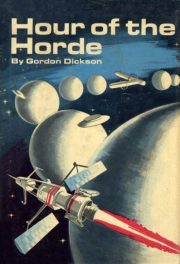 1969's Hour of the Horde is a standalone science fiction novel by Gordon R. Dickson.
Polio cost Miles Vander the use of an arm but did not dent his determination. He insists on recreating himself as an artist. So far, his efforts have come to naught. His doting girlfriend suspects that his surly isolation is to blame. Miles disagrees.
The looming alien invasion may make these differences of opinion moot.
---
Because My Tears Are Delicious To You
The Vor Game — Lois McMaster Bujold
Miles Vorkosigan, book 2
1990's The Vor Game is the second of Lois McMaster Bujold's Miles Vorkosigan novels.
Four years after the events of The Warrior's Apprentice, Miles graduates from the Academy. Given his personal history and family connections, one might expect him to be given some cushy assignment. Instead he is dispatched to serve as weatherman on Kyril Island, whose isolation is matched only by the region's unfitness for human habitation.
Still, how much trouble could one fresh graduate get into a place so sparsely peopled as Kyril Island?

---
A Bunch of Bujolds
Cho Seok's Moon You is a post-apocalyptic webtoon.
An optimist would say the mission to save the Earth was 10/11th successful. A cynic would say that 1/11th failure was enough to doom civilization as we know it. Moon Yoo would say that he got left behind when the other stalwarts returned from the Moon to the Earth and so the whole end of the world thing is pretty academic from his perspective.

---
Miscellaneous Reviews
Feather Bound — Sarah Raughley
Sarah Raughley's 2014 debut novel, Feather Bound, is a standalone young-adult urban fantasy.
The Davis sisters have survived a difficult childhood (no thanks to their alcoholic father). Each sister has reacted in different fashion. Ericka marries for money; Adriana works to earn enough money that she need not depend on her dad; Deanna is left behind, stuck with the responsibility for the feckless father.
It's Deanna who attends the funeral of their father's estranged best friend, magazine magnate Ralph Hedley. She is present when Swan-activist Shannon Dalhousey accuses Hedley of being a feather-stealer. She is also there to witness the surprising appearance of Hyde Hedley, Ralph's son (he was believed to be dead).

---
Miscellaneous Reviews
Space Opera — Catherynne M. Valente
Catherynne M. Valente's 2018 Space Opera is a standalone space opera.
In the not too distant future, humanity finds itself invited into the Warm Fuzzy Galactic Family, an interstellar community of beings who agree to recognize each others' personhood. There are a couple of tiny catches: membership is not automatic and failing the test will result in the total extermination of the human race. Also, the test is mandatory.
The good news is that the test is fairly straightforward: participate in the Metagalactic Grand Prix, a galaxy-wide musical contest. Humanity's champions don't even have to win, just avoid coming in dead last. The aliens are even kind enough to provide a list of musicians they feel have a chance of not abjectly losing. It's too bad that everyone on that list is dead.
Well, not quite everyone.

---
16
Apr
2018
/ 10 Comments
Space Opera That Doesn't Suck
Topper — Thorne Smith
Topper, book 1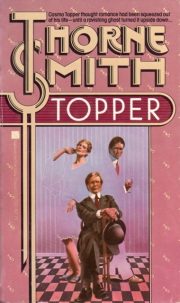 Thorne Smith's 1926 supernatural farce Topper is the first (and best) of two Topper novels.
Many would say that middle-aged Cosmo Topper has a perfect life. Marriage, job, life in the suburbs, pet cat: Cosmo has it all. If he were not far too repressed to be honest, Cosmo would explain that he feels crushed under the weighty bricks of conformity. Even the simple pleasures he might otherwise enjoy are robbed of their joy by the context in which he experiences them.
Cosmo does what so many middle-aged men have done in his position: he buys a flashy car. The car used to belong to George and Marion Kerby, who lived the scandalous life Cosmo might have lived had he not feared the disapproval of society and his long-suffering wife. Cosmo can at least have their car, rebuilt after the wreck that ended the Kerbys' lives.
To Cosmo's tremendous surprises, he gets the Kerbys as well. Or at least their ghosts.

---
Because My Tears Are Delicious To You
Salute the Dark — Adrian Tchaikovsky
Shadow of the Apt, book 4
2010's Salute the Dark is the fourth book in Adrian Tchaikovsky's Shadows of the Apt series.
Despite the efforts of Stenwald Maker, niece Cheerwell, ward Tynisa, and the rest of Stenwald's agents, the war against the Wasp Empire is not going well for the city-state of Collegium and its allies.

---
A Dozen by Tchaikovsky
Samurai Gourmet — Michihito Fujii, Mamoru Hoshi, Masayuki Kusumi, Yoshihiro Taguchi, Kiyoto Wada
In Netflix's 2017 Samurai Gourmet, Takeshi Kasumi faces a challenge for which he has no easy answer. Having retired at age sixty, what is he to do with all his time?

---
Translation
The Black Gods Drums — P. Djeli Clark
P. Djeli Clark's 2018 The Black God's Drums is a steampunk fantasy novella.
Orphaned at ten, Jacqueline renamed herself "Creeper" and embraced life on the streets of the free city of New Orleans. An independent city state since the British, French, and Haitian airships forced peace on the Union and Confederacy, the city is neutral ground where all nationalities can mix … and conspire against each other.
Little noted by adults, thirteen-year-old Creeper believes what she has overheard will earn her a place on Ann-Marie St. Augustine's airship Midnight Robber.

---
Miscellaneous Reviews
I, Martha Adams — Pauline Glen Winslow
1984's I, Martha Adams is a standalone Cold War thriller by Pauline Glen Winslow.
Former president Ronald Reagan is dead, as is George H. W. Bush; they have been slain by a terrorist bomb. The current President Carmody has allowed Reagan's visionary defence programs to languish. Now America will pay the price.
Carmody's 7:30 AM broadcast informs Americans that while they slept, America was defeated. Two and a half hours earlier, Soviet missiles based in Panama and Cuba annihilated America's nuclear defenses. The attack was followed with an ultimatum: total surrender of the United States to the New Order or total annihilation of the civil population with dirty nuclear bombs. One half hour before his broadcast, the US surrenders.
The immediate consequence for Martha is widowhood. Her husband Josh was incinerated (along with the rest of Grand Forks) when Russian warheads destroyed the nearby ICBM silos. Worse is to come.

---
Reds Under The Bed
Blast Off at Woomera — Hugh Walters
Chris Godfrey of U.N.E.X.A, book 1
This week's Tears review is of an old classic I never planned to review because I never expected to find a copy. When I stumbled across one, how could I resist?
1957's Blast Off at Woomera (also known as Blast Off at 0300) is the first novel in Hugh Walter's Chris Godfrey of U.N.E.X.A.1 juvenile SF series.
A chance encounter between seventeen-year-old Chris Godfrey and Sir George Benson convinces Sir George that the college hopeful has just the qualifications required for a joint British-Australian space program.
Chris is bright, educated, and interested in rockets. Of greatest importance, Chris is only four foot, ten inches tall.
[spoiler alert]
---
Because My Tears Are Delicious To You
The Dark Lord of Derkholm — Diana Wynne Jones
Derkholm, book 1
1998's The Dark Lord of Derkholm (simply Dark Lord of Derkholm in American Guberniya editions) is the first of Diana Wynne Jones' two Derkholm novels.
Mr. Chesney would argue that his Pilgrim Parties bring fame and wealth to the fantasy realm that is lucky enough to host the annual expeditions. The inhabitants of that realm might reply that Mr. Chesney's Pilgrim Parties bring chaos, destruction, and massive loss of life. Since Mr. Chesney has a powerful demon on his side, how the locals feel does not really matter.
Determined to end the tours for once and for all, Querida, head of Wizards University, appoints notoriously incompetent wizard Derk as the new designated Dark Lord. He will be the focus for the tourists' focused ire. He is tasked with creating the illusion of a vast dark kingdom, one in dire need of rescue by determined murder hobos tourists.
Derk is set on fire by an irate dragon, which was not part of the Plan.

---
Twelve by Diana Wynne Jones
Adachitoka
Noragami, book 1
Adachitoka's 2011 Noragami volume 1 is the first installment in the titular series. It was first published in English in 2014.
One day all Japan will bow to Yato, greatest of all the nation's gods! Today, however, he is merely a minor kami, known to a very very few and worshiped by none. He lives by performing miracles for the desperate, five yen a wish.
It's a living…

---
Translation
Killing Gravity — Corey J. White
Voidwitch, book 1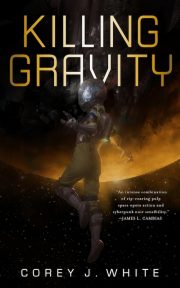 2017's Killing Gravity is the first instalment in Corey J. White's Voidwitch series.
The MEPHISTO corporation purchased Mariam from her father and turned her from an unremarkable little girl into a living weapon who could liquefy soldiers and divert asteroids with a thought. Much to the corporation's surprise, Mariam — Mars Xi — felt little gratitude for the gift of such power; she resented the terrible cost she had paid in pain and suffering. And she was unwilling to become a corporate tool. She fled, hoping to put her past behind her.
Years later, her past catches up to her.
---
Miscellaneous Reviews
Hullmetal Girls — Emily Skrutskie
Emily Skrutskie's 2018 Hullmetal Girls is a standalone SF novel.
Three centuries ago, a fleet set out from the Solar System determined to find a new world to replace the one they had squandered. Worlds sufficiently Earth-like to support a human population proved rare; to date the only one known is the previous, pre-trashed Earth. Generations after launch, the fleet has settled into a regimented seven-tiered society. Life in first tier, where the administrators live, is tolerable. Life in the impoverished seventh tier is short.
Having learned the hard way that heavy weapons are a poor way to maintain peace in an environment one hull-breach away from mass death, the ruling General Body has turned enforcement over to an elite force of cyborgs, the Scela. Conversion is dangerous, even for teens, and only highly motivated people volunteer to become Scela. Poverty-stricken Aisha Un-Haad, for example, is determined to earn enough to pay for her brother's medical treatment and to keep her little sister out of the dye factory.
First-tier teen Key Tanaka could not tell you why she volunteered, although her reasons were likely not financial. Where her pre-conversion memories should be is a great blank. Whatever her reasons for submitting to the operation, they must have been compelling.
---
Military Speculative Fiction That Doesn't Suck
Thrice Upon a Time — James P. Hogan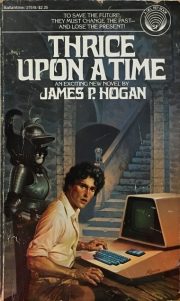 James P. Hogan's 1980 Thrice Upon a Time is a standalone time travel novel. Of a sort.
American-born Murdock is summoned to the ancestral castle in Scotland by his grandfather Sir Charles. Sir Charles wishes to demonstrate a scientific breakthrough: discovery of radiation that propagates back through time. What's more, he has devised a means to use this tau radiation to send messages as well.
How prudent that might be depends on which model of time is correct.
(spoilers for a 37-year-old book that seems to have been out of print for over a decade)
---
Because My Tears Are Delicious To You