Anthonology — Piers Anthony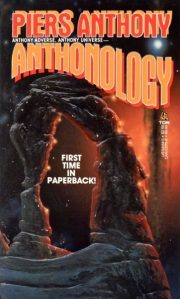 Piers Anthony's 1985 Anthonology is a collection of his short works, with added commentary by the author's foremost admirer, Piers Anthony. The stories are for the most part dreadful … but at least there are a lot of them.
---
Special Requests
A Spell for Chameleon — Piers Anthony
Xanth, book 1
1977's British Fantasy Award-winning A Spell for Chameleon is the first volume in Piers Anthony's seemingly endless Xanth series.

Spoiler warning.
Poor Bink! Each human Xanth has their own unique magical gift. Bink appears to be one of the few exceptions, with no discernible magical talent. Not only does this place him at a considerable disadvantage to his fellow humans but it will cost him his place in Xanth. Human law mandates exile for those without magic.
On the slim chance the Good Magician Humfrey's powers can uncover the talent all previous attempts to discover have failed to spot, Bink set out to offer a year of service to the Magician in exchange for Humfrey's help.
Humfrey may be Good but he is not Friendly or Easy to Reach.
---
Because My Tears Are Delicious To You
Macroscope — Piers Anthony
By the time 1970's Macroscope came out, Piers Anthony was no stranger to Hugo nominations. In 1968, his Chthon was nominated for Best Novel; in 1969, Getting Through University was nominated for Best Novelette. Indeed, 1970 was a banner year for Anthony. Not only did Macroscope get a Best Novel nod (losing to Left Hand of Darkness), he himself was nominated for Best Fan Writer, which presumably ended forever the argument over whether someone can be both a pro and a fan.
How does Macroscope read forty-six years later?

Ivo is the product of a bold experiment, one that tests the limits of directed breeding and specialized upbringing. Poor Ivo seems to be an outlier. Everyone else in his cohort is a genius. Ivo is smart (IQ 125) but apparently not a genius. His only talent seems to be playing games.
Well, except for one other thing.

---
Because My Tears Are Delicious To You