Abaddon's Gate — James S. A. Corey
The Expanse, book 3
2013's Abaddon's Gate is the third volume in James S. A. Corey's Expanse series1.
Perennial pain-in-the-ass James Holden, the man whose steadfast embrace of principle helped kick off an interplanetary war, is confronted with the consequences of his actions in the form of a lawsuit. While Holden claims ownership of the spacecraft Rocinante, the means by which he obtained it were somewhat irregular. Now the space navy from whom he commandeered the vessel would like their spacecraft back.
When opportunity offers Holden a convenient escape from the lawsuit in the form of an assignment in the outer solar system, where the vast, enigmatic alien Ring orbits, he accepts it. The timing is not as coincidental as it appears and Holden should have been far more cautious.

---
An Expanse of Coreys
Hiromu Arakawa & Yoshiki Tanaka
The Heroic Legend of Arslan, book 4
The Heroic Legend of Arslan, book 4 is the fourth collection of Hiromu Arakawa's adaptation of Yoshiki Tanaka's light novel series of the same name1. It contains issues 20 to 29.
Hundreds of thousands of Lusitanian soldiers are occupying Pars. Prince Arslan's handful of companions will not be enough to free his land from foreign religious fanatics. Arslan needs an ally who commands an army.
Hodir commands Kashan Fortress' troops and Hodir is eager to support Arslan. There are, however, two impediments.

---
Translation
Murder on the Titania and Other Steam-Powered Adventures — Alex Acks
Alex Acks' 2018 Murder on the Titania and Other Steam-Powered Adventures is a collection of short stories set in an America run, not by oligarchs and tech-bros, but by a collection of titled aristocrats. Each noble is eager to expand their pocket kingdom at the expense of their rival dukes. All stories feature Captain Marta Ramos (engineer and thief) and her steadfast subordinate, Meriwether Octavian Simms.
---
Miscellaneous Reviews
The Descent of Monsters — JY Yang
Tensorate, book 3
The Descent of Monsters is the third volume in JY Yang's Tensorate silkpunk series.
An isolated research facility falls silent. When concerned Protectorate officials send subordinates to find out why, all that investigators find are fragments of brutally murdered researchers and animals, a dead monster, and two still living Machinist rebels. Investigator Chuwan Sariman is tasked with solving the puzzle.
Or rather, the task of arriving at an explanation that is acceptable to her bosses, bosses who are in no way tolerant of failure or excessive independent thought.

---
Miscellaneous Reviews
The Luck of Brin's Five — Cherry Wilder
Torin, book 1
1977's The Luck of Brin's Five is the first volume in Cherry Wilder's hard-SF Torin trilogy.
Hard times have come to the family of weavers known as Brin's Five. Death by starvation is a distinct possibility. Salvation comes in the form of a flaming object that crashes down into a nearby lake. Or rather, it comes in the form of the alien from deepest space who escapes from the plummeting space-plane.

---
Because My Tears Are Delicious To You
Kitty and the Silver Bullet — Carrie Vaughn
Kitty Norville, book 4
2008's Kitty and the Silver Bullet is the fourth volume in Carrie Vaughn's Kitty Norville series1.
Werewolf DJ Kitty Norville fled Denver (or rather her abusive, Denver-based werewolf pack) in Kitty and the Midnight Hour. She never intended to return. Now she has no choice. Her family lives in Denver and her mother is deathly ill.
It's a safe bet that her former alpha Carl and his mate Meg will not react well to news that Kitty is back in town. How Carl will react is a serious concern … but not the most serious issue Kitty will have to face.

---
A Variety of Vaughns
Mobilization — Yoshiki Tanaka
Legend of the Galactic Heroes, book 5
First published under the title Ginga Eiyu Densetsu volume 5, 1984's Mobilization is the fifth volume in Yoshiki Tanaka's Legend of the Galactic Heroes1. Tyran Grillo's translation was published by Haikasoru in 2017.
Reinhard von Lohengramm has conquered the Phezzan Dominion for the Galactic Empire, which puts him one step closer to unifying all of humanity's worlds under one Emperor. Currently, that Emperor is an Empress: young Katharin Katchen I. As soon as it suits his purposes, von Lohengramm will replace her with von Lohengramm.
There's only one catch.

---
Translation
Pursuit of the Screamer — Ansen Dibell
Strange and Fantastic History of the King of Kantmorie, book 1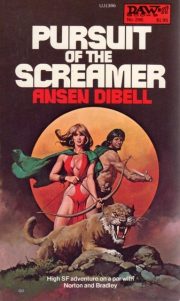 Ansen Dibell's 1978 Pursuit of the Screamer is the first volume in her Strange and Fantastic History of the King of Kantmorie planetary adventure series. It is also the very first Dibell I've ever read.
Jannus encounters Lur, a Screamer, so named because they telepathically broadcast confusion and fear. The empathic Valde, a guild of female warriors and guards, kill Screamers whenever discovered. But telepathically deaf Jannus sees only a small, frail fellow human. Rather than hand the Screamer to the Valde to be killed, Jannus helps the Screamer escape. It's a decision that will shape the boy's life.

---
Special Requests
Summer in Orcus — T. Kingfisher
T. Kingfisher's 2017's Summer in Orcus is a standalone young-adult portal fantasy.
Determined to keep Summer safe, Summer's mother has spent years protecting the girl from every possible danger, no matter how small. No matter how ludicrous. The weight of her mother's love is a heavy burden.
Perhaps another girl would have turned down the Baba Yaga's offer to give her her heart's desire. Summer accepts and is immediately dispatched to a new, unfamiliar world. One that comes with a quest.

---
Miscellaneous Reviews
DragonQuest — Eric Goldberg, Gerard C. Klug, David James Ritchie, Edward J. Woods, Redmond A. Simonsen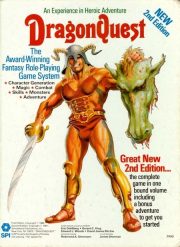 Simulation Publications, Inc.'s 1980 roleplaying game DragonQuest (DQ for short) is the third game in the trifecta of RPGs on which I imprinted some thirty-eight years ago. Principle designers were Eric Goldberg, Gerard C. Klug, David James Ritchie, Edward J. Woods, and Redmond A. Simonsen.
Nota bene: I am cheating a bit because I've long since lost my original box with its three stapled booklets. Instead I wrote this review based on my second edition hardcover, which I acquired after I turned twenty.
My other RPG faves were Runequest and Traveller. DragonQuest was a fantasy RPG, as was Runequest. Traveller was SF. But RQ and Traveller were alike in that they both had extensively developed campaign settings1. DQ, on the other hand, assumed a bog-standard medieval fantasy Europe but failed to flesh it out. This is because DQ was published by a company that was doomed. Doomed, I tell you, doomed.

---
Because My Tears Are Delicious To You
The Warrior's Apprentice — Lois McMaster Bujold
Miles Vorkosigan, book 1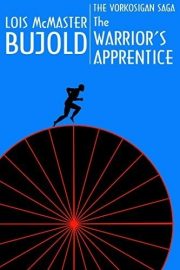 1986's The Warrior's Apprentice was Lois McMaster Bujold's first Miles Vorkosigan novel.
Miles was exposed to a lethal gas while still in the womb and his bones did not develop properly. They are short and brittle. He looks odd; he looks like a mutant, which is a bad thing to be on his native world of Barrayar. During Barrayar's time of isolation from other human-settled worlds, mutants were killed at birth. Modern medicine has better answers, but hatred of muties (and of people who are visibly deformed or disabled) is still ingrained in Barrayaran custom.
Mile must deal with daunting physical limitations. What may be worse is the disdain and even hatred of his fellow Barrayarans, who see his very existence as an affront to all that is right and good.
Miles is an aristocrat; a period (or a lifetime) of military service is customary for Barrayaran aristocrats. Miles wants to be a soldier like his peers. He may lack physical prowess, but he has charm, brains, and cunning. Those sterling qualities are enough to take him to the top in the academic courses at the military academy … but don't help him pass the final physical test. He breaks both legs on an obstacle course. There will be no Vor military career for Miles. What to do with the rest of his life?
---
A Bunch of Bujolds
Tsukumizu
Girls' Last Tour, book 4
2016's Girls' Last Tour Book 4 is yet another instalment of Tsukumizu's post-apocalyptic wanderjahr. Amanda Hayley translated this volume.
It's not at all clear where the automated train buried deep beneath the dying city will take Chito and Yuuri, but at least they will get there quickly.

---
Translation
Under The Pendulum Sun — Jeannette Ng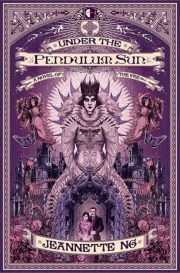 Jeannette Ng's 2017 Under the Pendulum Sun: A Novel of the Fae is a standalone Gothic fantasy novel.
In this world, Captain Cook's explorations found a route to the Faelands. Just as India, China, and other far off lands were eventually forced to grant Englishmen access, so too has Arcadia been opened to traders, diplomats, and others. Change has come into the world beneath the Pendulum Sun.
The Reverend Laon Helstone has travelled to Arcadia hoping to convert the heathen to the one true, Anglican, faith. Was he successful? Impossible to say, as no word has returned from this visitor to the Faerie realm. The silence is ominous, given the fate of his predecessor.
Concerned for his well-being, his sister Catherine Helstone follows in Laon's footsteps.

---
Miscellaneous Reviews
The Tea Master and the Detective — Aliette de Bodard
Aliette de Bodard's 2018 mystery The Tea Master and the Detective takes place in her Xuya universe.
Cashiered following a deep-space calamity, shipmind The Shadow's Child now makes a meagre living brewing medicinal infusions. It claims that these infusions will alleviate the stresses of other-dimensional travel.
Long Chau seems to be just another human client. She is in fact something unusual.

---
Miscellaneous Reviews
Floating Worlds — Cecelia Holland
Cecilia Holland's 1976 Floating Worlds is a standalone SF novel.
Thousands of years in the future, Earth is a polluted wasteland where to venture outside unprotected is to commit suicide. This is a lamentable state of affairs but not one that the anarchists running Earth, for very loose values of running, seem interested in fixing … or able to fix. The Moon, Mars, Venus, the Asteroids, and the Outer Planets, however, are all home to thriving human communities. All of which seem to be managing their affairs, and their environments, more successfully than is Earth.
Paula Mendoza is a doctrinaire anarchist, the last person one would expect to get drawn into government work. She has a rare skill, however, one that is of unique value to Earth's Committee for the Revolution. Paula is multilingual.

---
Because My Tears Are Delicious To You
Blood of the Mantis — Adrian Tchaikovsky
Shadows of the Apt, book 3
2009's Blood of the Mantis is the third volume in Adrian Tchaikovsky's Shadows of the Apt series.
Spymaster Stenwald Maker is tasked with the surveillance of two other city states … but he has only a few trusted agents. He decides to split his forces.
This may or may not be a bad decision. Dividing one's forces often is.

---
A Dozen by Tchaikovsky
Sisyphean — Dempow Torishima
2018's Sisyphean is a standalone work of SF that hovers between a short story collection and a novel. The stories are connected by their setting. It was translated by Daniel Huddleston, written and illustrated by Dempow Torishima.
Welcome to the exciting world of tomorrow, where many of society's institutions appear not to have changed, even if the beings that inhabit them are unfamiliar in form.
---
Translation
Always Human — Walkingnorth
Walkingnorth's Always Human is a hard-SF-romance webtoon.
Intrigued by the oddly modless woman whose path she keeps crossing at the local transport station, VR environment designer Sunati sees the stranger's hayfever attack as a chance to introduce herself. The offer of an appropriate mod (biomanipulating nanotech) does not go as Sunati envisioned. Instead of gratitude, the offer provokes tears.

---
Special Requests
S. J. Morden's 2018 One Way is an SF murder mystery.
Franklin Kittridge accepted that the cost of killing his son's pusher would be a life spent in prison. He expects to die in prison. Imagine his surprise when Xenosystems Operations, the parent company of the corporation that owns Frank's prison, offers him an alternative:
Die on Mars instead.
---
Miscellaneous Reviews
Virgin Planet — Poul Anderson

1959's Virgin Planet is a novel-length expansion of Poul Anderson's 1957 novella of the same name. It takes place in Anderson's Psychotechnic League, a future history he developed from the 1940s to the late 1950s (it is in fact very nearly the final work in that setting.).
Davis Bertram, the young, proud owner of a splendid starship, is determined to make a name for himself. He sets out on a voyage of exploration to the Delta Capitis Lupi system. The system has only recently emerged from a fifty light-year-wide trepidation vortex; the system may or may not be home to an Earth-like world. What is certain is that Davis will be the first man to visit the system.
But not, as he discovers, the first human.

---
Because My Tears Are Delicious To You
Cart and Cwidder — Diana Wynne Jones
Dalemark Quartet, book 1
1975's Cart and Cwidder is the first book in Diana Wynne Jones' Dalemark Quartet.
Osfameron Tanamoril Clennenson — Moril for short — has spent his life travelling from town to town with his father Clennan, mother Lenina, and siblings Dagner and Brid. The family troupe makes a living as travelling entertainers, messengers, and occasional escort for travellers in strife-torn Dalemark. In the course of their travels, they frequently cross from North Dalemark to South Dalemark and back.
A brutal encounter at a lakeside campsite ends their travels.

---
Twelve by Diana Wynne Jones