Trouble on Titan — Alan E. Nourse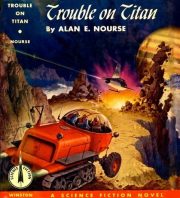 1954's Trouble on Titan was Alan E. Nourse's debut novel1. It is standalone juvenile SF. It has recently been reprinted and issued in e-book form by Prologue Books.
Tuck Benedict is disappointed to learn that his hoped-for reunion with his father must be postponed. Colonel Benedict has spent years troubleshooting on Mars and Venus for the Security Commission. His leave has been cancelled. He's been dispatched to Titan, home to unruly rubidium miners.
The colonel invites Tuck to join him on his mission to Titan, but Tuck fears delay in reporting to college could cost him his scholarship. Then … luck puts Tuck in a position to save his father from a mail bomb. Afraid that the assassin might succeed if Tuck is not there to protect his father, Tuck changes his mind. School must wait until Tuck returns from the mining colony.

---
Because My Tears Are Delicious To You
The Bladerunner — Alan E. Nourse
Alan E. Nourse's 1974 The Bladerunner is a standalone near-future medical SF novel. It is not the novel on which the 1982 Ridley Scott film Blade Runner is based. It is the novel on which the title of the film Blade Runner is based. More on that later.
In this novel's 1994, America faced the perfect storm of population pressure, an aging population, soaring universal health care costs, and studies blaming the increased incidence of antibiotic-resistant diseases and the spread of genetic disorders like diabetes on modern medicine itself. Following the Health Riots the United States hastily adopted the Heinz-Lafferty Eugenics Control program.
Medical treatment is still available to all, but any individual who requires health care services for any reason is sterilized. Children under five are exempt, save for children who have known hereditary disease; the latter are routinely sterilized or euthanized.
Unsurprisingly, a considerable fraction of Americans want medical treatment without mandatory sterilization. Many physicians do not agree that the Heinz-Lafferty program is good public policy. The resistant Americans have provided demand, The resistant physicians have provided supply. The twenty years since the Riots have seen a black market in medical care firmly establish itself in the US. Such a vast black market needs its middlemen and that's where Billy Gimp comes in.

---
Because My Tears Are Delicious To You
The Universe Between — Alan E. Nourse
Alan E. Nourse's 1965 The Universe Between is a fix-up of two novelettes published in 1951: High Threshold and The Universe Between.
Ambitious cryogenics research has created an incomprehensible thing in the middle of the lab. Attempts to understand it have killed three men and put two more in the madhouse. Determined to unravel the mystery, Dr. John McEvoy has turned to the Hoffman Center. Perhaps the Center can provide a volunteer resilient enough to survive the thing (which may be a hypercube).
Much to McEvoy's surprise, the best man for the job is a girl.
---
Because My Tears Are Delicious To You