Kingdom of Souls — Rena Barron
Rena Barron's 2019 Kingdom of Souls is a young-adult secondary-universe fantasy.
Arrah is the daughter of powerful parents. Her father is a respected witchdoctor, an honorary member of the Aatari tribe's ruling council, the edam. Her mother Arti occupies an even loftier position as Ka-Priestess. It is the third most powerful position in the Kingdom. Arrah, alas, has as much magical power as a hollow gourd. Some folks like her prove to be late bloomers of remarkable ability. Arrah is increasingly convinced she is just a magicless failure.
There are ways for the powerless to gain power. They're costly. One would have to be desperate to try them. Soon, Arrah will be desperate enough.
---
Doing What the WFC Cannot Do
Edison's Conquest of Mars — Garrett P. Serviss
Garrett P. Serviss' 1898 Edison's Conquest of Mars is a sequel to 1897's Fighters from Mars, or The War of the Worlds in and near Boston, which was a version of H. G. Wells' The War of the Worlds rewritten and dumbed down by persons unknown in order to better suit Yankee sensibilities.
Having survived Mars' first attack thanks to the Martian vulnerability to modern Terrestrial diseases, the people of Earth are alarmed when astronomers report that the foul Martians are preparing for a second foray. Mars has the technological edge; it is likely that they will be able to guard their second invasion force against disease.
Is Earth doomed? No. Earth has Thomas Edison.
---
Because My Tears Are Delicious To You
Takako Shimura
Sweet Blue Flowers, book 1
Takako Shimura's Sweet Blue Flowers (Aoi Hana) was serialized between 2004 and 2013. Volume One contains the first seven issues.
When they were separated as children, BFFs Akira Okudaira and Fumi Manjoume vowed to write each other every day. Well …
Years later, they meet again on a train. They're both travelling to their new high school. They don't recognize each other and find themselves making friends all over again. Eventually the penny drops. Recognition! Delight! It's almost as though the intervening years had never been.
Which is good, because Fumi could use a friend.
---
Translation
Empress of Forever — Max Gladstone
Max Gladstone's 2019 Empress of Forever is a standalone space opera.
Oligarch Vivian Liao is certain that Earth's shadowy masters have finally tired of her. She fears that in short order she will be immured in some deep-state prison, slated for a brief but memorable terminal interview with a torturer. She attempts to avoid this dismal fate by launching a daring bid to conquer the world. She will hack and control the world's computer infrastructure. Bwahaha!
Before she can do more than start her attack, she is dragged off to another realm by an enigmatic woman in futuristic garb.
---
Space Opera That Doesn't Suck
The Ten Thousand Doors of January — Alix E. Harrow
Alix E. Harrow's debut novel The Ten Thousand Doors of January is a standalone portal fantasy.
January Scaller rarely sees her beloved father, because Julian Scaller is absent running errands for wealthy Mr. Locke. She has been raised mainly by Mr. Locke's servants. Her life is cozy and safe, but January increasingly feels that she is just one of Locke's carefully guarded treasures. Not at all a person.
But a person who is a one-of-a-kind human, one who might not do well in the harsh outside world.
---
Miscellaneous Reviews
The Deathworld Trilogy — Harry Harrison
Harry Harrison's The Deathworld Trilogy consists of three works: 1960's Deathworld, 1964's Deathworld 2, and 1968's Deathworld 3. Alternate titles: Deathworld, The Ethical Engineer, and The Horse Barbarians. All were serialized in the same magazine, which was known as Astounding when Deathworld was published and Analog when the other two came out.
(The Deathworld series is much longer. More on that later.)
---
15
Sep
2019
/ 11 Comments
Because My Tears Are Delicious To You
Iruka Shiomiya
Kino's Journey: the Beautiful World, book 1
Iruka Shiomiya's manga Kino's Journey: the Beautiful World is based on Keiichi Sigsawa's light novel series of the same name.
Kino wanders her world in the company of her talking motorcycle, Hermes. The pair visit community after community, never staying more than three days.
Volume one covers three incidents in Kino's journey.
---
Translation
Spirit Hunters — Ellen Oh
Spirit Hunter, book 1
Ellen Oh's Spirit Hunters is the first volume in her middle grade Spirit Hunter series.
Grade-seven student Harper Raine is coping with an unwanted move to a spooky mansion in Washington, DC. If that were not stressful enough, she has a mysterious past about which her parents are mum and an older sister who blames Harper for all that is wrong in the world. At least her four-year-old brother Michael likes Harper.
Back to the spooky mansion thing….
---
Doing What the WFC Cannot Do
A Dead Djinn in Cairo — P. Djèlí Clark
P. Djèlí Clark's A Dead Djinn in Cairo is an alternate-history fantasy novella. It shares its setting with The Haunting of Tram Car 015.
Forty years ago, al-Jahiz opened the world to magic. Bad news for the Ottomans, the British, and the French, whose domination of Egypt came to an abrupt halt. Good news for Egypt, independent once more. But magic and magical beings bring problems of their own. Fatma el-Sha'arawi, special investigator with the Egyptian Ministry of Alchemy, Enchantments, and Supernatural Entities, spends her days dealing with them.
For example, the matter of the dead and bloodless djinn.
---
Miscellaneous Reviews
The Deep — Rivers Solomon, Daveed Diggs, William Hutson, Jonathan Snipes
The Deep is an upcoming standalone speculative fiction novel by Rivers Solomon, with Daveed Diggs, William Hutson, and Jonathan Snipes.
Each historian selects their replacement. Yatu is the current wajinru historian. Inconveniently for her people, her task may be killing her.
---
Miscellaneous Reviews
The Trouble with You Earth People — Katherine MacLean
Katherine MacLean's 1980 The Trouble with You Earth People is a collection of SF stories. This Starblaze Graphics edition featured interior illustrations by Frank Kelly Freas.
---
Because My Tears Are Delicious To You
Rebel Seoul — Axie Oh
Rebel Seoul, book 1
Axie Oh's 2017 young adult dystopian thriller Rebel Seoul is the first volume in Oh's Rebel Seoul series.
Abandoned in Neo Seoul's slums by his parents, student Lee Jaewon has clawed his way out of the gangs and into borderline respectability. Only a single test lies between Jaewon and a decent career. Unfortunately for Jaewon, it's not an easy test and failure means death.
---
Doing What the WFC Cannot Do
Tuf Voyaging — George R. R. Martin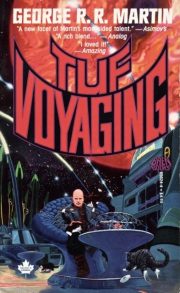 George R. R. Martin's 1986 Tuf Voyaging is, I believe, intended to be a fix-up of shorter pieces. It reads like a collection of stories, so that's how I will review it. The central figure is Haviland Tuf, a minor trader to whom fate grants great power. With great power, as they say, comes even greater megalomania.
Animal harm warning.
---
Big Hair, Big Guns!
Contingency Plans for the Apocalypse And Other Possible Situations — S. B. Divya
S. B. Divya's 2019 Contingency Plans for the Apocalypse And Other Possible Situations is a single-author collection of short science fiction and fantasy works. It includes the Nebula Award nominee "Runtime."
---
Doing What the WFC Cannot Do
Norstrilia — Cordwainer Smith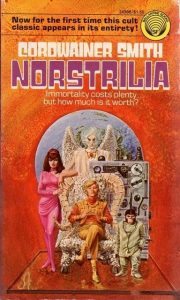 Cordwainer Smith's 1975 Norstrilia was originally published as two shorter novels: 1964's Hugo-nominated The Planet Buyer (AKA The Boy who Bought Old Earth) and The Underpeople (AKA The Store of Heart's Desire). The setting for both is Smith's Instrumentality Universe. The books were later combined in one novel, as indeed Smith had originally intended. Believe it or not, but at one point SFF publishers thought long books didn't sell.
The story is simple. There was a boy who bought the planet Earth. We know that, to our cost. It only happened once, and we have taken pains that it will never happen again. He came to Earth, got what he wanted, and got away alive, in a series of very remarkable adventures. That's the story.
---
Because My Tears Are Delicious To You