Renegades — Marissa Meyer
Renegades, book 1
2017's Renegades is the first volume in Marissa Meyer's novel series, also known as Renegades.
Once prodigies (people with superpowers) were feared and oppressed. Thanks to the efforts of paramount prodigy Ace Artino (AKA Ace Anarchy) prodigies were feared but no longer oppressed, albeit at the cost of the temporary collapse of civilization during the Age of Anarchy.
The super-powered Renegades ended the Age of Anarchy by crushing every rival group. Based in Gatlon City, the Renegades have replaced the vanished civilian government with their own (well-intended) rule. This new arrangement is short on democratic niceties but it's better than the never-ending gang war it replaced. Most people are willing to live with rule by Renegade.
But not Nova "Nightmare" Artino.
---
Special Requests
The Continuous Katherine Mortenhoe — D. G. Compton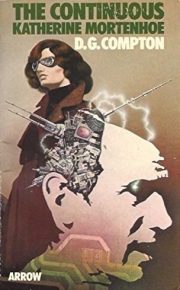 D. G. Compton's 1974 The Continuous Katherine Mortenhoe (also published as The Unsleeping Eye) is a near-future SF novel.
Katherine Mortenhoe is a forty-four-year-old woman whose computer skills have won her a minor niche in publishing. She's settled for a humdrum marriage that is only marginally superior to solitude. She has led an unremarkable life.
She learns that she has just four weeks to live. In the world of this novel, premature death is extremely rare, She has become a valuable media commodity.
---
Because My Tears Are Delicious To You
The Falling Woman — Pat Murphy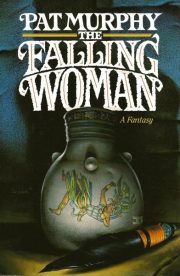 1986's The Falling Woman is a standalone Nebula-Award-winning fantasy by Pat Murphy.
Elizabeth Waters has escaped unwanted motherhood and a stultifying marriage at great cost to herself. Her reward: a career as a field archaeologist. Elizabeth is a valuable colleague at any dig because she seems to have a sixth sense for promising sites.
This is because she has a literal sixth sense. She sees the shades of the dead. The ghosts of the past guide her.
---
Big Hair, Big Guns!
Yuki Urushibara
Mushishi, book 1
Mushishi, Volume One collects the first five issues of Yuki Urushibara's manga of the same title.
Ginko's Japan hosts all the familiar life Kingdoms: plants, animals, and fungi. Alongside these familiar lifeforms there exists a much older, more primitive biota that human senses are ill suited to detect. These lifeforms are collectively known as the mushi. Ginko is one of the few people who can detect mushi. He has used this to become an expert in their ways, a mushi-shi.
---
Translation
The Girl From The Well — Rin Chupeco
Rin Chupeco's 2014 The Girl From the Well is a horror novel.
In the centuries since her lord betrayed and murdered her, Okiku has never found the peace that would allow her to leave this mundane world. She cannot take revenge on the men who tossed her down a well; they're all dead. Consumed by a fury she can never slake, Okiku has turned her anger in another direction. She wanders the Earth, killing those who murder children.
---
Doing What the WFC Cannot Do
The Kingdom of Copper — S. A. Chakraborty
Daevabad, book 2
2019's The Kingdom of Copper is the second volume in S. A. Chakraborty's Daevabad Trilogy.
Nahri escaped her life as a confidence agent in French-and-Turkish occupied Cairo with a few, well-chosen words. Or rather, by accidentally summoning a djinn during a faked exorcism. The djinn Dara whisked Nahri off to Daevabad, the city of the djinn, where she was soon entangled in cut-throat court politics. Nahri is, it seems, the last remaining person with a blood tie to the previous dynasty, the Nahids.
Her mere existence threatens the current ruler, Ghassan. Ghassan attempts to defuse the threat by marrying Nahri to his loyal, if dissolute, son Muntadhir.
---
Special Requests
The Dramaturges of Yan — John Brunner
John Brunner's 1972 The Dramaturges of Yan is a standalone SF novel.
Humans have expanded throughout the galaxy like kudzu. What they find on Yan is … puzzling.
---
Because My Tears Are Delicious To You
The Ghost Bride — Yangsze Choo
Yangsze Choo's 2013 The Ghost Bride is a standalone novel of the supernatural.
Li Lan is the only child of a respectable Chinese family in colonial Malaysia. When the novel takes place, the British control Malacca (having taken it from the Dutch, who in turn had taken it from Portugal). The region's colonial rulers are a fact of life, but one that is of little relevance to Li Lan's daily life.
That life is difficult. Her mother died of smallpox. Her father survived, but with scars, inside and out. He has retreated to his study, where he smokes opium and engages in aimless scholarly pursuits. He is squandering the family fortune.
Li Lan, as the child of a well-to-do family, should have been financially secure; her family should be attempting to arrange a marriage with a young man of good family. She is neither secure nor betrothed. When her father does entertain a marriage offer, the groom is problematic. Lim Tian Ching is a scion of the well-to-do Lim family. It's just that he's dead.
---
Doing What the WFC Cannot Do
Yana Toboso
Black Butler, book 1
Yana Toboso's ongoing manga Black Butler (Kuroshitsuji) debuted in 2006. Volume One collects the first four issues.
Gloomy twelve-year-old Ceil Phantomhive is an orphan and a tween. He is also a canny businessman: he has guided the family business, Funtom Company, towards domination of the game and candy industries.
Business success has not lifted his profound depression. He never smiles. Nonetheless his fiancée Elizabeth Midford (a fiancée at twelve?) and his servants adore him.
---
Translation
Crisis on Infinite Earths — Marv Wolfman & George Pérez
Crisis on Infinite Earths was a twelve-issue miniseries from DC Comics1 published from 1985 to 1986. It was written by Marv Wolfman, and pencilled by George Pérez2.

There are many versions of the Earth, each with their own histories. The superheroes of Earth One made contact with their counterparts on Earth Two an indeterminate time ago. In what almost seemed to have become an annual tradition, Earth One's Justice League periodically teamed up with Earth Two's Justice Society to deal with crises affecting both worlds.

Now there is a crisis affecting not just Earth One, and Earth Two, but all the worlds.


---
Big Hair, Big Guns!
Walking to Aldebaran — Adrian Tchaikovsky
Adrian Tchaikovsky's Walking to Aldebaran is a standalone science fiction novella.
Lucky Gary Rendell has realized his childhood dream of being an astronaut! Even better, what was thought to be Planet Nine has turned out to be an enigmatic alien artifact and Gary has been assigned to the joint mission dispatched to examine the massive structure.
Marvels wait inside.
---
Space Opera That Doesn't Suck
The Voyage of the Space Beagle — A. E. Van Vogt
A. E. Van Vogt's 1950 The Voyage of the Space Beagle is a fix-up novel of deep-space exploration.
All but one person crewing the Space Beagle are experts, knowledgeable in their own field and ignorant of any other. The one exception is the Nexialist, Dr. Elliott Grosvenor. He is a generalist who can synthesize multiple fields. Nexialism is a new field with new methods. The experts on the Space Beagle view the new field with disdain.
Pity, as only Grosvenor can prevent the utter destruction of the mission.
---
Because My Tears Are Delicious To You