The Easy Expedition — Moira J. Moore
The Aldench Team, book 1
2016's The Easy Expedition is the first volume in Moira J. Moore's The Aldench Team series.
The kingdom of Amnisa—so far from the gods, so close to the mighty empire of Aldance—is uncultured, weak, undisciplined, beneath contempt. Just ask anyone from Aldance. Amnisan provocation has earned a firm response from Aldance. Given the imbalance in power, the war of just retribution should have lasted weeks.
Three years later, the war is still dragging on. Not to worry; Aldance's High Grade Fourteen Bevlo has a cunning plan.
---
Special Requests
Cruel Pink — Tanith Lee
Colouring Book, book 6
2013's Cruel Pink was not Tanith Lee's last novel (I believe last week's Zircons May Be Mistaken was her final book) but it is the last Tanith Lee novel I will review in the series A Year of Tanith Lee. I hope the series has been an enjoyable diversion in what has been otherwise a festering bubo of a year.
Five people. One house in old London.
---
A Year of Tanith Lee
Kozue Amano
Aria, book 12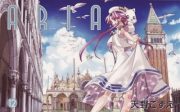 Finally we reach volume twelve of Kozue Amano's Utopian manga Aria. The end.
---
Translation
Light and Shadow: Eight Short Stories by Linda Nagata — Linda Nagata
2016's Light and Shadow: Eight Short Stories by Linda Nagata collects eight of Linda Nagata's short pieces. Straightforward, that.
Nagata's career began in 19871, but the focus of this collection is on recent work, published after the years-long hiatus that divides her career in two.
---
Miscellaneous Reviews
Warm Worlds and Otherwise — James Tiptree, Jr.
U Waterloo's Dana Porter Arts Library is home to the B. P. Nichol Library of Science Fiction; that's something I have known for years and something I keep meaning to exploit. The Nichol library is part of their rare book collection; in order to use it I would have to spend a day reading and writing in the rare book room (which I knew well when I worked there). OK, but which book to sample first?
James Tiptree, Jr.'s 1975 Warm Worlds and Otherwise collects some of Tiptree's earlier works (although not as many as another collection, Ten Thousand Light Years from Home, which is also discussed in this collection's extraordinary introduction). My copy of Warm Worlds vanished decades ago, but I remember it fondly.
I also remember its introduction, one that should be a lesson to us all.
---
Zircons May Be Mistaken — Tanith Lee
Ghosteria, book 2
[Due to a technical issue, this is unedited]

2014's short novel Ghosteria II: Zircons May Be Mistaken is the second and final volume in Tanith Lee's Ghosteria duology.
The decaying stately home has stood for centuries. No living person has entered it in years, not since the Terror of 2020 dragged civilization down into the dark. Living people may never walk the corridors again. Indeed, it is not at all clear humans survived the Terror.
The absence of living people does not mean the mansion is unoccupied. There are still the ghosts.
---
A Year of Tanith Lee
Kozue Amano
Aria, book 11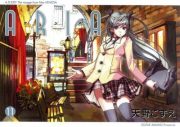 [Due to a technical problem, this is an early draft only]
Volume 11 of Kozue Amano's Utopian manga Aria! The penultimate volume! Will Akari graduate? I cannot say. But someone will….
---
Translation
The Mystic Marriage — Heather Rose Jones
Alpennia, book 2
2015's The Mystic Marriage is the second volume in Heather Rose Jones' Alpennia series.
Antuniet Chazillen has lost everything: her foolish brother has been executed for treason and her mother is dead by her own hand. Antuniet has been stripped of her aristocratic rank. Determined to restore the family honour, Antuniet flees Alpennia for Austria, there to use her alchemical skills to win back for her family the respect and position her brother cost it.
In Austria she finds a treasure of rare value, a treasure others are determined to wrest from her. She escapes from Vienna to Heidelberg, but her enemies are still close on her heels. She sees no choice but to trade her virtue for transportation to safety.
Which means returning to Alpennia…
---
Miscellaneous Reviews
When I was a high school student (back in the 1970s) high schoolers were not known for keeping up on the latest Governor General's Literary Award winners. There was one notable exception, a winner that got an enthusiastic reception from teens. I speak of Marian Engel's CanLit classic Bear, or as it was better known to kids in the Disco Era, that one where the lady fucks a bear.
---
Because My Tears Are Delicious To You
Scout's Progress — Sharon Lee & Steve Miller
Liaden, book 6
2001's Scout's Progress is the sixth book in Sharon Lee and Steve Miller's Liaden science fiction adventure series.
Aelliana Caylon has endured a short but miserable arranged marriage. Now single again, she is promised by her clan head, the Delm, that she will not be forced into another such marriage. Unfortunately, the Delm's word is binding only while she remains in power. Her successor can ignore the promise. And it seems that Aelliana's malevolent brother Ran Eld, will ensure this happens. The Liaden social structure is such that Aelliana has little hope of escape.
But little is not none. Aelliana wields a weapon her corrupt, spiteful brother cannot match: applied mathematics!
---
Special Requests
Ghosteria Volume 1: The Stories — Tanith Lee
Ghosteria, book 1
2014's Ghosteria Volume 1: The Stories is the first of two ghost-story collections by Tanith Lee. I wish I'd read this in time for Halloween.
---
A Year of Tanith Lee
Kozue Amano
Aria, book 10
Volume 10 of Kozue Amano's manga Aria is very nearly the final volume of the series. With only a handful of volumes to go, will Akari ever graduate? And will she be upset if she does not?

Not graduating is, it seems, a very real possibility.
---
Translation
The Edge of Worlds — Martha Wells
Books of the Raksura, book 4
Although her publisher is presenting it as the first volume of a new two-book arc, 2016's The Edge of Worlds is also the fourth volume in Martha Wells Books of the Raksura series. It takes place in the same Three Worlds setting as her previous Raksura books.
Consort Moon and the other members of the Indigo Cloud court waken simultaneously, disturbed by a shared dream. The meaning of the dream is unclear. Is it merely a rare side effect of the Raksura mental gifts … or is it a portent of doom to come? The court does not have long to ponder this before groundling strangers appear, led by a someone they know: Gold Islander Delin.
---
Special Requests
Memoirs of a Spacewoman — Naomi Mitchison
Assessing Naomi Mitchison by her science fiction is a bit like assessing Charles Darwin by his golf game. But her 1962 standalone Memoirs of a Spacewoman is the only work of hers I have read, so … here we are.
The humans who set out to explore the rest of universe are a far more mature lot than the explorers who landed on Mars and Venus. In its youth, humanity was aggressive and expansionist. Now humans and their Martian partners take a more enlightened and dispassionate view of the universe.
That's the theory, anyway.
---
Because My Tears Are Delicious To You
The Family Sea — Tanith Lee
Piratica, book 3
2007's Piratica III: The Family Sea is the third and final volume in Tanith Lee's Piratica series.
Former pirate turned privateer turned national hero Art Blastside has it all: fame, wealth, and family. If only she could be happy on land. If only she could stop doubting her husband Felix. If only Art could understand why it is she doesn't love her daughter Africa.
---
A Year of Tanith Lee
A Conspiracy of Kings — Megan Whalen Turner
Queen's Thief, book 4
2010's A Conspiracy of Kings is the fourth and most recent (but not final!) volume in Megan Whalen Turner's Queen's Thief series.
The new alliance between Attolia and Eddis, sanctified by marriage between the Queen of Eddis' Thief and the Queen of Attolia, put the neighbouring kingdom of Sounis in a very awkward position. Divided, Attolia and Eddis seemed no match for Sounis. United, they force the King of Sounis and his barons to choose between several unpalatable options: make peace with Eddis and Attolia or ally with the expansionist Mede Empire. One option is humiliating but the other may be national suicide.
There is a third option: civil war.
---
Special Requests
Once more into the Aria archive. This time is volume 9 of Kozue Amano's utopia: melancholy, longing and deathtraps await!
---
Translation
Stay Crazy — Erika L. Satifka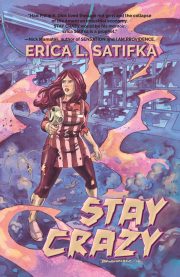 2016's urban fantasy Stay Crazy is Erika L. Satifka's debut novel.
Emmeline "Em" Kalberg has experienced a college-ending mental breakdown. She returns home to Clear Falls, Pennsylvania, where she struggles with what is diagnosed as paranoid schizophrenia. She must also deal with her disappointed mother and her newly devout, very judgmental sister Jackie.
Clear Falls is the quintessential Rust Belt community: independent businesses a fading memory, giant soulless big-box stores offering shabby goods and shabbier jobs to the defeated inhabitants of a once-prosperous town. No big-box store is more soulless than Savertown USA. Of course, it's at Savertown USA that Em's mother finds the reluctant Em a job.
It's a crappy job that pays poorly, but at least Em has voices in her head to keep her company. Well, at least one voice.
---
Special Requests
The Spinner — Doris Piserchia
Whenever people mention Doris Piserchia to me, I admit that I am aware of her but add that somehow I never got around to reading anything she published during her all-too-brief but prolific career . Had I but looked more closely at the "P" section of my library, I would have seen that this was not true. I've had a copy of Piserchia's 1980 The Spinner ever since I didn't get around to sending back the Science Fiction Book Club's monthly order card [1]. And I must have read it, because there was a bookmark tucked in the back. Too bad I remember nothing about this book.
Reread time.
---
Because My Tears Are Delicious To You
Invisible Planets: An Anthology of Contemporary Chinese SF in Translation — Ken Liu
Ken Liu's 2016 anthology Invisible Planets: An Anthology of Contemporary Chinese SF in Translation is exactly what it says on the tin: an anthology of contemporary Chinese SF in translation.
---
Translation
Piratica II: Return to Parrot Island — Tanith Lee
Piratica, book 2
Tanith Lee's 2006 Piratica II: Return to Parrot Island is the middle volume of her Piratica trilogy.
Rescued from the gallows by the adoring mob, reformed pirate Art Blastside has everything society assures her she should want: wealth, position, and her one true love, Felix Phoenix. If there's one thing of which stories assure us, it is that happy endings and true love are forever.
If only Felix were Art's only love.
---