Howl's Moving Castle — Diana Wynne Jones
Howl, book 1
1986's Howl's Moving Castle is the first book in Diana Wynne Jones' Howl series.
Life in Ingary is a faerie tale affair, as its inhabitants well know. How wonderful for Martha Hatter! As the youngest of three sisters, she is surely destined for fame, wealth, and a perfect marriage.
It is considerably less wonderful for Sophie Hatter, the oldest of the three sisters. Everyone knows the oldest child will have at best an unremarkable life — if they are lucky. The oldest might be more likely to suffer a grim fate, which will serve to cast the youngest's destiny in a brighter light. They might even, as Sophie does, find themselves the target of a curse that by rights should have been cast on a younger sister.
---
Twelve by Diana Wynne Jones
The Homeward Bounders — Diana Wynne Jones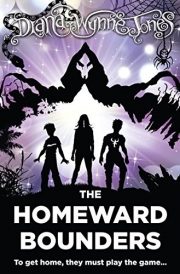 1981's The Homeward Bounders is a standalone science fantasy novel by Diana Wynne Jones.
Protagonist Jamie's unremarkable life ended the day he stumbled across Them playing games with human destiny. Luckily for Jamie, the rules of the game include provisions for pieces who know too much, as Jamie does. Jamie was discarded from the game, consigned to wander between realities as a Bounder until he could find his way back home.
---
Special Requests
Archer's Goon — Diana Wynne Jones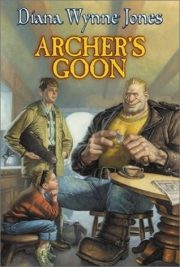 In Diana Wynne Jones' 1984 standalone novel Archer's Goon, thirteen-year-old Howard Sykes returns home to discover a stranger in his home. Rather alarmingly, it's a very large stranger, the very goon of the title, and he's not going anywhere until Howard's father Quentin delivers the two thousand he owes someone named Archer.
---