The Man Who Bridged the Mist — Kij Johnson
Kij Johnson's 2011 The Man Who Bridged the Mist is a standalone secondary world fantasy.
A river divides the Empire's Nearside from Farside. Bridging the wide river would be challenge enough. The challenge is doubled or tripled by the mist that covers the river. The mist is caustic; it burns. Things live in the Mist, some vast enough to swallow boats and their contents whole. Boats can cross the Mist, but it's a perilous crossing. Boats disappear; passengers die.
Kit Meinem of Atyar has been tasked to build a bridge over the river.
---
Miscellaneous Reviews
Eat Your Heart Out — Dayna Ingram
Dayna Ingram's 2011 Eat Your Heart Out is a standalone zombie apocalypse novella.
Devin has it all: a postage-stamp sized apartment over what's almost certainly a meth lab, an increasingly aloof girlfriend, and a new position as shift-leader at Ashbee's Furniture Outlet (where the odd smells and stains are thrown in for free!). All this in a town that is a backwater even for a flyover state. The only possible way Devin's slice of heaven could go wrong is if zombies attack.
Zombies attack.

---
Miscellaneous Reviews
Katsura Hoshino
D.Grayman, book 1
D.Gray-Man volume one collects the first seven issues of Katsura Hoshino's on-going manga series.
Lost a loved one? The Millennium Earl is here to help! Simply provide the Earl with the relevant details and he will raise the spirit of your loved one, installed in a wonderful robot body. The robot is an Akuma, a self-evolving homicidal killbot bent on the destruction of all humanity. Think of it as a more genocidal version of Pokemon.
---
Translation
A Symphony of Echoes — Jodi Taylor
Chronicles of St. Mary's, book 2
2013's A Symphony of Echoes is the second volume in Jodi Taylor's series Chronicles of St. Mary's.
Madeline Maxwell and Kalinda Black's innocent foray into the late 19th century to seek out Jack the Ripper takes an unpleasant turn when the pair finds Jack the Ripper. Or rather, the Ripper finds them.

---
Miscellaneous Reviews
The Serpent — Jane Gaskell
Atlan, book 1
1963's The Serpent is the first volume in Jane Gaskell's Atlan series.
Long, long ago, before Atlan and Mu sank, when humanity still lived alongside the brontosaurus, Cija was raised in an isolated palace by servants of her Dictatress mother. Now seventeen, Cija chafes at the restrictions under which she must live.
The Dictatress descends upon the palace and Cija's life changes in an instant.

---
Because My Tears Are Delicious To You
The Wild Dead — Carrie Vaughn
The Bannerless Saga, book 2
2018's The Wild Dead is the second volume in Carrie Vaughn's Bannerless Saga.
The Estuary isn't even a formal town; it's more of a collection of households that happen to be in close proximity. With no council to settle disputes, the townsfolk request a pair of Investigators, hoping that they can to resolve an ongoing conflict between the Semperfi household and its neighbours. Investigators Enid and Teeg arrive in the Estuary expecting to resolve a straightforward argument over resource allocation. They soon find themselves dealing with murder.
---
A Variety of Vaughns
The Future is Female! — Lisa Yaszek

Lisa Yaszek's 2018 The Future Is Female! 25 Classic Science Fiction Stories By Women, From Pulp Pioneers To Ursula K. Le Guin is an anthology. As promised by the title, it contains twenty-five classic stories by women, published over a span of time stretching from the early days of commercial science fiction to the late 1960s.

---
Miscellaneous Reviews
Steel Rain — Yang Woo-suk
Steel Rain is a Korean thriller movie, written and directed by Yang Woo-suk. It is based on the webcomic of the same name.
Retired North Korean agent Cheol-woo Eom is covertly contacted by his former boss, Chief Ri. Ri informs Eom that two senior functionaries (Park and Kim) are plotting a coup. Since the two men are highly placed and can keep Ri from alerting the Great Leader to the plot, Ri has no choice but to have both men killed.
Ri cannot use one of his subordinates for the job because if the operative fails, the assassination attempt could touch off an inter-service civil war. If Eom is caught, he can be thrown under the bus. Eom agrees to work for Ri one last time.
On a certain fateful day, Eom is in position, ready to kill Park and Kim. There are two problems. The first is that Park is not at the rally where Eom is waiting hidden with his rifle. The second is that agents unknown detonate several hijacked cluster bombs, bombs that kill most of the people attending and leave the Great Leader badly injured, perhaps dying.
Luck and skill get Eom through the attack unscathed, as well as the massacre of the few survivors that follows. Realizing a coup is underway, Eom and helpful cheerleaders Kwon and Song flee with the Great Leader into South Korea. Behind them, North Korea descends into chaos.

---
Translation
Riding the Torch — Norman Spinrad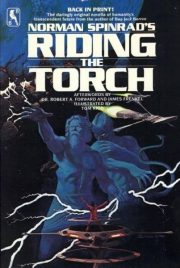 Norman Spinrad's 1974 Riding the Torch is a standalone science fiction novella.
Mistakes were made. Earth is a lifeless cinder. Before the planet was seared, a small fleet of interstellar ships managed to escape. Surely somewhere in the sky, there must be a second Earth.
A thousand years later, the torchships are still looking. On and on they travel, harvesting the materials they need to survive and prosper from the interstellar void.

---
Because My Tears Are Delicious To You
The Epic Crush of Genie Lo — F. C. Yee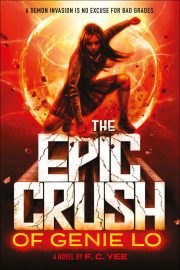 2017's The Epic Crush of Genie Lo is F. C. Yee's debut novel.
Bay Area high school student Eugenia "Genie" Lo is highly motivated and hard-working, determined to earn her way into Harvard. She's going to claw her way to the top, despite all her equally motivated, hard working, and better-connected rivals. Harvard is not just a top-ranked school. It is as far from Genie's well-meaning, interfering mother as it is possible to be without leaving the United States. Genie does not need distractions on her journey to the east. She gets a major distraction in the form of brash transfer student Quentin Sun.
Also known as Sun Wukong.
Also known as the Monkey King. That Monkey King.
---
Miscellaneous Reviews
Mira's Last Dance — Lois McMaster Bujold
Penric & Desdemona, book 5
2017's Mira's Last Dance is the fifth instalment in Lois McMaster Bujold's Penric & Desdemona series. The series takes place in the setting of Bujold's Five Gods novels.
In the previous book, Penric was badly injured in a duel with a Cedonian sorcerer. His symbiotic demon Desdemona was able to keep Penric alive, but Penric and his two human companions, former General Arisaydia and the general's sister Nikys, have been forced to pause in their flight from Cedonia while Penric heals.

---
A Bunch of Bujolds
Tempest — Yoshiki Tanaka
Legend of the Galactic Heroes, book 7
First published under the title Ginga Eiyu Densetsu volume 7, 1986's Tempest is the sixth volume in Yoshiki Tanaka's Legend of the Galactic Heroes 1. Daniel Huddleston's translation was published by Haikasoru in 2018.
All hail the glorious Kaiser Reinhard, who has either conquered or neutralized all enemies of his galactic empire. Having unified the galaxy, it's odd that the Kaiser is not a happier man.
---
Translation
The Luminous Dead — Caitlin Starling
2019's The Luminous Dead is Caitlin Starling's debut novel.
Gyre Price lies to get the contract for a solo caving expedition. It's a calculated risk: caving is dangerous. But the payoff for the foray could be lucrative enough to pay Gyre's way off the dead-end colony world of Cassandra-V.
Cassandra-V's wealth, such as it is, is based on subterranean mineral deposits. It's a reasonable guess that Gyre's employer hopes to discover a new vein of ore. A guess is all it is, as the employer is oddly reticent about the project's goals. This isn't the only piece of important information that Gyre has not been given. The employer knows that Gyre lied about her experience but hired her anyway.

---
Miscellaneous Reviews
The City of the Sun — Brian M. Stableford
Daedalus Mission, book 4
1978's The City of the Sun is the fourth novel in Brian M. Stableford's Daedalus Mission series.
Earth's first expedition to recontact its abandoned colonies found only empty worlds, worlds where colonists had been overwhelmed by local conditions. The Daedalus Mission is the second expedition, sent out to assist colonies when possible and to determine the reason for the colony's demise if defunct. Thus far the crew of the Daedalus (Nathan, Linda, Conrad, Karen, Pete, Mariel and Alex) have found two surviving (if odd) colonies and one world where humans were horribly transformed by unforeseen local conditions.
As far as they can tell from orbit, Arcadia seems to have failed utterly. Then the expedition spots one lone city.

Here there be spoilers

---
Because My Tears Are Delicious To You
The Expert System's Brother — Adrian Tchaikovsky

Adrian Tchaikovsky's 2018 The Expert System's Brother is a standalone science fiction novella.
Aro is a village like any other: nestled next to a great tree, run by ghosts sharing the bodies of living persons, persons selected by the wasps. Handry was an unremarkable example of an Aro inhabitant … until the day of the mishap.
---
A Dozen by Tchaikovsky
Spanish Mission — K. B. Spangler
Hope Blackwell, book 2
2018's Spanish Mission is the second volume in K. B. Spangler's Hope Blackwell series of novels1.
Seeking to distract her cyborg friend Mary "Mare" O'Murphy from the disquieting revelation that ghosts exist and are quite visible to Enhanced Americans, Hope Blackwell takes Mare and their talking koala pal Speedy on a road trip to Vegas.
This bold gambit sets Hope and Mare up for an encounter with paranormal impresario Eli Tellerman of the reality show Spooky Solutions [2]. Tellerman knows Hope for the psychic that she is. In short order he manages to strong-arm her into joining his latest venture.
It's an exciting foray into the desert in search of ancient treasure, pirate ships lost in an arid wasteland, and (of course) ghosts.

---
Miscellaneous Reviews
Adachitoka
Noragami, book 7

Adachitoka's Noragami Volume 7 collects issues 24 to 27 of the adventures of the stray god Yato. The manga was first published in 2013; the English translation dates from 2015. Included are:
24. "Always" (ずっと一 "Zuttou")

25. "When Sleeping Gods Are Provoked" (触った神の祟り "Sawatta Kami no Tatari")

26. "How to Worship a God" (神様の祀リ方 "Kamisama no Matsuri Kata")

27. "Do and Due" (業と業 "Gyō to Gō")
Yato is a god, but even a god suffers when snubbed by a friend.
---
Translation
No Man of Woman Born (Rewoven Tales) — Ana Mardoll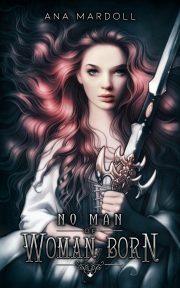 2018's No Man of Woman Born (Rewoven Tales) is a single-author collection by Ana Mardoll.
Thanks to the place Tanith Lee's Red as Blood has in my heart, I am always up for fairy tales re-imagined in a new light. Of course, this is sometimes not fair to new collections; I tend to measure them against a collection I like very much. Mardoll's collection passes the test.

---
Miscellaneous Reviews
The War in the Air — H. G. Wells
H. G. Wells' 1908's The War in the Air is a standalone near-future (from the perspective of 1908) military thriller.
The inevitable march of progress has transformed bucolic Bun Hill into a thriving London suburb. Greengrocer Tom Smallways views this change (and change in general) with the deepest suspicion. His brother Bert, on the other hand, is eager to embrace change, particularly of the sort that involves Bert becoming wealthy.
Middling bright and uninhibited by any particular sense of ethics, Bert has thus far been denied the riches to which he is so clearly entitled, riches that would enable him to marry the charming Edna. When fate drops into Bert's lap the chance to make a fortune by selling stolen military information to the Germans, patriotism inhibits Bert not at all.

---
Because My Tears Are Delicious To You
The Lives of Christopher Chant — Diana Wynne Jones
Chrestomanci, book 2
1988's The Lives of Christopher Chant is the fourth book published in Diana Wynne Jones' Chrestomanci series. It is set some decades before Charmed Life.

Christopher Chant was unlucky when issued a family. His father is a well-meaning upper-class bumbler, and his mother is a grasping social climber who is gravely disappointed in her husband. Although they cohabit, Mr. and Mrs. Chant aren't on speaking terms. Since raising Christopher is Mrs. Chant's domain, Christopher barely knows his father.
Two developments reshape Christopher's life. One is that his father manages to lose the family fortune. The second …

---
Twelve by Diana Wynne Jones
They Promised Me The Gun Wasn't Loaded — James Alan Gardner
The Dark and the Spark, book 2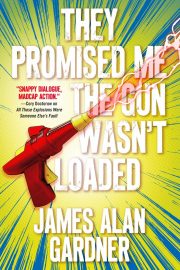 2018's They Promised Me The Gun Wasn't Loaded is the second novel in James Alan Gardner's The Dark and the Spark1 series. It is a sequel to 2017's All Those Explosions Were Someone Else's Fault.
University of Waterloo students Jools, K2, Miranda, and Shar were victims of a classic Mad Scientist's lab accident, which, far from killing them, imbued them all with Light-derived superhuman abilities. Each so-called Spark gained a different set of powers; each adopted a different code-name to reflect their new identities (Ninety-Nine, Zircon, Aria, and Dakini). All of them were drafted into the on-going struggle between the Darklings (the one percent who control society) and the Light.
The Light opposes the vampires, demons, wraiths, and other Darklings. That doesn't mean the Light is good, as Jools/Ninety-Nine is painfully aware.

---
KW Science Fiction and Fantasy