The True Queen — Zen Cho
Sorcerer to the Crown, book 2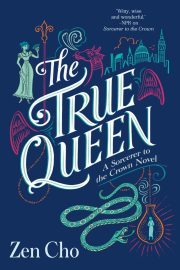 2019's The True Queen is the second volume in Zen Cho's Sorcerer to the Crown series.
Amnesiacs Sakti and Muna arrive on the island of Janda Baik, preceded by a great storm. They know their own names, but nothing else of their past. They look much like each other, so it is supposed that they are sisters. They are offered a home by the formidable witch Mak Genggang and begin to make new lives for themselves.
Complications ensue.
---
Doing What the WFC Cannot Do
If at First You Don't Succeed, Try, Try Again — Zen Cho
Zen Cho's 2018 If at First You Don't Succeed, Try, Try Again is a standalone novelette.
Nothing is finer than being an enlightened dragon, armed with the wisdom of the ages and a cintamani, a matchless pearl that confers godly power on the possessor. Or so believes Byam, a lowly imugi (worm). Searching for the secret of enlightenment, it is visiting terrified monks, asking them to teach it the Way. Right now!1 It is also contriving various schemes to trick heaven into granting it entry to the celestial ranks.

---
Miscellaneous Reviews
The Terracotta Bride — Zen Cho
My main complaint about Zen Cho is that she doesn't publish as much and as often as I would like1. Still, not only can I gleefully anticipate the second Sorcerer Royal book, but 2016's The Terracotta Bride has just been released. And just purchased by me.
You might think death is the end to all of life's problems. If you do, then some day you will discover, as did the unfortunate Siew Tsin, that this is not at all true.
---
Miscellaneous Reviews
Cyberpunk: Malaysia — Zen Cho
It may seem a little odd to publish a cyberpunk anthology a quarter century after American cyberpunk devolved into an aggregation of simplistic conventions 1. But sub-genres may die in some cultural environments and thrive in others. American 2 cyberpunk may be a shambling zombie (even post-cyberpunk is pretty wheezy), but as 2015's Cyberpunk: Malaysia proves, in Malaysian hands cyberpunk is alive and well.
---
Miscellaneous Reviews
The Perilous Life of Jade Yeo — Zen Cho
This review came about because Romantic Times editor Regina Small very considerately assigned me Zen Cho's upcoming novel Sorcerer to the Crown (of which more later, over at Romantic Times, which if you are not reading you should be). The wheels of reviewing grind slow but sure. Today I woke up thinking "I am really in the mood to read an unfamiliar to me Zen Cho work!" but … alas, the book is still on its way to me.
Then I remembered: the author has a website and on that website she has links to works of hers one can buy in ebook form. While I have read and reviewed Spirits Abroad], I had not yet read her 2012 novella The Perilous Life of Jade Yeo! Which, to be honest, is an epistolary historical romance, a genre in which I am not well read and with whose conventions I am unfamiliar. There are many pitfalls for reviewers dabbling in new genres, but, in the same bold spirit that led Napoleon to Moscow and Vercingetorix to Rome, I forge onwards!
---
Miscellaneous Reviews
Zen Cho, a Malaysian author living in London, is familiar from the late, lamented World SF blog, the 2013 Campbell Award for Best New Writer and the 2015 IAFA William L. Crawford Fantasy Award (a literary award given to a writer whose first fantasy book was published during the preceding 18 months) but I do not think I had actually read anything of hers before I started the work under review [1], Cho's 2014 collection Spirits Abroad. Not to leave you in suspense or anything, I liked it a lot and hope to read more of Cho's work.
---