Revenger — Alastair Reynolds
Alastair Reynold's 2016 Revenger is a standalone SF novel.
Eager to escape her foolish father and his incredibly creepy associate Doctor Morcenx, teenaged Adrana Ness talks her way onto Captain Rackamore's light-sail spacecraft. Rather than abandon her younger sister Fura to Morcenx, Adrana convinces her sister to accompany her into deepest space in search of freedom and fortune.
What they get is death and corruption but hey, A for effort.
---
Space Opera That Doesn't Suck
Slow Bullets — Alastair Reynolds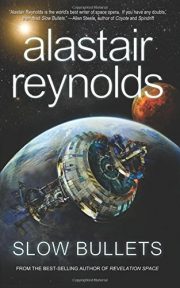 Alastair Reynolds may be best known for his series, such as the Revelation Space novels or the Poseidon's Children books. However, he can also work in less expansive formats. 2015's Slow Bullets is a standalone novella, one that fits nicely into my MilSF review series.
---
Military Speculative Fiction That Doesn't Suck