The Scorpion Rules — Erin Bow
Prisoners of Peace, book 1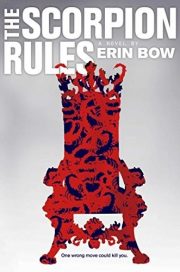 The Scorpion Rules is the first volume in Erin Bow's Prisoners of Peace series.
The children of the Precepture school live under the gaze of watchful cameras monitored by a powerful AI (Artificial Intelligence). The students are there to make their own small contributions to world peace. Each child at the school is the child of a national ruler. Each is hostage for their parent's good behaviour. Nations can choose to go to war if they feel the national interest demands it, but if they do … the child hostages of all warring states involved will be immediately removed from class and killed. It's a harsh system but it has worked as planned. Wars have been short and total casualties limited to a few thousand per year, despite the immense challenges encountered during four centuries of catastrophic climate change.
Greta Gustafsen Stuart, Duchess of Halifax and Crown Princes of the Pan-Polar Confederation, is one of the hostages. She hopes to live until she reaches the ripe old age of eighteen, at which point she will be released from the school. Failing that, she hopes to die with dignity. She does not consider escape. The AI will surely prevent that.
Then the teenage boy with bound hands arrives at school.
---
A Year of Waterloo Region Speculative Fiction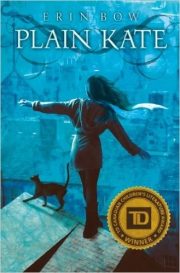 American-born Canadian by choice Erin Bow is a physicist turned novelist, whose work has won the TD Canadian Children's Literature Award, the CBC Canadian Literary Award, for the poems that became Ghost Maps, the Monica Hughes Award twice, once for The Scorpion Rules and once for Sorrow's Knot, the CLA Book of The Year for Young Adults for The Scorpion Rules. Shortlists include the Pat Lowther (for Ghost Maps), the Amy Mathers Award (for The Scorpion Rules) and currently the White Pine (for The Scorpion Rules) and the Sunburst (once for Plain Kate and once for Sorrow's Knot). More details on Bow can be found at her website.

2012's secondary world fantasy Plain Kate is a stand-alone young adult novel. Young adult fiction is a lot like juvenile science fiction, except that teens actually buy and read young adult fiction.

Plain Kate to her neighbours in the village of Samilae, Katerina Carver is beautiful to her doting father. She demonstrates a talent for wood-working as a toddler; in a better world she would have become her father's apprentice as soon as she came of age. In the rather dismal world in which she lives, disease takes Kate's father from her before he has a chance to give her the legal status of apprentice. The carver's guild then steps in to take from Plain Kate virtually everything else her father owned.
Bereft of everything save her father's tiny market stall, the clothes on her back, some tools and her skills, Plain Kate is forced into a hand-to-mouth existence.
The mysterious stranger will cost Plain Kate even that.
---
A Year of Waterloo Region Speculative Fiction