This Gulf of Time and Stars — Julie Czerneda
Reunification, book 1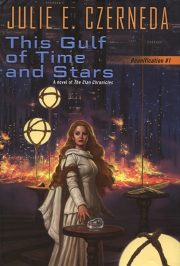 2015's This Gulf of Time and Stars is the first book in Julie E. Czerneda's Reunification series. It is set in her Clan Chronicles setting (first visited in her 1997 debut novel, A Thousand Words for Stranger).
Refugees without history, the surprisingly humanoid Clan live unseen amongst humans, who in turn live in the vast multi-species galactic confederation, the Trade Pact. The Clan's psychic assassins eliminate any person unlucky enough to discover the Clan's existence. Or rather, the Clan once lived unseen amongst humans. Now they live out in the open, outed by a biological trap of their own creation.
The Clan breeding program was so successful at creating females of unparalleled psychic power that no male can survive breeding with them. Hoping that the Trade Pact's vast R&D resources can overcome the reproductive bottleneck, the Clan revealed themselves and joined the Trade Pact.
The Clan may have traded gradual extinction for swift extermination.
---
A Year of Waterloo Region Speculative Fiction
In the Company of Others — Julie E. Czerneda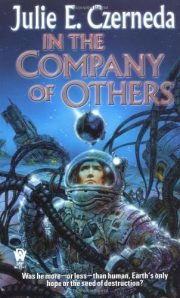 To quote Julie E. Czerneda's online bio:

Julie Czerneda is a Canadian author and editor whose first novel, A Thousand Words for Stranger, was published in 1997 by

DAW

Books. Since then, Julie has produced over a dozen more novels, edited fifteen anthologies, and written numerous short stories. Her work has won awards, consistently made bestseller lists, and garnered praise from readers and reviewers around the world.
As noted that same bio, Czerneda was a student at the University of Waterloo and thus she is fodder for A Year of Waterloo Region Speculative Fiction.
Czerneda's 2001 Aurora Award-winner In the Company of Others is a stand-alone science fiction novel.
Interstellar exploration turned up dozens of worlds suitable for human occupation, given some well-thought-out terraforming. All that stands between humanity and endless frontiers is a bit of time, some ingenuity, will, and applied technology.
And the Quill. But the Quill on their own are enough to bring the space colonization effort to a sudden halt.
---
A Year of Waterloo Region Speculative Fiction