Earthwreck! — Thomas N. Scortia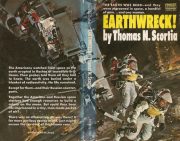 Thomas N. Scortia's 1974 Earthwreck! is a standalone near-future SF novel.
Captain Quintus Longo leaves his wife and children for what he believes will be a routine tour of duty on the American space station1. Thanks to a bold gambit by Japanese and Palestinian terrorists, it is the last time Longo sees his family alive.
The first hint the world gets that terrorists have seized control of the Arab Republic nuclear weapons comes in the form of three kiloton-range nuclear explosions in Tel Aviv. The Israelis respond with a megaton-range strike on the Aswan Dam. Millions die in Israel and Egypt; tragic but not world-ending. Russia and China back opposing sides in the conflict, but the Soviet-Chinese clash that follows isn't necessarily the apocalypse, since both sides initially limit themselves to battlefield nukes. The United States issues an ultimatum to China and Russia: negotiate or face American fury. Rather than forcing the Russians and Chinese to stand down, the result is a full scale global thermonuclear war.

---
Because My Tears Are Delicious To You
The Prometheus Crisis — Thomas N. Scortia & Frank M. Robinson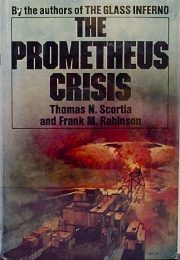 Chemist Thomas N. Scortia (1926–1986) published science fiction from the 1950s to his death from leukemia; he was nominated for the Nebula in 1966. His frequent writing partner, Frank M. Robinson (1926–2014), was active in SF from the 1950s to his death. His awards and nominations range from the Hugo to the BFA, from the Lambda to the Locus. Robinson was also a well known activist.
Together the pair were masters of the disaster thriller. Their 1975 standalone The Prometheus Crisis is a fine example of their work in this genre.
---
Because My Tears Are Delicious To You