Will Do Magic For Small Change — Andrea Hairston
Andrea Hairston's 2016's Will Do Magic for Small Change is a historical fantasy. It is set in the same world as Redwood and Wildfire. It won a spot on the 2016 Tiptree Honor List.
Pittsburgh teen Cinnamon Jones deeply mourns her deceased brother Sekou. She treasures a book he once owned, an old leather-bound chronicle. But the book is more than a keepsake: it is magic.

---
James Tiptree, Jr. Award
The Awakened Kingdom — N. K. Jemisin

2014's The Awakened Kingdom is a sequel to N. K. Jemisin's Inheritance Trilogy.
Years after the events of the trilogy, the Gods Itempas and Yeinne make a godling, one who might fit the place left empty by the late Sieh. Being gods, they raise their child Shill in the manner befitting gods, which is essentially to kick the kid out the door and hope for the best.
---
Miscellaneous Reviews
The Gathering — Virginia Hamilton
Justice Trilogy, book 3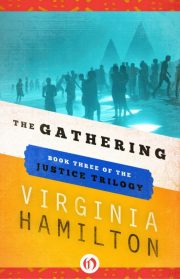 1981's The Gathering is the third book in Virginia Hamilton's Justice Trilogy.
Justice, Levi, Thomas, and Dorian each have their own special power. Apart, they are impressive (even if some of them do not think so), but together they can step through time itself.
That's good, because they have unfinished business in the future.

---
Miscellaneous Reviews
Scream Blacula Scream — Bob Kelljan
Blacula, book 2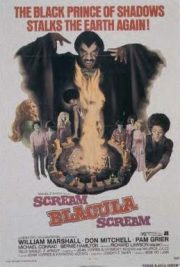 1973's Scream Blacula Scream is a sequel to 1972's cult-classic Blaxploitation horror film Blacula.
Outraged that his voodoo-queen mother has selected talented and powerful Lisa Fortier (played by Pam Grier) as her successor, Willis (Richard Lawson) seeks out a disgraced voodoo master, from whom he purchases the bones of the late Prince Mamuwalde (William H. Marshall). Armed with a modicum of magic, Willis plans to resurrect the vampire and then compel Mamuwalde to take vengeance on Lisa.
Mamuwalde's first act is to drain Willis dry.

---
Because My Tears Are Delicious To You
Kitty Takes a Holiday — Carrie Vaughn
Kitty Norville, book 3
2007's Kitty Takes a Holiday is the third volume in Carrie Vaughn's Kitty Norville series.
Determined to discover her inner writer, werewolf Kitty Norville put her radio show on hiatus and rented an isolated house. Thus far all she has discovered is her inner writer's block.
Fate is kind to Kitty. Kitty will have distractions galore from her writing issues.
---
A Variety of Vaughns
Red Rider's Hood — Neal Shusterman
Dark Fusion, book 2
2005's Red Rider's Hood is the second volume in Neal Shusterman's Dark Fusion series. It is a modern-day retelling of Little Red Riding Hood.
Sixteen-year-old Red allows himself to be distracted by the revelation that classmate Marissa Flowers might have a bit of a crush on him. His befuddlement allows Cedric Soames' Wolf gang to ambush, overpower, and rob Red and his beloved Grandma. Worse, the gang steals Red's beloved Mustang.
Of course, this means war.

---
Miscellaneous Reviews
Bloodchild and Other Stories — Octavia E. Butler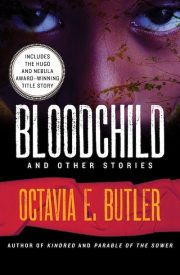 Octavia E. Butler's 1995 Bloodchild and Other Stories is a collection. The particular edition I have is the Open Road Media edition; I know there's an updated version, but I do not know if that edition is different from the one I have in hand.

---
Miscellaneous Reviews
Domino Falls — Steven Barnes & Tananarive Due
Devil's Wake, book 2
2013's Domino Falls is a sequel to Stephen Barnes and Tananarive Due's 2012 novel, Devil's Wake.
Freak Day, when the infected turned on their former friends, neighbours, and family members, ended the comfortable old world. Mere weeks after Freak Day, most humans are either dead or infected. The few untainted survivors struggle to survive and to avoid the infection even one bite can transmit.
Kendra lost her family to Freak Day and its aftermath. No person can survive alone for long; luckily for Kendra, she has five reliable allies in Terry, Piranha, Sonia, Dean, and Darius. Even better, the six teens may have found the refuge they need in Domino Falls, one of the few towns to survive Freak Day.
Or they may not.

---
Miscellaneous Reviews
Black No More: Being an Account of the Strange and Wonderful Workings of Science in the Land of the Free, AD 1933–1940 — George S. Schuyler
George S. Schuyler's 1931 Black No More: Being an Account of the Strange and Wonderful Workings of Science in the Land of the Free, AD 1933–1940 is a satire.
Where other inventors have offered temporary hair straightening and skin-lightening methods, Dr. Crookman provides a service that is both thorough and permanent: any American Negro with fifty dollars can walk into one of Crookman's sanatoria and emerge indistinguishable from the white majority.
The consequences are not long delayed.

---
Because My Tears Are Delicious To You
Barrayar — Lois McMaster Bujold
Cordelia Vorkosigan, book 2
Lois McMaster Bujold's 1991 Barrayar is the second Cordelia Vorkosigan novel. I am going to put off working out how to number it in the grander Vorkosigan Saga and Vorkosigan Universe sequences in the hope that nobody will notice if I am inconsistent1.
The plan: Barrayaran Aral marries Betan Cordelia; Aral retires from active duty and the couple lives on their country estate, there to enjoy long, happy lives.
The outcome: Emperor Ezar Vorbarra is dying and has one last task for Aral. It is a weighty task that will burden Aral and Cordelia for years to come.

---
A Bunch of Bujolds
To Raise a Clenched Fist to the Sky — T. Thorn Coyle
The Panther Chronicles, book 1
To Raise a Clenched Fist to the Sky is the first volume in T. Thorn Coyle's Panther Chronicles.
By 1968 the Summer of Love is a fading memory. Activism has taken centre stage. Nowhere is that more true than in Oakland, where the Black Panthers are working hard to set up community kitchens and raise political consciousness. It's a heady time for Berkeley freshman Jasmine, who is new to the Bay Area.
Jasmine has a lot to offer the Panthers, not least of which is magic.

---
Miscellaneous Reviews
Redemption in Indigo — Karen Lord
Karen Lord's 2010 debut Redemption in Indigo is a standalone fantasy novel.
Paama finally has had it with her gluttonous fool of a husband, Ansige, and leaves. Ansige is unwilling to let her go, and hires master tracker Kwame to find her. Kwame cannot convince Paama to return to Ansige. What he does do is draw the attention of the Djombi to Paama.
These great spirits have vast powers, but they still have need of someone like Paama.

---
Miscellaneous Reviews
The Ballad of Black Tom — Victor Lavalle
Victor Lavalle's 2016 novella The Ballad of Black Tom is a standalone tale of cosmic horror. It is a retelling of Lovecraft's "The Horror at Red Hook" told from a perspective Lovecraft would never have considered.
Charles Thomas Tester, black and forever denied full membership in American society, supports his aged father by serving as middleman between rich New York clients and the occult community. They want artefacts of power; he can provide. But Tester is careful. He does his best to limit his exposure to dread powers. Let rich white fools dabble in the forbidden; Tester is a sensible man who plans to remain alive and sane.
Tester makes just two mistakes.

---
Miscellaneous Reviews
The Count of Monte Cristo — Alexandre Dumas
1844's The Count of Monte Cristo is a standalone novel of revenge written by Alexandre Dumas. While it is not my usual SF, it has certainly influenced SF. As well, there were (to my surprise) not one but two SFnal moments in the book.
Young Edmond Dantès has it all, from a solid career to a loving fiancée. Alas for Dantès, success engenders jealousy. In short order he is framed for Bonapartist subversion and secretly consigned to life imprisonment in the forbidding Château d'If. His friends and loved ones will never know why he vanished.
At least, that's the plan.

---
Because My Tears Are Delicious To You
Dragonfly Falling — Adrian Tchaikovsky
Shadows of the Apt, book 2
2009's Dragonfly Falling is the second volume in Adrian Tchaikovsky's Shadows of the Apt decology.
The city-state of Collegium is the keystone of Lowland resistance to the coming Wasp Empire conquest of the lowlands. The Empire tried — and failed — to remove Collegium from the board with a swift, bold gambit. No matter. When cunning fails, there is always brute force.
---
A Dozen by Tchaikovsky
So I Might Be a Vampire — Rodney V. Smith
Chasing the Sun, book 1
2017's So I Might Be a Vampire is the first volume in Rodney V. Smith's Chasing the Sun series.
Vampires! Irresistible and sexy, self-confident aristocrats of the night!
Bob the vampire isn't any of those things.

---
Miscellaneous Reviews
Report from Planet Midnight — Nalo Hopkinson
Nalo Hopkinson's 2012 Report from Planet Midnight is a collection. It is the ninth volume in PM Press's Outspoken Authors series.

---
Miscellaneous Reviews
Binti — Nnedi Okorafor
Binti, book 1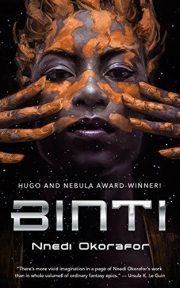 2016's Binti is the first volume in Nnedi Okorafor's Binti series.
Early one morning, young Binti Ekeopara Zuzu Dambu Kaipka packs her things and leaves her home. None of her family is awake. None of them would approve if they knew she was leaving. And why she was leaving. Binti is abandoning her Himba community to accept a scholarship at university.
And not just any university. Oomza Uni is on another world. Binti is not just leaving her homeland of Namib behind. She is leaving Earth.

---
Miscellaneous Reviews
Babel-17 — Samuel R. Delany
1966's Babel-17 is an SF novel by Samuel R. Delany. Not his first (he had already published a number of Ace Doubles and one standalone), but the one that made his name. It shared the Nebula with Flowers for Algernon and was nominated for the Hugo as well, losing to The Moon is a Harsh Mistress. It shares some elements of its setting with an earlier Delany novel, Empire Star.
Victory over the Invaders may depend on understanding a series of indecipherable messages broadcast in an odd code? cipher? language? that the authorities label Babel-17. The Alliance turns to noted linguist Rydra Wong. "Tell us what this is and tell us what it means!"

---
Because My Tears Are Delicious To You
Deep Secret — Diana Wynne Jones
Magid, book 1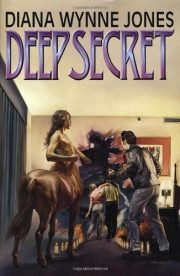 1997's Deep Secret is the first of two novels in Diana Wynne Jones' Magid series.
Through no fault of his own, magid Rupert Venables is drawn into two pressing succession problems. The first problem is to find a magid trainee. The former head magid has died (well, he's dead but not exactly gone; such is the nature of magids). Rupert is now the senior magid and needs an apprentice and future successor. The second problem is finding the true heir to the Koryfonic Empire, hidden away by the previous, rather paranoid, emperor.
It's no use asking the emperor himself: Timos IX is very sincerely, very thoroughly dead. So are Timos' friends and confidants, who might have known where the heir had been stashed. The bomb that reduced Timos IX to vapour was very large.
Rupert decides backburner the question of the missing heir and focus on the quest to find an apprentice and head-magid-to-be. That should at least be straightforward.

---
Twelve by Diana Wynne Jones