Parable of the Sower — Octavia E. Butler
Parable of the Sower, book 1
1993's Parable of the Sower is the first volume in Octavia E. Butler's Parable of the Sower duology. Here Butler explores a very American theme. From Huck Finn to the Joads ,from the Mormon pioneers to the Donners, from On the Road to The Road, nothing expresses the boundless possibilities of America like the road trip.
Lauren Olamina's 2020s America is one that makes road trips challenging and eventful.
---
Miscellaneous Reviews
Samuel R. Delany's 1968 Nova is a standalone science fiction novel.
Draco, an Earth-led alliance, and its youthful rival, the Pleiades Federation, dominate the human portion of the galaxy. Both powers dabble in the affairs of the recently settled Outer Colonies. Those hostile young planets harbor traces of the ultra-heavy element illyrion, an element essential to tech as diverse as faster-than-light drives and terraforming.
Until the Outer Colonies were settled, no natural sources of illyrion were known. Illyrion could only be produced by an expensive transmutation process. Cheaper illyrion has shifted the balance of power.
Lorq Von Ray has a bold scheme to alter the galactic political landscape yet again. He will double the aggregate stores of Illyrion in one daring voyage! All he and his crew need do is race into the heart of a star. An exploding star.
---
Because My Tears Are Delicious To You
The Chaos — Nalo Hopkinson
2012's The Chaos is a standalone young adult urban fantasy novel by Nalo Hopkinson.
Sixteen-year-old Sojourner Smith leads a far–from- perfect life; she knows it and she knows why. She's too white to be black, too black to be white, and subject to her parents' draconian discipline (the same inflexible standards that consigned her older brother to prison). School is something of a refuge: there, she is nicknamed Scotch and admired because she is pretty, flirtatious, and a star performer of the Raw Gyals dance troupe.
Of course, nothing is perfect, and there are a few problems even there. She's fallen out with Raw Gyals troupe leader and former best friend Gloria. Scotch is convinced that Gloria has her eye on Scotch's ex-boyfriend Tafari. Not what a real BFF would do.
Oh, and there's Scotch's new skin condition and the fact that she's been seeing floating heads lately….
A night out with her older brother Rich sounds like a welcome respite from parents and school. Pity the Smith siblings picked the night all hell broke loose in Toronto 1 Welcome to the Chaos!
---
Miscellaneous Reviews
Ward Against Death — Melanie Card
Chronicles of a Reluctant Necromancer, book 1
2011's Ward Against Death is the first volume in Melanie Card's Chronicles of a Reluctant Necromancer.
The meet-cute between Ward De'Ath and Celia Carlyle is an unpromising one. He is a branded criminal (thanks to his interest in the unsavoury surgical arts1); she is the daughter of a lord. Not only that, but when they first meet, Celia is quite dead.
Still, love will find a way. And if love doesn't, necromancy definitely can.
---
A Year of Waterloo Region Speculative Fiction
Devil's Wake — Steven Barnes & Tananarive Due
Devil's Wake, book 1
2012's Devil's Wake is the first volume in Steven Barnes and Tananarive Due's Devil's Wake series.
It didn't take long for the plague of angry ghouls to sweep across America, because to be bitten by one of the infected is to become one of the infected. There is no cure and there is no vaccine. The only reliable prophylaxis is preparedness or simple dumb luck.
Given enough time, even the prepared run into something unexpected. Given time, the best luck in the world runs out.
---
Miscellaneous Reviews
The Broken Kingdoms — N. K. Jemisin
The Inheritance Trilogy, book 2
2010's The Broken Kingdoms is the second volume in N. K. Jemisin's The Inheritance Trilogy.
Ten years after the world changed, blind artist Oree makes a living in the city of Shadow, once called Sky. Although enforcement of the god Intempas' laws is far laxer for reasons those in charge decline to explain in detail, it would be very bad for Oree Shoth if she were to come to the attention of the Order-Keepers.
Bad enough she found a murdered godling. Much worse that the Order-Keepers know she found Role's corpse.
---
Miscellaneous Reviews
Batman: Blink — Dwayne McDuffie

Dwayne McDuffie's 2015 volume, Batman: Blink, collects Legends of the Dark Knight issues #156-158 and #164-167, which were first published in 2002–2003. To put it another way, he has put together two related story lines: Blink and its sequel, Don't Blink.
Blink
Women are being killed in horrific ways. But aside from the ugly nature of their deaths, there seems to be nothing that explains why these women were targeted or who has been targeting them. At least nothing that the police or Batman can see. Lee Hyland is the only surviving witness and the cops don't expect he will be a useful one. Not because Lee is a career criminal—he has been careful to keep that a secret—but because Lee is blind.
---
Miscellaneous Reviews
Leo and Diane Dillon's art — Leo Dillon & Diane Dillon
I would love to review "the complete collection of book covers illustrated by Leo and Diane Dillon" but as far as I can tell, such a volume does not exist. What do exist: The Art of Leo & Diane Dillon (1981) and To Every Thing There Is a Season: Verses from Ecclesiastes (1998). Collections I cannot review because 1) I don't own either and 2) I've never seen either. I do not mind all that much, because the first collection does not seem to have been well-received and the second looks too, um, religious for my taste.

But the Dillons do have a special place in my heart and I would love to direct some attention their way. So I am going to talk about my favourite Dillon covers.
My enjoyment of their work began with this specific set of covers.
---
Because My Tears Are Delicious To You
In the Company of Others — Julie E. Czerneda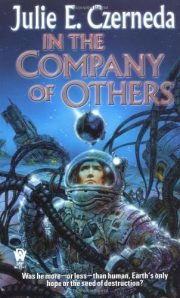 To quote Julie E. Czerneda's online bio:

Julie Czerneda is a Canadian author and editor whose first novel, A Thousand Words for Stranger, was published in 1997 by

DAW

Books. Since then, Julie has produced over a dozen more novels, edited fifteen anthologies, and written numerous short stories. Her work has won awards, consistently made bestseller lists, and garnered praise from readers and reviewers around the world.
As noted that same bio, Czerneda was a student at the University of Waterloo and thus she is fodder for A Year of Waterloo Region Speculative Fiction.
Czerneda's 2001 Aurora Award-winner In the Company of Others is a stand-alone science fiction novel.
Interstellar exploration turned up dozens of worlds suitable for human occupation, given some well-thought-out terraforming. All that stands between humanity and endless frontiers is a bit of time, some ingenuity, will, and applied technology.
And the Quill. But the Quill on their own are enough to bring the space colonization effort to a sudden halt.
---
A Year of Waterloo Region Speculative Fiction
Dark Matter — Sheree R. Thomas
Dark Matter, book 1
Sheree R. Thomas' 2000 anthology Dark Matter: A Century of Speculative Fiction from the African Diaspora delivers what it promises. One clarification, however: it is not a Resnickian collection of works about members of the African Diaspora but works by members of the African Diaspora.
---
Miscellaneous Reviews
Binti: Home — Nnedi Okorafor
Binti, book 2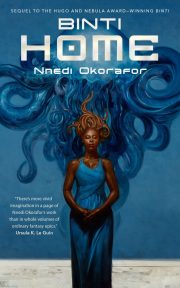 2017's Binti: Home is the sequel to Nnedi Okorafor's Nebula and Hugo-winning Binti.
Binti has been a student at Oomza University for a year. It's a year that has transformed her, both physically and mentally. Some of those changes were beneficial. Others, like her post-traumatic stress disorder, are not. Seeking an end to the nightmares, Binti returns to her home on Earth, in Africa, to participate in a healing pilgrimage.
---
Miscellaneous Reviews
Blacula — William Crain
Blacula, book 1
Director William Crain's 1972's Blaxploitation horror film Blacula was the first (and most successful) of the two Blacula films. To quote Wikipedia, Blaxploitation
or blacksploitation is an ethnic subgenre of the exploitation film, emerging in the United States during the early 1970s. Blaxploitation films were originally made specifically for an urban black audience, but the genre's audience appeal soon broadened across racial and ethnic lines.
Of course, films aimed at black audiences appeared almost immediately after the invention of film. What made Blaxploitation different is it was also marketed to white people. That meant Canadian television stations desperate for content bought the rights. Which in turn means I got to see an edited for TV in grainy black-and-white broadcast version of Blacula.
Determined to end the scourge of slavery, Prince Mamuwalde (William Marshall) appeals to a European aristocrat in the hopes the aristocrat will use his influence in the cause of anti-slavery. The African Prince is apparently quite poorly informed about European politics in the year 1780 because he has pinned his hopes on the benevolence of Count Dracula.
Dracula amuses himself by turning Mamuwalde into a vampire before sealing him in a coffin to starve undying for centuries. Mamuwalde's unfortunate wife Luva is sealed in the same locked room with Mamuwalde's locked coffin, starving to death as her helpless husband listens.
By 1972, Dracula is only a legend and nobody has any idea what's in that sealed coffin.
---
Because My Tears Are Delicious To You
Salvage and Destroy — Edward Llewellyn
Douglas Convolution, book 4
Edward Llewellyn-Thomas (1917- 1984) had a long and interesting career. Two elements of that career warrant inclusion here. The first is that towards the end of his life, he began writing and publishing science fiction under the pen-name Edward Llewellyn. The second is that he was a Professor in the University of Waterloo's Psychology Department, something I only discovered while reading his obituary in 19841.
1984's Salvage and Destroy is the fourth book in his Douglas Convolution sequence.
The Ult have ruled the Cluster for millennia, ever since the Drin, former masters of the Cluster, made the terrible mistake of contacting the then-barbaric Ult. Extermination denied the Drin the chance to learn from their error; the Ult, now the most civilized of civilized races, remember how they came to power. They will never make the mistake of handing a youthful barbarian race the keys to the stars.
Their compulsively altruistic Ara cousins, on the other hand, could not leave well enough alone. Which gets us to the matter of the humans.
---
A Year of Waterloo Region Speculative Fiction
Buffalo Soldier — Maurice Broaddus
Maurice Broaddus' 2017 Buffalo Soldier is a steam-punk western. It will be published in April.
Desmond Coke and Lij Tafari appear to be father and son, just a pair of migrant workers making their way across the Tejas Free Republic in search of employment. Jamaica and Albion's agents know the truth: Lij is a treasure their master are determined to possess and Desmond is an impediment to be removed.
---
Miscellaneous Reviews
Racing the Dark — Alaya Dawn Johnson
Spirit Binders, book 1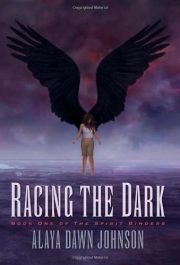 Alaya Dawn Johnson's 2007 debut novel Racing the Dark is the first of the Spirit Binders secondary world fantasy series.
The great elemental spirits leave chaos in their wake. Centuries before, the islanders dealt with them by binding the great spirits, death, fire, water and air, into forms abhorrent to the spirits but tolerable to the humans.
Born on a backwater island, Lana would have been content to be just another diver among many, talented but not remarkable. Instead, her rite of passage into adulthood marked her as extraordinary. She will be no mere diver. She will be a harbinger of doom.
---
Miscellaneous Reviews
The Three Musketeers — Alexandre Dumas
D'Artagnan Romances, book 1
Alexandre Dumas' 1844 The Three Musketeers, originally published in French as Les Trois Mousquetaires, is the first of three D'Artagnan Romances.
The young Gascon aristocrat D'Artagnan sets out to find his fortune, armed with an elderly horse, his sword, a small sum of money, a letter of introduction to the Musketeers and some comprehensively bad advice from his father.
---
Because My Tears Are Delicious To You
A Taste of Honey — Kai Ashante Wilson
Kai Ashante Wilson's 2016 A Taste of Honey is a stand-alone story set in the same universe as Wilson's The Sorcerer of the Wildeeps.
Aqib's life has been charted out for him. For his family to regain the status they lost when Aqib's father was tempted by love to marry far beneath him, Aqib must marry well. This is a sacrifice his family is more than willing for Aqib to make.
Man plans, gods laugh.
---
Miscellaneous Reviews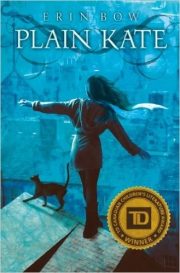 American-born Canadian by choice Erin Bow is a physicist turned novelist, whose work has won the TD Canadian Children's Literature Award, the CBC Canadian Literary Award, for the poems that became Ghost Maps, the Monica Hughes Award twice, once for The Scorpion Rules and once for Sorrow's Knot, the CLA Book of The Year for Young Adults for The Scorpion Rules. Shortlists include the Pat Lowther (for Ghost Maps), the Amy Mathers Award (for The Scorpion Rules) and currently the White Pine (for The Scorpion Rules) and the Sunburst (once for Plain Kate and once for Sorrow's Knot). More details on Bow can be found at her website.

2012's secondary world fantasy Plain Kate is a stand-alone young adult novel. Young adult fiction is a lot like juvenile science fiction, except that teens actually buy and read young adult fiction.

Plain Kate to her neighbours in the village of Samilae, Katerina Carver is beautiful to her doting father. She demonstrates a talent for wood-working as a toddler; in a better world she would have become her father's apprentice as soon as she came of age. In the rather dismal world in which she lives, disease takes Kate's father from her before he has a chance to give her the legal status of apprentice. The carver's guild then steps in to take from Plain Kate virtually everything else her father owned.
Bereft of everything save her father's tiny market stall, the clothes on her back, some tools and her skills, Plain Kate is forced into a hand-to-mouth existence.
The mysterious stranger will cost Plain Kate even that.
---
A Year of Waterloo Region Speculative Fiction
Dustland — Virginia Hamilton
Justice Cycle, book 2
1980's Dustland is the second book in Virginia Hamilton's Justice Trilogy.
Tom, Levi and Dorian's psionic abilities are impressive but it took Justice to weld them together into the Unit, able to span time and space at will. There are limits.Although they can project their minds out of their home space-time, the Unit aways manifests in the same distant location. And what an odd location it is.
---