The Young City — James Bow
The Unwritten Books, book 3
2008's The Young City is the third and last volume in James Bow's The Unwritten Books trilogy.
For Rosemary Watson, helping her brother Theo move into his Toronto apartment was meant to be a prelude to her own foray into adult life. She and her boyfriend Peter McAllister were soon to start uni in Waterloo and London, Ontario1 respectively.
Adult life intervenes unexpectedly. The floor of Theo's basement apartment collapses and drops Rosemary and Peter into the long-buried Taddle Creek. Emerging from a storm drain, the couple find themselves in a very unfamiliar Toronto. The problem wasn't the floor; it was the structure of space-time itself2.
---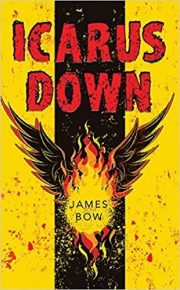 To quote James Bow's website:
I was born in downtown Toronto on April 19, 1972 and lived there until my folks moved up to Kitchener in 1991 so I could attend the University of Waterloo. I've lived in Kitchener ever since. I've been trained as an urban planner, and I've worked as a database manager, web designer, circulation manager, administrative assistant, layout designer, and office manager. The one consistent thing about my varied academic and professional career has been a love of writing.
Three generations ago, the colonists on the starship Icarus emerged from their final jump and found themselves plunged into disaster. The travellers had been promised a garden world. What they got was a hellworld whose electromagnetic environment killed electronics and where the sun was bright enough to burn unprotected skin. The fog-shielded lowlands seemed to offer a haven, … at least until the ticktock monsters attacked. The colonists were forced into refuges suspended between lethal sunlight and deadly monsters. Until now, they have survived.
Simon Daud wanted to be a pilot. Catastrophic equipment failure on his final test flight left Simon badly burned. His brother Isaac was killed outright.
---
A Year of Waterloo Region Speculative Fiction