Cibola Burn — James S. A. Corey
Expanse, book 4
2014's Cibola Burn is the fourth volume in James S. A. Corey's Expanse series1.
The Ring Builder's protomolecule creates death and damage — just ask the unfortunates on Eros — but it also grants opportunities. Humanity has lost one major asteroid city; it has been forced to share the solar system with a vast, powerful alien artifact that regards humans as potentially useful raw materials. On the plus side, thanks to the protomolecule humanity now has access to the Ring Builder wormhole network and a thousand life-bearing worlds.
With potential living space expanded a thousandfold, one might expect it would take centuries before groups began squabbling over territory. Ha ha. It takes about a year.

---
An Expanse of Coreys
Kotono Katō
Altair: A Record of Battles, book 1
Altair: A Record of Battles, Volume One collects the first fasıls (as the author calls her chapters) of Kotono Katō's manga series.
The continent of Rumelania is dominated by two great powers: the Türkiye stratocracy and the Balt-Rhein empire. Both are limited meritocracies, both are expansionist. Türkiye prefers persuasive annexation; Balt-Rhein has opted for outright conquest.
Mahmut lost his family and entire clan to war when he was a young boy. Determined to prevent another destructive war, he is the stratocracy's youngest pasha and perhaps its most idealistic. Alas for Mahmut's pacifism, it only takes one great power (one clearly based on the Holy Roman Empire) to start a war.
In fact, it only takes one faction within Balt-Rhein to bring Balt-Rhein and Türkiye to the brink of war.

---
Translation
Empire of Sand — Tasha Suri
The Books of Ambha, book 1
Empire of Sand is the first book in Tasha Suri's new series, The Books of Ambha.
Being the daughter of Governor of Irinah has its benefits, even for illegitimate children, like Mehr. Benefits even though her exiled mother was an Amrithi, a folk despised by the Ambhan ruling class. Mehr appreciates her privileges only when she loses them.

---
Miscellaneous Reviews
The Gate of Gods — Martha Wells
The Fall of Ile-Rien, book 3
2005's The Gate of Gods is the third book in Martha Wells' Fall of Ile-Rien trilogy.
Ile-Rien has fallen to the mysterious, implacable Gardier. Tremaine Valiarde managed to escape. She and her handful of allies — some from Ile-Rien, some from another timeline, and one ambiguously alive sorcerer — have taken refuge in allied Capidara. There they hope come up with a plan for defeating the invaders.
But it turns out that the Gardier have infiltrated Capidara. The supposed refuge is in no way safe.

---
Special Requests
The Rains of Eridan — H. M. Hoover
1977's The Rains of Eridan is a standalone young-adult hard SF novel by H. M. Hoover.
The Aurora Corporation thought the life-bearing world Eridan promising enough that it funded three bases:
Base One, the administration and living colony research centre;

Base Two, the agricultural research base;

Base Three, the science base.
The bases are separated by hundreds of kilometres, far enough that even if one base were to fall to calamity, the other two would be spared. It seems that the spread was not great enough; bizarre collective madness has attacked all three bases.
Theodora "Theo" Leslie, who has spent the last month out in the field gathering data on the Eridan lifeforms, has no idea how bad matters have become. Not until she witnesses a double murder.

---
Because My Tears Are Delicious To You
Bannerless — Carrie Vaughn
Bannerless Saga, book 1
2017's Bannerless is the first volume of Carrie Vaughn's Bannerless Saga.
Plague and natural disasters brought down civilization as we know it. Where once there were vast cities, the Fall left only small hamlets trying to preserve what technology they can. Humans being the social animals they are, they still form communities, still have customs and laws to guide them.
Humans being humans, customs and laws require enforcement. For this, the Coast Road communities rely on investigators like Enid and Tomas. From banner violations — illicit childbirth — to murder, from hoarding to domestic violence, it is up to the investigators to determine if a crime has been committed and deliver judgment.
Sometimes, as in the Pasadan case, whether or not a crime was committed is not at all clear.

---
A Variety of Vaughns
The Erinys Incident — Tani Kōshū
The 1983 novel The Erinys Incident is part of a future history series by Tani Kōshū. The 2018 Korudahan Press edition was translated by Simon Varnam.
The 2099 Outer Planet Revolt was as bold as it was unsuccessful. Tactical success failed to compensate for strategic errors. A year after it began, the Revolt was crushed by TerraLune's AeroSpaceForce. Occupation of the rebel planetary systems followed, then status as quasi-independent states under the eye of the ASF.
A generation after the Revolt, the diehards of the Outer Planet Alliance are ready to try again.

---
Translation
Point of Dreams: A Novel of Astreiant — Melissa Scott & Lisa A. Barnett
Astreiant, book 2
2001's Point of Dreams: A Novel of Astreiant is the second volume in Melissa Scott and Lisa A. Barnett's Astreiant series.
Pointsman (city guard) Nicolas Rathe and his lover (ex-soldier Philip Eslingen) face a truly terrifying challenge:
Theatre folk.

---
Special Requests
Exit Strategy — Martha Wells
The Murderbot Diaries, book 4
2018's Exit Strategy is the fourth volume in Martha Wells' Murderbot Diaries series of novellas.
Returning from its field trip to Milu, Murderbot covertly accesses local security networks and discovers that there is a security detail waiting for the ship on which it has stowed away. Further probing verifies that, yes, the detail is waiting for Murderbot.
It's not the worst news Murderbot has ever heard. In fact, it's not even the worst news Murderbot has heard that day.

---
Special Requests
Study War No More — Joe Haldeman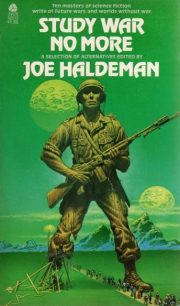 1977's Study War No More was edited by Joe Haldeman. It is what might be termed an anti-Military SF anthology, one that asks contributors "if not war, then what else?"

---
Because My Tears Are Delicious To You
Brothers in Arms — Lois McMaster Bujold
Miles Vorkosigan, book 4
1989's Brothers in Arms is the fourth book in the Miles Vorkosigan series.
Admiral Miles Naismith's Dendarii Mercenaries have a secret advantage; they are subsidized by the planet Barrayar. Naismith is also Miles Vorkosigan, son of Barrayar's Lord Regent.
Miles and the Dendarii put in at Earth to collect desperately needed funds. The funds should be waiting for them. They are not.

---
A Bunch of Bujolds
Masamune Shirow
Ghost in the Shell, book 1
Masamune Shirow's 1991 Ghost in the Shell, volume 1, collects the first eleven chapters of the serial post-cyberpunk manga. The 1995 English translation is courtesy of Frederik Schodt and Toren Smith.
The 2030s! A wonderful era of realistic robotic servants, cybernetic brain enhancement, and advanced prosthetic augmentation. All are valuable tools in the endless struggle between nation-states. As well as the battle to contain terrorists/freedom fighters/mafias. (Which label to apply depends on your POV.)

---
Translation
Cross Fire — Fonda Lee
Exo, book 2
2018's Cross Fire is the second volume in Fonda Lee's Exo series.
While the crisis in the previous novel was successfully handled, that did not bring Donovan Reyes's father back to life, nor did it resolve the fundamental problem of how to reconcile the Commonwealth's strategic goals with Earth's defensive needs. Earth is, after all, merely one of a great many worlds in the Mur Erzen Commonwealth and not a particular rich one. Defending it from the Rii could prove expensive.
The zhree who invaded Earth have a simple, economically justifiable plan: abandon the Earth to their rapacious cousins.

---
Military Speculative Fiction That Doesn't Suck
Freeport — Maldoror_Chant

Maldoror_Chant's 2017 Freeport is a fanfic set in the world of Mobile Suit Gundam Wing.
The grand conflict in MSGW is over. The heroic terrorist protagonists of MSGW now must find new roles for themselves, preferably roles that do not leave a swath of death and property destruction in their wake.
Chang Wufei's solution is to become a cop. He is dispatched to problem spot after problem spot, by a federation government striving endlessly to keep discord from boiling over into open chaos. Intrepid, uninhibited by petty bureaucratic rules, Wufei lives on a knife edge: he must be useful enough that he will not be cashiered for his frequent use of excessive force.
Assigned to bring a hitman known only as Carver to justice, Wufei recruits his old ally Duo. Duo has become a borderline criminal who operates out of the colony of Freeport — which is Carver's last known destination. Wufei hopes that Duo's connections will allow Wufei to nab Carver.

---
Special Requests
Spartan Planet — A. Bertram Chandler
John Grimes, book 5
1968's Spartan Planet is the fifth book in A. Bertram Chandler's John Grimes series.
Policeman Brasidus and his fellow Spartans are quite familiar with human history. Men originated on Sparta. Like all the other animals on Sparta, men reproduce by budding, although medical technology has freed men from this unpleasant method of reproduction. Sparta's society has been strictly regimented since the earliest days, because that's the best way of doing things.
Although Sparta has very little use for advanced technology (which would only take jobs from the helots), there is a single extra-Spartan colony, Latterhaven. It was settled by rebels who maintain a monopoly on starflight. Not that it really matters, since the entirety of Sparta's annual trade fits into two cargo ships, Latterhaven Hera and Latterhaven Venus. Aside from Sparta and Latterhaven, there are no other inhabited worlds and no races aside from Man.
A lot of what Brasidus and his fellow Spartans know is untrue.
---
Because My Tears Are Delicious To You
The Sea Watch — Adrian Tchaikovsky
Shadows of the Apt, book 6
2011's The Sea Watch is the sixth volume in Adrian Tchaikovsky's Shadows of the Apt.
In the midst of a contentious election, Stenwald Maker is alarmed to discover that his niece Cheerwell has chosen not to return to Collegium following the Khanaphes expedition. Worse yet, the ambassadors from the ant city-state of Vek see ill intent in the fact that Collegium has also received envoys from the ant city-state of Tsen. Of all possible enemies, ants feel the direst hate for other ants.
With so much going on, Stenwald discounts Master Failwright's complaints about his shipping losses. Mere alarmism, he thinks. He is making a big mistake…

---
A Dozen by Tchaikovsky
The Empire of Corpses — Ryoutarou Makihara
The 2015 anime The Empire of Corpses is director Ryoutarou Makihara's adaptation of a 2012 steampunk novel by Toh EnJoe1 and Project Itoh.
Victor Frankenstein taught the world how to re-animate the dead. But one crucial component of Frankenstein's research was lost: the art of imbuing the reanimated dead with an actual soul. Others may call the dead back to life, but none will be able to replicate the will and soul of the One, Frankenstein's first creation. No matter: necroware suffices to restore a semblance of life to the dead, a semblance that sentences them to unpaid labour under the direction of the living.
Doctor John Watson is determined to rediscover the lost method of soul restoration. He is so determined that he persists in his researches even though they are illegal: reanimation is a closely held state secret. He succeeds in resurrecting a dead friend, but fails to restore his soul. The reanimated man is an empty shell, which Watson nicknames Friday.
The British Empire is adept at dealing with amateurs like Watson. Soon after Friday is reanimated, Watson is arrested. M, head of the Secret Service, offers Watson a choice: a lengthy prison term or service as a British agent overseas, there to use his recherché talent in the interests of the empire. Watson takes the second option.
---
Translation
A Natural History of Dragons: A Memoir by Lady Trent — Marie Brennan
Lady Trent, book 1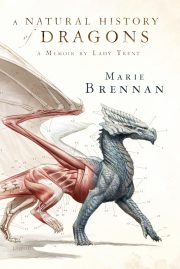 2013's A Natural History of Dragons: A Memoir by Lady Trent is the first volume in Marie Brennan's Lady Trent series.
Scirland is not known for encouraging the intellectual interests of its women — not even its high-born women. Isabella, the future Lady Trent, is one of the determined few who prevailed despite all the pressures to focus on the lady-like pursuits she finds boring beyond words.
Why focus on tedious social gatherings when she lives in a world full of natural wonders like dragons?

---
Special Requests
Rob Boffard's 2018 Adrift is a standalone SF adventure.
Sigma Station began as a helium three mining station. Its spectacular view of the Horse Head Nebula transformed it into a tourist destination. Now it has been slated to play a crucial role in interstellar relations.
Not a role that most of the station's inhabitants will survive to appreciate, mind you.
[spoiler warning]
---
Miscellaneous Reviews
Analog Science Fiction/Science Fact, June 1977 — Ben Bova
I have excoriated Ben Bova's fiction in the past, but I have nothing but admiration for his work as editor for Analog. While Disco-Era Analog might seem a bit stodgy to modern eyes, at the time Bova was a breath of fresh air. Rather than settle for being a second-rate Campbell, he did his best to be a first-rate Bova. He recruited new authors, many of whom differed (excitingly) from Analog's Old Guard. He also bought more stories by women than did his predecessor1. While some old guard objected to Bova's direction, enough readers enjoyed it to give him a remarkable six Best Editor Hugo Awards, as well as one nomination for the same category.
It seems unlikely Campbell would have had a Special Women's Issue. Bova did: Analog, June 1977.

---
Because My Tears Are Delicious To You
A Sudden Wild Magic — Diana Wynne Jones
1992's A Sudden Wild Magic is a standalone fantasy novel by Diana Wynne Jones.
For centuries, Britain has been secretly protected by the Ring, a cabal of powerful magicians. Or so the Ring believed. Much to his alarm, Mark Lister, master of magic and computer sciences, discovers that the Ring, Britain, and the entire world are pawns in a larger game.

---
Twelve by Diana Wynne Jones