The Tombs of Atuan — Ursula K. Le Guin
Earthsea, book 2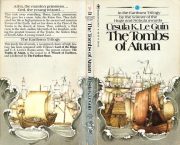 1970's The Tombs of Atuan is the second volume in Ursula K. Le Guin's Earthsea Cycle.
The influence of the Nameless Ones has dwindled over the long ages, but they still have power in the Tombs of Atuan. There they still are worshipped. There they are served by their immortal Priestess.
The little girl once named Tenar is the latest incarnation of the Priestess. The bodies of the One Priestess of the Tombs of Atuan die, but the Priestess lives on, reborn in a newborn body at the time of the Priestess' death. Stripped of her birth family and her name, the girl who was Tenar becomes Arha, "the eaten one," paramount human servant of the ancient and fearsome Nameless Ones.
---
Because My Tears Are Delicious To You
A Wizard of Earthsea — Ursula K. Le Guin
Earthsea, book 1
Tell me if you've heard this before: a young man with a talent for magic leaves his home village (where he was always something of a misfit) to attend a school for wizards, where he finds himself confronting a disembodied evil. Anyone? Anyone?
This is, of course, Ursula K. Le Guin's 1968 award-winning classic A Wizard of Earthsea, first volume in the Earthsea Cycle.
Sparrowhawk knows just enough magic to save his village from Kargish invaders. He knows so little that his ignorance has nearly killed him. He is saved by Ogion the Silent, who then takes him as an apprentice. Ogion tries to teach him patience, humility, and mystical Balance; spells will come later.
That's not enough for the ambitious young magician.
---
Because My Tears Are Delicious To You
The Matter of Seggri — Ursula K. Le Guin
Ursula Le Guin's 1994 novelette The Matter of Seggri won the 1994 Tiptree, an honour it shared with Nancy Springer's Larque on the Wing. It was an interesting year for Le Guin and the Tiptree: her A Fisherman of the Inland Sea and "Forgiveness Day" both made the 1994 short list. For some reason ISFDB classifies inclusion in the short list as a nomination, probably because they don't understand how the Tiptree process works.
The Matter of Seggri takes place in Le Guin's Hainish setting. Perhaps some background would help. As you know, about a million years ago
---