Binti: Home — Nnedi Okorafor
Binti, book 2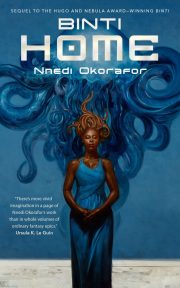 2017's Binti: Home is the sequel to Nnedi Okorafor's Nebula and Hugo-winning Binti.
Binti has been a student at Oomza University for a year. It's a year that has transformed her, both physically and mentally. Some of those changes were beneficial. Others, like her post-traumatic stress disorder, are not. Seeking an end to the nightmares, Binti returns to her home on Earth, in Africa, to participate in a healing pilgrimage.
---
Miscellaneous Reviews
You might be expecting a review of the 1993 Tiptree winner but since I reviewed that book, Ammonite, last year, that's not going to happen. Or alternatively, already happened last year. Instead, have one of the more notable books from the 2014 Tiptree Honor List.
2014's Lagoon puts a familiar situation—first contact with aliens—in a setting that is likely unfamiliar to most readers of the book. Having (presumably) given the Earth a good lookover, the aliens in Nnedi Okorafor's Lagoon pass over such standard venues for first contact as the UN building in New York City, the National Mall in Washington, or even a particularly large front yard in America's Midwest.
Instead, their ship sets down off the African coast, near Nigeria's sprawling metropolis, Lagos.
---