Passenger to Frankfurt — Agatha Christie

Agatha Christie's 1970 Passenger to Frankfurt is a standalone thriller and dystopian novel.
Sir Stafford Nye's diplomatic career is less due to any aptitude for the job and more because in the gently declining post-Empire world, no better candidate presented themself for the job. On his way back from another fairly pointless summit in Malaya, Nye's one noteworthy characteristic catches the eye of a desperate spy.
His bold fashion sense.
Spoilers follow.
---
Because My Tears Are Delicious To You
Death Comes as the End — Agatha Christie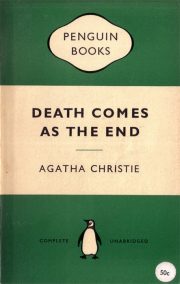 1944's Death Comes as the End was Agatha Christie's sole foray into historical mystery. In it, she abandoned her familiar 20 th century England for Egypt at the very end of the First Intermediate Period. I seem to have a weakness? superpower? for discovering authors through their most atypical work, so it should come as no surprise that this was the very first Agatha Christie I ever read.
Recently widowed, young Renisenb returns to her family home in Thebes. Although she has been gone for eight years, little of significance seems to have changed. Her mortuary-priest father Imhotep still micromanages the household (through letters if he is away on business); her older brothers Yamose and Sobek still squabble with each other, and the youngest brother Ipy is still spoiled. The older brothers are married, but their wives have little influence over the household.
Imhotep's scribe Hori could tell her this stability is an illusion. All it takes to destroy it is an old man's foolish infatuation with a beautiful young girl.
---
Because My Tears Are Delicious To You