No Man of Woman Born (Rewoven Tales) — Ana Mardoll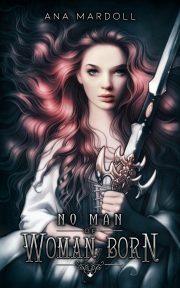 2018's No Man of Woman Born (Rewoven Tales) is a single-author collection by Ana Mardoll.
Thanks to the place Tanith Lee's Red as Blood has in my heart, I am always up for fairy tales re-imagined in a new light. Of course, this is sometimes not fair to new collections; I tend to measure them against a collection I like very much. Mardoll's collection passes the test.

---
Miscellaneous Reviews
Survival Rout — Ana Mardoll
Earthside, book 2
2016's Survival Rout is the second book in Ana Mardoll's Earthside series.
College roommates Aniyah and Miyuki expect a summer vacation rich in opportunities for hanging out and having intense discussions about gender and orientation. Thanks to their ever-so-helpful chums Timothy and Craig, what they actually get is kidnapped, mindwiped, and sold to the faerie lord Master of Masques.
Keoki is in the wrong place at the wrong time; his good Samaritan instincts get him abducted and sold as well.
---