Sovereign — April Daniels
Nemesis, book 2
2017's Sovereign is the second novel in April Daniels' Nemesis series.
Less than a year after super-powers were thrust on her, Danny "Dreadnought" Tozer seems to be finding her feet as a superhero and as a person. She and her lawyer have a cunning scheme to recreate the effectively defunct Legion Pacifica under Danny's control. Danny is also on the verge of being legally emancipated from her abusive parents. Not bad for someone only barely old enough to drive.
With everything under control, it seems like the perfect time for a working holiday at a global convention for superhumans. This is, of course, exactly when her enemies unite against her.
---
Dreadnought — April Daniels
Nemesis, book 1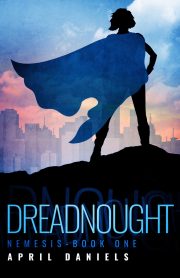 2017's Dreadnought is the first novel in April Daniels' Nemesis series. It's the first book I have read by this author and it will not be the last.
Fifteen-year-old Danny went shopping. Buying nail polish, which was their coping mechanism for life with a domineering father who would react with rage and abuse if he were to discover that his son Danny is actually his daughter Danny. What Danny got out of the shopping trip was a starring role as "vulnerable bystander in a battle between two superhumans," a bystander cowering as the mighty Dreadnought fights to the death with villain Utopia.
Danny was lucky not to be reduced to a sooty outline on a wall. Their luck does not stop there.
---