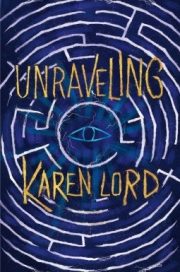 Karen Lord's 2019 Unraveling is a standalone fantasy.
Forensic therapist Dr. Miranda Ecouvo put detectives on the trail of a serial killer. He's caught and convicted. But it's not clear why the killer killed or who put him up to it. Human justice cannot solve this. But someone else can.
---
Doing What the WFC Cannot Do
Redemption in Indigo — Karen Lord
Karen Lord's 2010 debut Redemption in Indigo is a standalone fantasy novel.
Paama finally has had it with her gluttonous fool of a husband, Ansige, and leaves. Ansige is unwilling to let her go, and hires master tracker Kwame to find her. Kwame cannot convince Paama to return to Ansige. What he does do is draw the attention of the Djombi to Paama.
These great spirits have vast powers, but they still have need of someone like Paama.

---
Miscellaneous Reviews
The Best of All Possible Worlds — Karen Lord
Sadiri, book 1
Karen Lord's 2013 The Best of All Possible Worlds was her second novel. To paraphrase the author's site, it
won the Frank Collymore Literary Award for 2009. […] It also won the 2013

RT

Book Reviews Reviewers' Choice Award for Best Science Fiction Novel and was nominated for Book of the Year, and was a finalist for the 2014 Locus Awards Best Science Fiction Novel.
And yet, while I like elements of it, I cannot warm to the novel as a whole. Not every reviewer is a good fit for every book.
Despite their generous efforts to provide the other human races of the galaxy with their wise guidance, not everyone loves the Sadiri. Their cousins on Ain dislike the Sadiri enough to reduce their homeworld and everyone on it to ash. Only the Sadiri lucky enough to be offworld survive the disaster.
Cygnus Beta1 is no stranger to refugees. Indeed, the one thing its disparate peoples tend to have in common is a calamitous event in their past that triggered a desperate migration. It is therefore a logical place for some of the surviving Sadiri to settle, a place where they might build new lives for themselves.
---