Always — Nicola Griffith
Aud Torvingen, book 3
2007's Always is the third (and as-of-this-date final) volume in Nicola Griffith's Aud Torvingen [1] mystery series. The book opens with Aud far from Atlanta (where she makes her home), visiting Seattle to meet her mother's new husband. She also plans to deal with an investment that isn't doing as well as it should be.
Aud is a very straightforward person, brusque to the point that she may seem to have a social disability. She does not hesitate to bring the metaphoric hammer down on her local property manager, Karenna Beauchamps Corning, blaming her for the way Aud's property is under-performing. As Aud soon discovers, there's more to the story than one lax property manager: someone is going to a lot of trouble to sabotage the businesses that lease Aud's property
---
Miscellaneous Reviews
Stay — Nicola Griffith
Aud Torvingen, book 2
2002's Stay picks up some months after events at the end of The Blue Place. Still haunted by the memories of her dead lover Julia, Aud Torvingen has no interest in helping her friend Dornan track down his missing fiancée. Somehow, finding out what happened to Tammy Foster is exactly what Aud finds herself doing.
---
Miscellaneous Reviews
The Blue Place — Nicola Griffith
Aud Torvingen, book 1
Third in my "whoops, I appear to be rereading all of Nicola Griffith's novels" series, 1998's The Blue Place causes me to rend my garments and bitterly lament. Not because it's a bad book — it's pretty good — but because it is Griffith's first non-science fiction novel.
---
Special Requests
Slow River — Nicola Griffith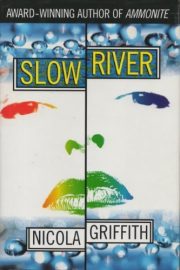 1995's Slow River was Griffith's second science fiction novel. It was also (at least as of this date) her final SF novel. Where Ammonite used an interstellar setting, Slow River is down to Earth, so down that it is positively subterranean in spots. Garnering both the Lambda and the Nebula, it is one of very few near-future hard SF novels that is focused on bio-remediation (this is to the best of my knowledge; feel free to comment).
---
Special Requests
Ammonite — Nicola Griffith
Although 1992's Ammonite1, winner of the Lambda and Tiptree awards link], was not Nicola Griffith's debut, most of her short fiction to that date had been published in David Pringles' Interzone, which, despite efforts on my part, I have never been able to find on this side of the Atlantic (not even the issue in which my work turned out — to my surprise — to have appeared). For people like me, for whom Pringles were unpalatable snacks in tubes, this novel would have been the first time we encountered Griffith. It was a strong debut.
---