Ling Ma's 2018 Severance is a standalone post-apocalyptic novel.
Born in China, raised by her immigrant parents in the USA, Candice Chen found a rewarding tolerable niche for herself as an office drone at Specta, packaging expensive bibles for the religious book market. It's an empty, meaningless life, but then, Candice is no worse off than most workers.
Cue the zombie apocalypse.
---
Doing What the WFC Cannot Do
Tadashi Kawashima & Adachitoka
Alive: The Final Evolution , book 1
The manga series Alive: The Final Evolution (Saishū Shinkateki Shōnen) was written by Tadashi Kawashima and illustrated by Adachitoka. It ran from 2003 to 2010; the final instalment was published shortly before Kawashima's death. The first volume covers the first three instalments.
Small and timid, Yuichi Hirose is a natural target for his school's bullies. His only defense is provided by his friend Taisuke Kanou. Taisuke is an orphan, which would likely make him a target too … if it weren't for Taisuke's determined pugnaciousness. Taisuke never hesitates to step between Hirose and his tormentors, despite the fact that Taisuke always loses the scuffles that follow.
It turns out that all Hirose needs to do to end his torment is to tap new potential.
---
Translation
Aerial Magic — Walkingnorth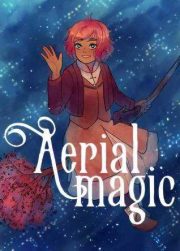 Aerial Magic is an on-going secondary universe fantasy webtoon by Walkingnorth. I reviewed their Always Human here. Chapter one covers the first twenty-five episodes.
Wisteria Kemp is determined to earn her way into the Aerial Guild, the professional association that regulates aerial magic. The conventional path to membership (at least in modern times) is through university. Having learned the hard way that she is ill-suited for the classroom, Wisteria chooses a more traditional course: an apprenticeship.
Wisteria sends out four hundred applications for an apprentice position. She gets a single positive response, from Master Cecily Moon. Wisteria is invited to work at Moon's broomstick repair shop in the vast metropolis of Vecrum.
Convinced failure is assured, Wisteria takes with her only her avian familiar Puppy and a small supply of clothing.

---
Miscellaneous Reviews
Semiosis — Sue Burke
Semiosis, book 1
Sue Burke's 2018's Semiosis is hard-SF first-contact novel. It's an accomplished debut and has been nominated for the Clarke award. It is the first volume in the Semiosis Duology.

Tired of Earth's violence and exploitation, a community of idealists sets out for the stars in a sublight starship. Many years later they wake from cold sleep to learn they have travelled to HIP 30815f rather than HIP 30756. Having little other choice, they land on the Earthlike world they call Pax. They hope to find new lives in a shiny utopia. What most of them find are interesting ways to die.
---
Miscellaneous Reviews
Shōgun — James Clavell
Asian Saga, book 1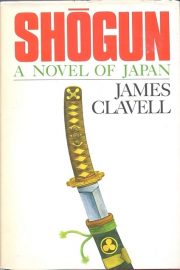 James Clavell's 1975 Shōgun is the first (by internal chronology) volume in his Asian saga.
English pilot John Blackthorne's foray into Asia (by papal decree the exclusive domain of Portugal) ends in disaster. The Dutch fleet in which Blackthorne serves is scattered by a storm and Blackthorne's ship Erasmus is driven ashore on the coast of Japan. The sickly sailors are immediately detained by local authorities.
Of course, Blackthorne is a white man in an exotic land. No doubt he will play the mighty whitey card, master every skill that matters to the Japanese in a few weeks, and then remake the nation in his image.
Perhaps not.
---
Because My Tears Are Delicious To You
Lisa M. Bradley's 2019 debut novel Exile is a standalone near-future novel.
Leaking chemicals have affected the inhabitants of a previously unremarkable Texan town. Impulse controls have been shredded; psychosis and violence are rampant. The federal government's response? Quarantine the community (now renamed Exile) and supply necessities. Exiles can only leave town if they can demonstrate that they are 4-S: strong, smart, sane, and sterile.
Protagonist Heidi Palermo is determined to leave. She's 3-S: strong, smart, and sterile. As for sanity … compared to the rest of her family she's sane. That's not sane enough for the government.
---
Doing What the WFC Cannot Do
Rumiko Takahashi
Urusei Yatsura, book 1
Rumiko Takahashi's Urusei Yatsura romantic harem-parody manga ran from 1978 to 1989. Other popular manga followed, making Takahashi one of the more influential (and affluent) manga authors.
In volume one, Ataru Moroboshi learns the importance of precise phrasing.
---
Translation
Ordinary Jack — Helen Cresswell
Bagthorpe Saga, book 1
1977's Ordinary Jack is the first volume in Helen Cresswell's YA Bagthorpe Saga.
The Bagthorpes are perhaps the single greatest collection of geniuses the world has ever seen. At least, that is what the Bagthorpes would say … and if you cannot trust the single greatest collection of geniuses the world has ever seen, whom1 can you trust?
Jack Bagthorpe is the sole exception. Poor Jack is exceptionally unexceptional.

---
Special Requests
Search the Sky — Frederik Pohl & Cyril M. Kornbluth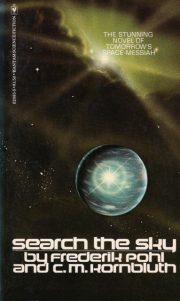 1954's Search the Sky is a standalone(ish) science fiction novel. It was the second novel-length collaboration between Frederik Pohl and Cyril M. Kornbluth,.
Ross has lived his whole life on Halsey's Planet. Somehow he senses what his fellows cannot or will not: population levels are slowly, inexorably declining. The future will be grim.
Halsey's Planet is just one of many worlds settled by humans. Contact with its sister worlds is intermittent, carried out by sublight longliners, smaller versions of the ships that delivered the original colonists to Halsey's Planet fourteen centuries earlier.
A longliner arrives with an inbred crew of happy idiots bearing an enigmatic message and doleful news about the other human worlds. Another Halsey merchant, Haarland, asks Ross to come meet with him. This is odd, as Ross works for a rival firm. It turns out that Haarland has some bad news to share.
Spoilers….
---
20
May
2019
/ 11 Comments
Because My Tears Are Delicious To You
Mrs. Frisby and the Rats of NIMH — Robert C. O'Brien
Robert C. O'Brien's 1971 Mrs. Frisby and the Rats of NIMH is a standalone children's SF novel. O'Brien wrote no sequels.
Mrs. Frisby (a mouse) and her children (mice) have taken shelter in a cinder block near one of the fields owned by farmer Fitzgibbons. Winter is over and plowing season is approaching. The widow Frisby must move her children before a plow smashes into their home.
In previous years, Mrs. Frisby had no trouble relocating her family before plowing season. This year is different.
---
Special Requests
Forest of a Thousand Lanterns — Julie C. Dao
Rise of the Empress , book 1
2017's Forest of a Thousand Lanterns is the first volume in Julie C. Dao's Rise of the Empress series.
Xifeng has been raised from birth to marry Emperor Jun. It is a lofty ambition (very much so given that Xifeng is a poor orphan) but it is not entirely unreasonable. Xifeng's abusive aunt Guma claims to possess magical powers; she insists that one day Xifeng will be great and powerful. Also, Xifeng is an unparalleled beauty, which should smooth her rise to empress .
Tired of Guma's beatings, Xifeng flees with Wei, a young soldier who is utterly besotted with Xifeng. Alas for Wei, she is not besotted with Wei. Xifeng has a plan. A plan that involves the emperor.
---
Doing What the WFC Cannot Do
Sorata Akizuki
Snow White with the Red Hair , book 1
Sorata Akizuki's Snow White with the Red Hair (Akagami no Shirayukihime) is an ongoing shoujo manga. It is very, very, very loosely based on the folktale of Snow White.
Prince Raji of Tabarun decides to take herbalist Shirayuki as his next concubine. Why? Because her hair is the colour of red ripe apples. It does not occur to him that Shirayuki might have her own thoughts about the matter. He dispatches a summons and awaits his new red-haired lover.
Rather than submit to being a spoiled prince's momentary pastime, Shirayuki cuts off her long red hair, leaving it for the prince who valued it so much, then decamps for the neighbouring kingdom of Clarines. Along the way she takes shelter in an abandoned mansion, one that is not so empty as it appears.
Enter another prince.
---
Translation
The Changeover — Margaret Mahy
Margaret Mahy's 1984 The Changeover is a standalone YA fantasy novel.
Schoolgirl Laura Chant lives with her divorced mother Kate and her younger brother Jacko. One morning she wakes with a premonition that life in the quiet Christchurch suburb of Gardendale is about to change for the worse. She knows from past experience that her premonitions are trustworthy. However, there seems to be nothing she can do to prevent whatever fate is looming. She must carry on as normal and hope for the best.
She does not get the best.
---
Special Requests
The Caves of Steel — Isaac Asimov
1954's The Caves of Steel is the first of Isaac Asimov's novels that feature Elijah Bailey and R. Daneel Olivaw.
Elijah is a human. R. Daneel is a robot. They fight crime!
---
Because My Tears Are Delicious To You
The Girl From Everywhere — Heidi Heilig
The Girl From Everywhere, book 1
2016's The Girl From Everywhere is the first volume in Heidi Heilig's YA time-travel series, The Girl From Everywhere.
Sixteen-year-old Nix Song has seen more of the world than most people. She has spent most of her life on her father's ship, the Temptation, sailing the seven seas … and the timestream. Her father, Slate, is a Navigator. His special powers mean that all of recorded history is within reach.
There is of course a catch.
---
Doing What the WFC Cannot Do
Velocity Weapon — Megan E. O'Keefe
Protectorate, book 1
Megan E. O'Keefe's upcoming 2019 Velocity Weapon is the first volume in her projected Protectorate series.
In the 22nd century, Alexandra Halston's invention of Prime gave humanity the Casimir Gates and access to the stars. By the 36th century, Prime spans many systems. Prime's Keepers carefully maintain the network and all that is necessary to create more gates, in return for which they impose tariffs on the goods shipped from system to system. Everyone who matters agrees that this is a just arrangement — save for the planet of Icarion.
---
Space Opera That Doesn't Suck
The Wandering Earth — Frant Gwo
2019's The Wandering Earth (Chinese: 流浪地球) is a 2019 Chinese film adaptation of Liu Cixin's novella of the same name (which I have not read). It is directed by Frant Gwo and stars Qu Chuxiao, Li Guangjie, Ng Man-tat, Zhao Jinmai, Wu Jing, and Qu Jingjing. A major hit in China, it was stealth-released on Netflix on May 6, 2019.
Bad news for Earth! The Sun is transitioning from a main sequence star to a red giant five billion years ahead of schedule. Life within the Solar System will soon become impossible.
There's an alternative to extinction, at least for humanity. Simply move the Earth to the Alpha Centauri system.
---
Translation
Wild Cards — George R. R. Martin
Wild Cards, book 1
1987's Wild Cards is the first volume in George R. R. Martin's ongoing superhero shared-universe project of the same name.
Here's a bird's-eye view of the anthology (i.e. the table of contents).
---
Big Hair, Big Guns!
Mindswap — Robert Sheckley
Robert Sheckley's 1966 Mindswap is a standalone SF comedy.
Interplanetary travel is prohibitively expensive. Interstellar travel even more-so. Bad news for Marvin Flynn, a small town young man with the travel bug.
Even though travelling in person is far too expensive for Marvin, there exists an affordable alternative. Simply dispatch his mind to some waiting body on a far-off world. What could go wrong?
---
Because My Tears Are Delicious To You
Natural Selection — Malinda Lo

2013's Natural Selection is an ancillary work to Malinda Lo's Adaptation1.
Amber was born on distant Kurra before moving with her parents to Earth. She looks human enough to pass without notice. None of Amber's schoolmates know that an alien is among them2.
This piece describes two rites of passage: one on Kurra (obligatory for Imrians like Amber) and one on Earth (not a formal rite of passage, but nonetheless a formative experience for Amber). Amber's Earth experience takes place two years before her Kurra rite.
---
Doing What the WFC Cannot Do
Kim Eun-hee & Kim Seong-hun
Kingdom, book 3
Kingdom is a 2019 South Korean television series. It was written by Kim Eun-hee and directed by Kim Seong-hun. There are six episodes in season one, of which this is the third. The primary cast are (from Wikipedia):
Prince Yi Chang, crown prince of Great Joseon, is trying to discover just what is going on with his father, the king, who is secluded in his palace. The prince is opposed by his stepmother and her Haewon Cho clan. As a result, the prince is now a wanted man. Oh, and the kingdom is threatened with zombie apocalypse.
---