The Descent of Monsters — JY Yang
Tensorate, book 3
The Descent of Monsters is the third volume in JY Yang's Tensorate silkpunk series.
An isolated research facility falls silent. When concerned Protectorate officials send subordinates to find out why, all that investigators find are fragments of brutally murdered researchers and animals, a dead monster, and two still living Machinist rebels. Investigator Chuwan Sariman is tasked with solving the puzzle.
Or rather, the task of arriving at an explanation that is acceptable to her bosses, bosses who are in no way tolerant of failure or excessive independent thought.

---
Miscellaneous Reviews
Waiting on a Bright Moon — JY Yang
JY Yang's Waiting on a Bright Moon is a standalone space opera.
In another life, Ansible Xin might have been a starmage. In this one, her sexual orientation was the pretext used to strip her of her birth name and consign her to endless drudgery as a living communications device on Eighth Colony.
The appearance of a mysterious corpse on the threshold of an interstellar portal sets in motion events that will transform Xin's life.

---
Space Opera That Doesn't Suck
Five by JY Yang — JY Yang
I would love to review a single author collection of JY Yang's short stories, but as far as I can tell, no publisher has yet seen fit to publish one. Happily, the author has selected five short pieces they are particularly fond of and made them available on their site.
Each title is a link to the story in question.
---
Miscellaneous Reviews
The Red Threads of Fortune — JY Yang
Tensorate, book 2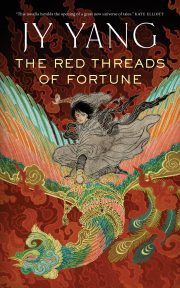 JY Yang's The Red Threads of Fortune is the second of two upcoming novellas set in Yang's Tensorate setting.
Four years ago, tragedy drove Mokoya away from friends and family and out into the Gusai Desert. Now she uses her Tensor skills to hunt rogue nagas. She has lost her ability to look into the future. She is depressed and often lashes out at those around her 1. She had hoped that time and distance would heal her wounds, but they still fester.
An emergency jolts her out of her wretched rut. There is something new and terrible out in the desert.
---
Miscellaneous Reviews
The Black Tides of Heaven — JY Yang
Tensorate, book 1
The Black Tides of Heaven is the first of two Tensorate novellas by JY Yang.
The Protectorate rules because it commands the magic of Slack1—or rather, the Tensors who can bend Slack to their will. Tensors are ruled in turn by the Protector, who in this generation is a woman of power, intellect, and ruthless determination. Previous generations lost much of their empire; this Protector, Sanao Hekate, has reconquered most of it.
Drought leads to civil disorder, disorder that the Protector's Tensors cannot put down unassisted. Sanao turns to the great monastery, where pugilists (read martial artists) train. She promises Head Abbot Sung one of her children in exchange for his help. The Abbot expects to get the youngest child, a promising daughter. The Protector, determined not to lose that child, finds a way out of the promise. A new pregnancy. Twins.
---