Mare Internum — Der-shing Helmer
Der-shing Helmer's Mare Internum is an ongoing hard-SF webcomic.
Doctor Mike Fisher is one of the elite few chosen to explore Mars, now in the initial stages of colonization. Or rather, he was. Bitter, alarmingly hostile, and socially isolated, he was fired after the loss of his artificially intelligent LEVi robot in the mysterious catacombs under the Martian surface. As soon as transportation is available, he will be sent back to Earth.
Before he goes, however, newly arrived Doctor Rebekah "Bex" Egunsola would like to take advantage of Mike's EVA skills. Initially reluctant to venture back into the Martian caves, Mike allows himself to be talked around. It's just one quick foray into the labyrinth. What could go wrong?

---
Special Requests
Huang Jin Zhou & Hiromu Arakawa
Hero Tales, book 1
Hero Tales, volume 1 collects the first three issues of Huang Jin Zhou and Hiromu Arakawa's Jūshin Enbu.
Taitou hates the Empire. Reforming the corrupt state seems impossible. At least it is for a hot-headed young man living out in the sticks. He settles for beating up imperial functionaries whenever they pass by his home town.
Taitou has potential of which he is utterly unaware. His grandfather knows full well what power Taitou has within him and how to enable Taitou to draw on it. Step one: orchestrate Taitou's humiliating loss to another martial artist.

---
Translation
I am Princess X — Cherie Priest
2016's I Am Princess X is a standalone young-adult thriller by Cherie Priest. It features illustrations by Kali Ciesemier.
Once upon a time there were two schoolgirls, artist Libby and writer May. Together, they created a shared fantasy world, ruled over by Princess X. Their partnership came to an abrupt, violent end when the car containing Libby and her mother went through a bridge guard rail and into the waters below.
May did her best to convince herself that Libby somehow survived. By the time May was sixteen, she had to accept what everyone around her believed to be true: Libby was dead.
Then the stickers start appearing in Seattle windows.

---
Special Requests
The Other Side of the Sky — Arthur C. Clarke
1958's The Other Side of the Sky1 is a collection by Arthur C. Clarke. The Signet MMPB is only 160 pages long, but there are two dozen stories in this book. Most are rather short.

---
Because My Tears Are Delicious To You
Kitty Goes to War — Carrie Vaughn
Kitty Norville, book 8
2010's Kitty Goes to War is the eighth book in Carrie Vaughn's Kitty Norville series.
Having survived an amateur remake of The Most Dangerous Game1, Kitty returns to Denver. Because life is like that, she finds herself wrestling with not just one but two crises.
---
A Variety of Vaughns
The Other Side of the Moon — Meriol Trevor
Meriol Trevor's 1957 The Other Side of the Moon is a standalone juvenile SF novel.
The Kingville Lunar Expedition did not intend to take an untrained boy on their mission to the Moon. Nor did Gil Pentfoyle intend to stow away. Having snuck on board to play spaceman, Gil fell asleep. The busy crew overlooked the boy until the expedition was well on its way to Earth's satellite.
Although displeased to discover the stowaway, Captain Raider doesn't airlock Gil. Perhaps this is because Gil's brother, the expedition botanist1, might object. Perhaps this is because the captain is decent guy. Besides … the expedition already has a useless member, the expedition sponsor's son Tracy. Gil makes two of them. (Perhaps three; see1.)
Turns out that the Moon is a surprising place.

---
Special Requests
Adachitoka
Noragami, book 4
Noragami, Volume Four collects issues 12 to 15 of Adachitoka's on-going series about the stray god Yato and his peers:
"To Kill, or Not To Kill" (きる、きらない "Kiru, Kiranai"),

"Omen" (兆し "Kizashi"),

"Her Memories" (彼女の思い出 "Kanojo no Omoide"),

"That Which Withers" (枯れゆくもの "Kare Yuku Mono").
Having survived his servant Yukini's flirtation with corruption, Yato must now figure out how to help his human friend Hiyori.

---
Translation
The Other Side of Tomorrow — Roger Elwood
1973's The Other Side of Tomorrow is a theme anthology edited by Roger Elwood. It's a reasonable example of Elwood's efforts at this point in his career.
In what sort of world will the young people of tomorrow live? Nine authors imagine futures.

---
Special Requests
The Flight of the Horse — Larry Niven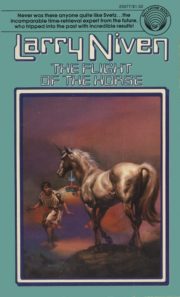 1973's The Flight of the Horse is a collection of Larry Niven stories. It is almost but not quite a collection of stories about hapless time-traveller Svetz, whose career is blighted by the fact that Niven thinks time travel, unlike FTL drives and telepathy, is ludicrous.

---
Because My Tears Are Delicious To You
Komarr — Lois McMaster Bujold
Miles Vorkosigan, book 9
1998's Komarr is the ninth volume in Lois McMaster Bujold's Miles Vorkosigan series.
Barrayaran-conquered Komarr depends on its soletta array, which concentrates the feeble output of its sun, for marginal habitability and slowly progressing terraforming. When half the array is wrecked by a colliding spacecraft, it's up to Imperial Auditor Georg Vorthys to determine whether this was a tragic mishap or deliberate sabotage.
Accompanying Vorthys is the most junior Imperial Auditor, Miles Vorkosigan.
Ahoy! Spoilers ahead!

---
17
Aug
2018
/ 16 Comments
A Bunch of Bujolds
Return of the Breakneck Boys — Geary Gravel
The Fading Worlds, book 2
1991's Return Of The Breakneck Boys is the second (and most recent) instalment in Geary Gravel's Fading Worlds series.
Former fix-it man Howard Bell went looking for a washroom and found a pathway to another world. It's a dangerous world, but he has survived, even thriven. He has attracted followers, warriors of many species. Together, they form a band known as the Breakneck Boys.
The Breakneck Boys are not just warriors. They are rebels against their former masters, the mysterious Keyholders.

---
Special Requests
Akihito Tsukushi
Made in Abyss, book 1
Made in Abyss, Volume One collects issues one through eight of Akihito Tsukushi's SF manga.
Riko's world is thoroughly explored, save for one location. On an island in the middle of the Beoluska Sea there is a tremendous vertical cave structure known as the Abyss. Scattered here and there throughout the Abyss are marvellous artifacts of a long-vanished civilization. Bold Cave Raiders, as Riko's mother Lyza was and Riko hopes to be, delve deep into the Abyss in search of wonders.
There are a few problems.

---
Translation
Cat in the Mirror — Mary Stolz
Mary Stolz's 1975 Cat in the Mirror is a standalone young-adult novel.
Erin Gandy is a grave disappointment to her mother Belle; she is deficient in the feminine virtues appropriate for women of her class. Neither pretty nor popular, Erin might well one day end up an academic or worse yet, a feminist. At least Erin can turn to her schoolmates for solace. Or she could if they did not despise Erin even more than her mother does.
Spoilers for a book more than forty years out of print.

---
Special Requests
Four-Day Planet — H. Beam Piper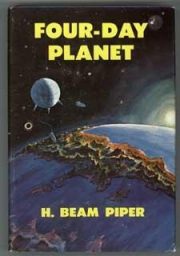 1961's Four-Day Planet is a standalone young-adult novel set in the Federation period of H. Beam Piper's Terra-Human future history.
Teen journalist Walt has lived his whole life on Fenris. He's one of the ten thousand people who call that odd world home. They are isolated and poor; they languish under a corrupt government. Life can only get worse … or so it seems.

---
Because My Tears Are Delicious To You
The Air War — Adrian Tchaikovsky
Shadows of the Apt, book 8
2012's The Air War is the eighth book in Adrian Tchaikovsky's Shadows of the Apt series.
The Treaty of Gold guarantees unending peace. Should the Wasp Empire attack the Alliance, Solarno, the Spiderlands, or any one of the Lowland cities, the others are treaty-bound to come to the victim's defense. This measure has stood the test of time, defined as "that short period in which the Empire was more interested in suppressing uprisings within the Empire than adding new territory."
Her empire is now secure. But the Empress suffered too many years under the thumb of her brother (the late Emperor) to tolerate potential threats, within or without the empire. Every kingdom, city-state, and commonwealth outside the empire might someday menace her rule. Therefore they must be conquered. QED.

---
A Dozen by Tchaikovsky
Hikaru Nakamura
Arakawa Under The Bridge, book 1
Arakawa Under The Bridge 1 collects volumes 1 & 2 of Hikaru Nakamura's manga Arakawa Andā za Burijji. The 2017 translation is by Andrew Cunningham.
Brilliant, hard-working, driven, and wealthy, Kou Ichinomiya has striven his whole life to prove himself worthy of one day inheriting the Inchinomiya Corporation. Key to this quest is Kou's steadfast adherence to the family motto: never owe anyone.
Calamity strikes when Kou tries to recover his trousers from the bridge where they have been hung by teenaged hooligans. Bad enough to fall into the river below. Much worse to be saved from drowning by a homeless stranger. Now Kou owes Nino and he will do anything to pay back the debt to her before his judgemental father finds out.
All stoic Nino wants is love.

---
Translation
Sleepless Domain — Mary Cagle
Sleepless Domain is an ongoing webcomic by Mary Cagle.
The time is now 10

PM

. All citizens should be indoors, and all magical girls transformed.
The unnamed city is perpetually under siege; monsters have overrun the world. During the day, the monsters are kept at bay by a magical barrier. At night, the monsters are able to make their way into the city. At night, it is up to the city's magical girls to protect the city and its mundane inhabitants.
Team Alchemical — Undine Wells, Gwen Morita, Sylvia Skylark, Tessa Quinn, and Sally Fintan, or, as they are known by the city, Alchemical Water, Alchemical Earth, Alchemical Air, Alchemical Aether, and Alchemical Fire — spend their days in school and their nights fighting monsters. Now they've found a new enemy to fight.
Each other.
(spoilers)

---
Miscellaneous Reviews
A Key For The Nonesuch — Geary Gravel
Fading Worlds, book 1
1990's A Key for the Nonesuch is the first book in Geary Gravel's Fading Worlds duology.
A small inheritance has allowed Howard Bell to leave his unrewarding job for the life of a novelist. Years later, he has produced an unfinished novel and used up his funds. Nothing left but to parley his handyman skills into a job with Foster's Fix-It.
Determined to find a working bathroom in the unfinished building he's been assigned to repair, Howard appropriates a set of keys. The doorway he enters takes him to a different world.

---
Special Requests
House of Stairs — William Sleator
1974's House of Stairs is a standalone young adult novel by William Sleator.
In a not-too-distant future, five children — timid Peter, unruly Lola, confident Oliver, accommodating Abigail, and cunning Blossom — are consigned by the authorities to the House of Stairs. Although they have very different backgrounds and personalities, all five of them share one characteristic: they are all wards of the state.
Make that two things: Nobody will ever miss any of them.

---
Because My Tears Are Delicious To You
Dogsbody — Diana Wynne Jones
1975's Dogsbody is a stand-alone fantasy novel by Dianna Wynne Jones.
Accused of a murder he did not commit, Sirius must prove his innocence before a court of his fellow stars or face a terrible punishment.
Matters do not proceed entirely to Sirius' benefit. By the time the novel begins he has already been found guilty, damned by the testimony of his beloved Companion and his own reluctance to explain what really happened. The only question remaining is which particular dismal punishment awaits Sirius.
(cruelty to animals warning)
---
Twelve by Diana Wynne Jones
Flight — Yoshiki Tanaka
Legend of the Galactic Heroes, book 6
First published under the title Ginga Eiyu Densetsu volume 6, 1985's Flight is the sixth volume in Yoshiki Tanaka's Legend of the Galactic Heroes1. Tyran Grillo's translation was published by Haikasoru in 2018.
Reinhard von Lohengramm finally outmanoeuvred his rival Yang Wen-li. The Galactic Empire finally reabsorbed the Free Planets Alliance. A man more vindictive than Reinhard might have had Yang executed. Reinhard allowed Yang to retire.
All that is necessary for this peaceful state of affairs to continue is for high ranking persons to do nothing to rock the boat. Of course, patience is such a difficult virtue to cultivate.
---
Translation
What's Left of Me — Kat Zhang
Hybrid Chronicles, book 1
2012's What's Left of Me is the first volume in Kat Zhang's Hybrid Chronicles.
Alone of all the world's regions, only the Americas have chosen to eliminate the two-minded adult hybrids, to seal themselves off from the chaos that hybrids cause. The rest of the world can have its Great Wars, but North and South America are secure, peaceful, and steadfastly conventional.
Like all human children everywhere, Eva and Addie were born as hybrids, two minds sharing a single body. Most New World children settle, a process in which the weaker of the two minds fades away, leaving only a single, stable, intellect. Although clearly fated to vanish, Eva lingered on, unable to control the shared body, but still present. Despite the best treatments modern medicine could offer, it seemed the child was doomed to be one of those unfortunates safely sequestered away from decent folk.
Eva_and_Addie eluded institutionalization by embracing the one technique that would keep the adults satisfied. They lied.

---